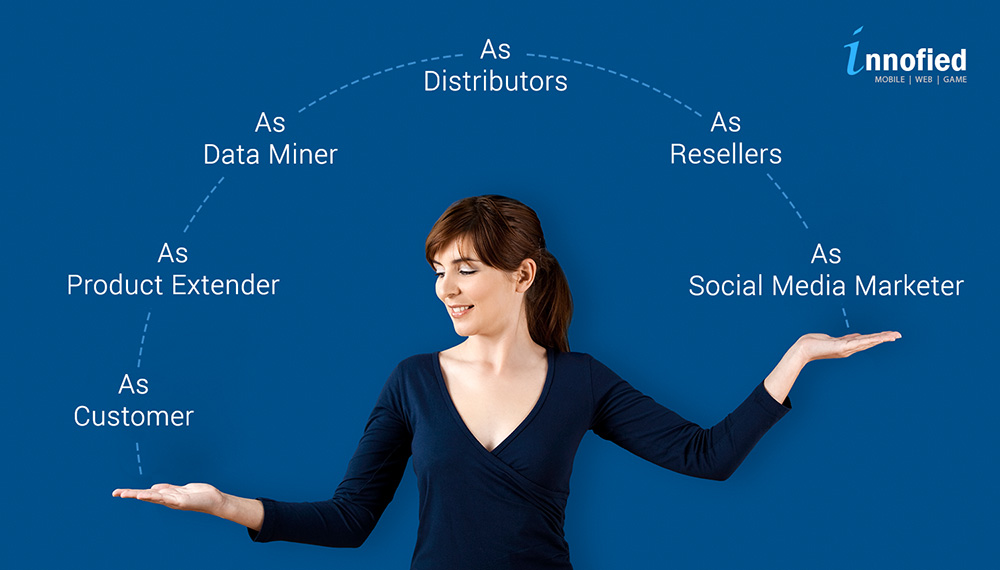 Not Coding – 6 Other Ways Developers Drive More ROI to Your Business
Developers drive ROI. Yes, you heard it right – I am talking about the 'developers' – a group of talent who adds value to your business apart from coding and shows improvement in the ROI barometer almost every day, but unknowingly. Though we know, but we ignore the inputs of a developer.
Believe it or not, we tried and tested this, and it worked well. Our developers at Innofied has not only proved themselves as good coders but they are also good at managing the products just as a marketer would have done. We employed our developers as resellers for our home-grown products like Barnoparichay and Buizzconf and remarkably gathered brownies that quite well reflects in our ROI.
No matter how a company runs their business, developers are the one who can extend the business model proactively. And here are the 5 ways they do it.
1. When Developers Turn Customers
Third party developers can definitely make you money if you see them as paying customers means they are capturing value, by simply selling it to developers. Examples like AWS, Salesforce App Cloud, Google Compute Engine, Microsoft Azure and more.
There are many companies like them for whom selling tools to developers is the only business. For example, Twilio, it is a startup company who worked hard to develop an API for telecom services and has been generating a $100million-a-year recurring business simply providing tools to integrate SMS and telephony in their apps.
Twilio generating $100million-a-year simply providing tools to integrate SMS and telephony in apps.
Click To Tweet
2. When Developers Are Product Extenders
Developers boost your business simply adding few features duct that you might not have designed or even thought of – Yes, they take your product to the next level. Giving your product an ultimate look where it turns more valuable to your paying customers.
And the best example is Apple iPhone – the very own Apple's developer program led to the creation of over one million apps in the Apple App Store. These apps have more than one million features which make all iPhone models more valuable to every user. Not just functionality, sometimes a constant supply of cool new things has made iPhones much hyped.
There are numerous companies who work with developers to extend their product and made them more useful.
Hope you remember Steve Ballmer, CEO of Microsoft, rallying his troops chanting the word 'developers' more than 16 times. I bet you remember!
Ballmer was right – Microsoft just swept off the battle for personal computing with the help of PERSONS whom we call 'the developers.' But today, 20 years after in 2016 – Microsoft lost the battle to Google and Apple, by losing the support of those same developers.
3. When Developers Are Data Miners
Whether you are a startup or an enterprise, your developers are always your best data miners. Because passionate developers understand the technical subjects more than anyone and can really accumulate data from various sources with little time.
Even, developers provide excellent ideas to collect data from users with least hassle and then reuse them in different aspects of the business. Data-driven companies like Google and Facebook are dependent on the developers to make their ads more effective. For Google, there's Android, which helps the company to harvest data from mobile users. As a result, it harvests more data for Google, which they use to make effective Google ads on their desktop version.
Similarly, Facebook works with the developers to integrate their identity services into a number of possible apps. What is the reason behind it? – It's simple, the number apps use Facebook's login system to identify the user, the more users data Facebook will collect. The data collected by Facebook is used to make their display ads more effective just like Google.
4. Developers as Distributors
Developers can help you deliver product to the new markets and new users, and will work as a distribution channel for your business. Since they enjoy a large network, which often drives ROI successfully.
A good example, in this case, will be of Uber – a taxi app solution, who works with developers to integrate company's on-demand transportation services via apps. Developers help Uber sign up new users and in turn company rewards developers for each valid first trip in the US through their affiliate programs.
5. When Developers Turn Resellers
Developers can also resell your products. Believe it or not, they can resell any product turning themselves into the sales channel. Say, for example, Amazon whose developers boost sales of physical and digital products. What do they get in return?
Developers can actually earn up to 6% revenue share on the purchases made through their apps and games.
Click To Tweet
Even a large drug retail chain called the Walgreens in the United States also work with developers to improve their digital print service and sales. Walgreens Photo Prints API allows users to print photos from all Walgreen locations across the US. And the mobile app developer earns a share of revenue with every photo order placed through their apps.
6. Developers Acting as Social Media Marketers
Developers can actually act as a good social media marketer, just as your social marketing team. There are many aspects which require technical retrospection and none other than developers can suggest a proper solution. Sharing tips and tricks on various LinkedIn technical groups, joining a discussion or replying to a customer over the Facebook or Twitter comments can quickly resolve technical issues and bring more visibility that a hard-core marketer would not have.
The customers come to know about your seamless DevOps, who are not just good at coding but also at communicating with clients. This shares a great impact on referral marketing. As once a customer is convinced how technically sound a business is, a number of business shots are going to follow next.
Wrapping Up
Today access to developers cannot be defined as 'tough' rather it is competitive in almost every industry. From media to finance, agriculture to entertainment or from games to technology finding developers for the right kind of solutions is no doubt a big deal. But if we can retain the developers we have, by quickly building an ecosystem we hope to sustain this crisis and might not suffer a setback like Microsoft. In fact, a company having a developer's portal shows that how well it is prepared for the future.
Apart from this 6 ways, do you think developers can help a business in other ways?
Are your developers engaged in any such activities other than coding?
How it benefited your business?