Someone was true to say "hard work always bore fruits". On August 8, 2016, the hard work of Team Innofied bore fruits finally at Engage Digital Summit 2016. The brainchild of Innofied, Barnoparichay (an interactive learning app that teaches alphabets and number to kids in English, Bengali, and Hindi) was awarded the best mobile app.
With the aim to make people realize the importance of learning languages, Sandip Saha and Swarnendu De launched this fun and interactive education app in 2015. The move was to help kids learn alphabet and numerals with the use interactive tools and teaching methods.
We entered the competition with a zeal. With so many tough competitors, you almost seem to lose nerve at every step. But Innofied rose sharp and straight and finally was chosen as the best Mobile App by the jury.
Award of Excellence in Mobile App Development & Use Goes to Innofied
On August 5th the Engage Digital Summit Committee informed us about the most exciting news. It was like honey to our ears. They appreciated our hard work. We congratulated each other and had a sigh of excitement, whispering to our minds, "Yes, we have done it. Innofied is finally, one of the Best Mobile App Development Company."
Innofied is indeed having relevant expertise across iOS, Android, Cross platform apps. But what emerges us to be stronger is our UI/UX designs. And this strength has set us apart from all and given us the new title of award-winning web + mobile design and development company.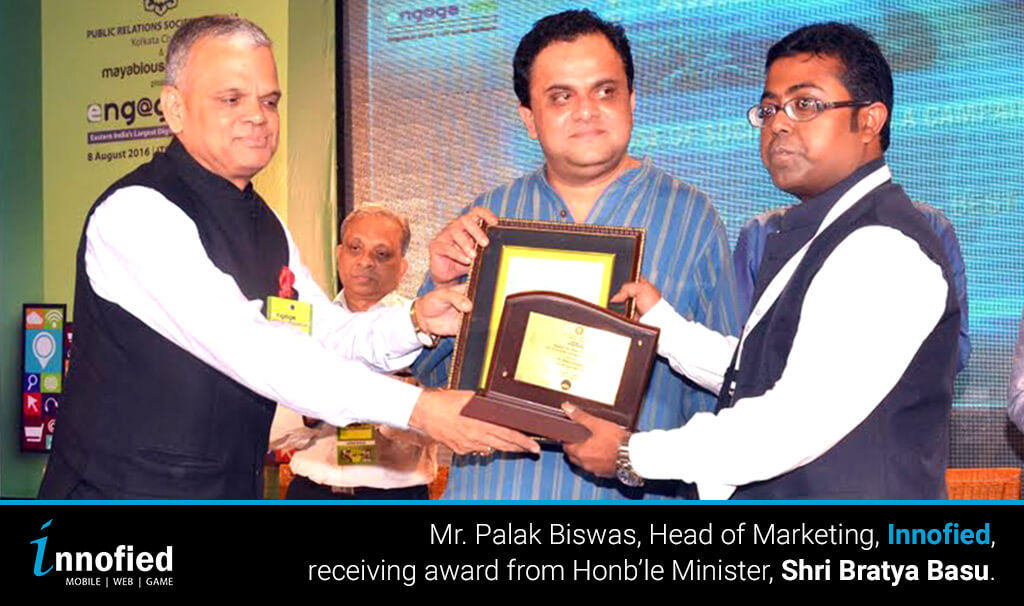 We waited for this moment for a long time. Innofied had all the right mix such as great eyes for design, innovativeness at all steps and technology is just in our blood. Thus, this Award was like the magical boost for our upcoming projects.
Along with Public Relations Society of India, Engage Summit had called for this giant event in Kolkata. Getting recognized as the best mobile app development company was not just prestigious, but a proof of consistency to all those people (clients, customers, and employees) who relied on us.
The H-Hour
On August 8, our Head of Marketing was there right on to receive the Award of Excellence. Engage Digital Summit has a jam-packed schedule. The event took place at ITC Sonar Bangla. The prominent marketing gurus, Founders and budding entrepreneurs took the stage and shared their valuable insights on business becoming digital.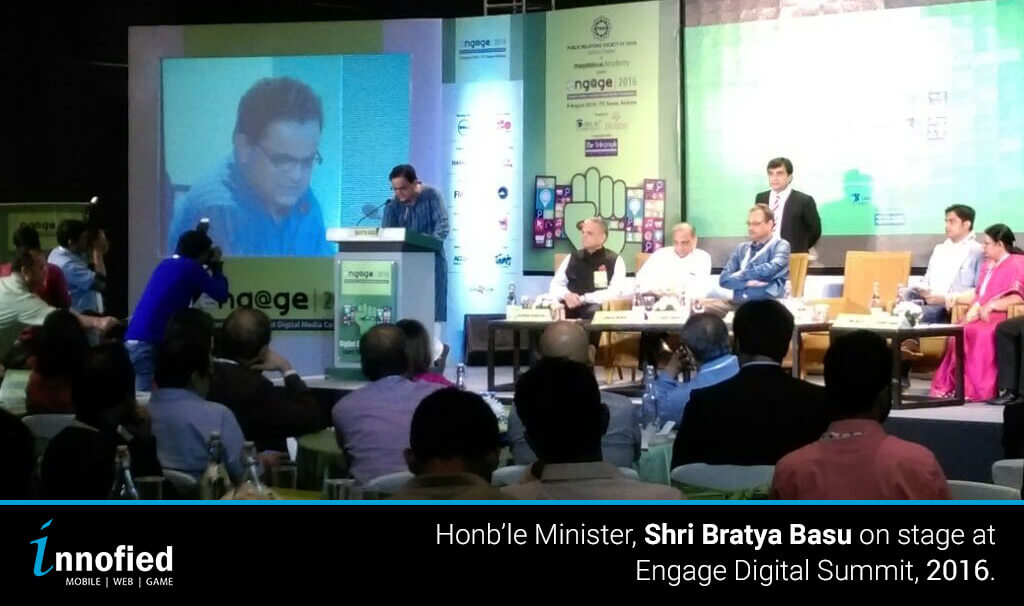 The event was adorned by the presence of Honorable Minister-in- Charge, Department of Information Technology & Electronics, Shri Bratya Basu. We took the award from Chairperson of Public Relations Society of India and Shri Bratya Basu. It was a privilege and honor to have the award from his hand.
Letter of Thanks
To All,
This year is of Innofied. We just received Top 10 Mobile Application Development Services by Silicon India, in the last month. And Engage Award this month was like the cherry on the cake.
Everyone who are associated with Innofied since day 1, who have worked with all their might to help Innofied seek this position, we want to thank all. We are now one of the best mobile app development company. And this is all because of your support.
Thanks
Team Innofied