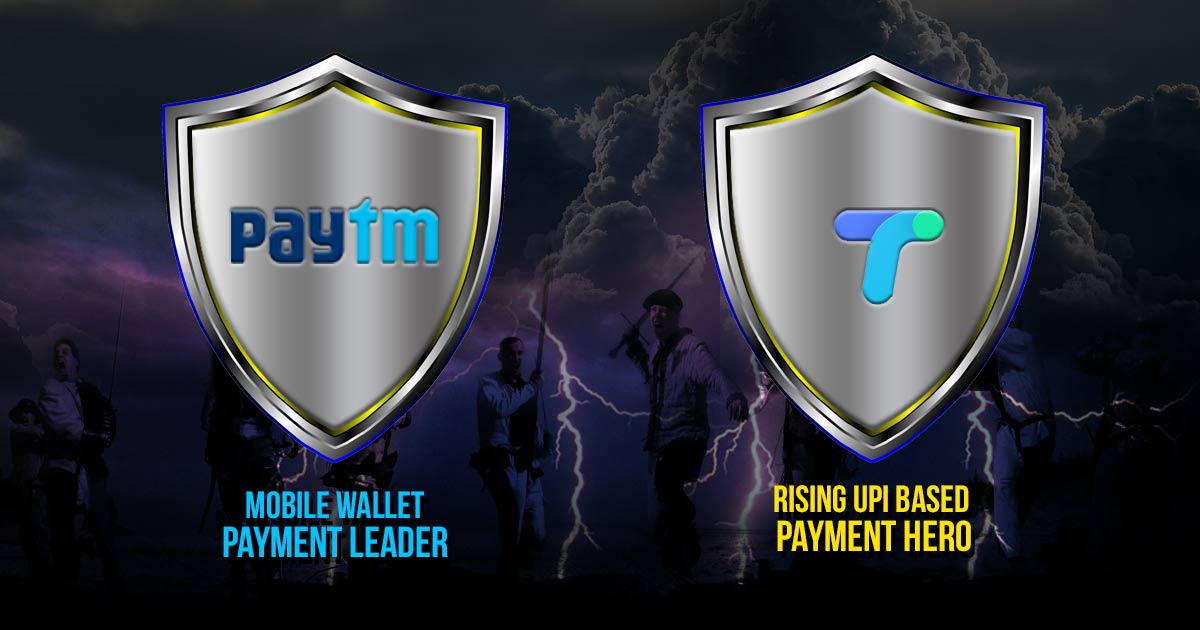 Google Tez vs Apps Like Paytm Wallet — The Game of Digital Payments
Oh, my Gawd!
It seems Google will not be leaving a single inch of space in the market. They will try a hand in almost every sector. Whether AI or smart cars, Google is everywhere. And today in the morning they made a foray into the mobile payment industry with Google Tez.
That announces a clear war betweenthe  houses of Google and Apps like Paytm to tap a $500 billion industry.
There was hush-hush in the market about the possible launch of Google's Tez application for the Indian market. And today at an event in New Delhi, conducted by Caesar Sengupta, Google VP for the popular Next Billion Users Project, attended by Finance Minister, Arun Jaitley Google announced the launch of Tez, giving a major blow to the apps like Paytm wallet.
Payments made straight from your bank account, big or small. Presenting #GoogleTez, money made simple. https://t.co/yb71ezw9Ol pic.twitter.com/Ywy6xJf2qj

— Google Pay India (@GooglePayIndia) September 18, 2017
Tez is there on the Play Store, and on iOS devices, but Tez will work only with banks that support Unified Payment Interface (UPI) backed by the National Payments Corporation of India (NPCI). Users with UPI apps can use their phone number to make direct payments to the bank accounts. You do not need an account number or bank IFSC code. The mobile number will act as the Virtual Payment Address. All you need to link the same mobile number to the bank account. With launch of Google Tez, it seems mobile wallet app developers have a chance to fish in this large market.
The internet search giant is eyeing on India's digital payment pie. And it is definitely a threat to other digital payment services like Paytm. With Tez, you can pay for movie tickets to bills, DTH to various fees, just as you pay with apps like Paytm wallet. Already, Tez has partnered with RedBus, PVR Cinemas, Domino's Pizza, DishTV, and Jet Airways which would accept payments via Tez. Even payment gateways like BillDesk and ecommerce solutions like Shopify and PayU.
The news is making sense. Since Android has a larger market in India compared to countries like the US and the UK. Coupled with India government's recent push towards a cashless society, made Google launch Tez. The launch of Google Tez comes just nine months after Google CEO, Sundar Pichai told NDTV in an interview – "I'm in search of a UPI and ways to adapt."
If the government filings uncovered by the publication are perfect, then Google will likely expand to Indonesia and Philippines. Their team of mobile wallet app developers might begin their operations in India by late December 2017.
Why Google Targets India's Digital Payment Industry?
India is rapidly turning into a lucrative market for the payment sector. With the demonetization back in November 2016, the industry grew 55% in 2016–2017. As per Boston Consulting Group, the Indian payment industry will be worth $500 billion by 2020. That accounts 15% of country's total GDP!
Now you understand why apps like Paytm wallet or Tez is gearing up to match the shift in consumer habits and enhances infrastructure. Yes, by 2022, 80% of India's urban population is expected to adopt digital payments. With an estimated growth in infrastructure and 5 Point of Sale (PoS) machine by December 2017–70% of the retail will be adopting the apps like Paytm wallet by 2022.
Indian payment industry will be worth $500 billion by 2020 Click To Tweet
Google Tez is based on UPI that could further power the use of apps like Paytm or Google Tez. UPI surpassed all the mobile wallet application development in the area of the amount of money exchanged. As per RBI, a staggering sum of 41.3 billion INR exchanged using UPI platform in August compared to 27.2 billion with mobile wallet application development. But as per transaction UPI scores 16.6 billion and mobile wallet application development scores 89.7 million.
As per analyst Dharia, "Google could boost UPI adoption depending on how the tool is placed and if they have a good set of partnerships and deals with offline service providers and retailers. The connection to the bank account and validation of the consumer also works well for a player like Google. (Source)"
Game of Payments Begins
When the Indian audience was glued to the TV to watch the epic war-series, Game of Thrones – Google and apps like Paytm wallet were gearing up for a new battle.
"The Game of Payments."
Tez, the latest entry in the mobile wallet application industry of India, is a sheer threat to the current leader Paytm and other players like MobiKwik, PhonePe, and Hike.
Similar to the struggle of Jon Snow in GoT, Google has to face stiff competition from mobile wallet app giants like Amazon and WhatsApp along with above-mentioned players. So, how Google Tez is going to be a threat amidst so many big players? What features that make it different from the rest of the crowd?
UPI- Based Payments May Replace Mobile Wallets
The new Tez app is not going to behave just another mobile wallet app, instead, it will use bank accounts to make payments via phone. UPI based payments that work with all the major banks that offer UPI services such as — ICICI, Axis, State Bank of India, HDFC, etc. You do not need a mobile wallet to save balance as here you stay connected to bank account directly. But Tez believes in harmony and will share some amount interoperability with Paytm wallet or MobiKwik. As per Techcrunch, there is a limit of Rs. 1,00,000 on the transaction amount in a day and up to 20 transactions in a day.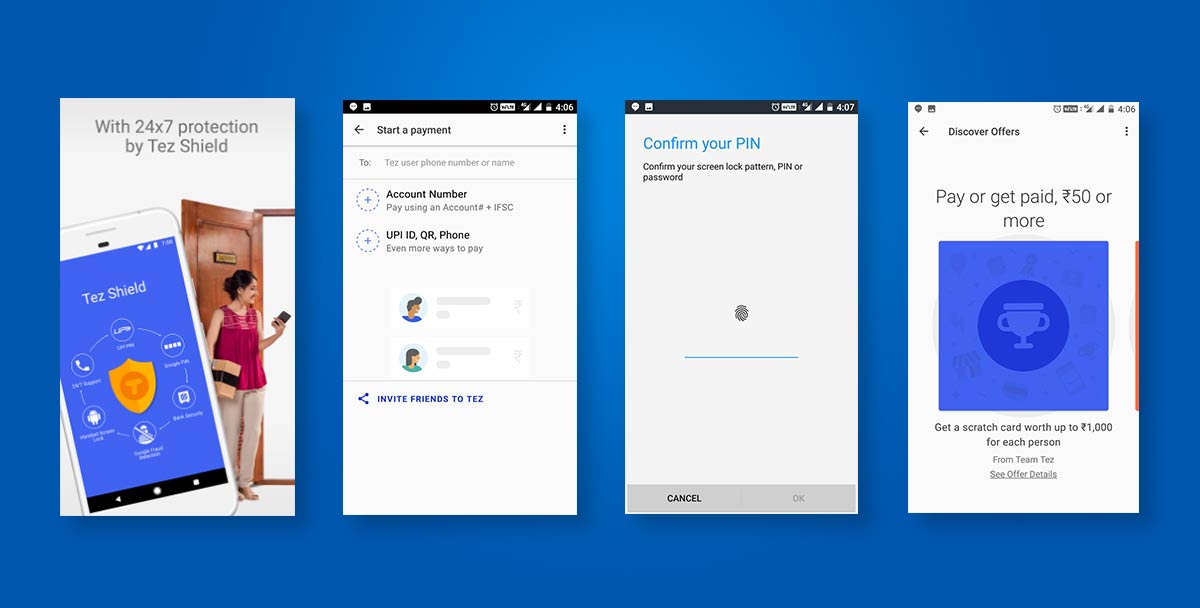 Tez is also offering a separate Tez Business App, for business users with a limit of Rs 50,000 per month with UPI and no fees. (After one crosses this limit they will be charged.)
Well, you can also pay someone with the Tez app even if he or she has not installed it, but has a valid UPI address. You just need to add the address of the person's UPI and make your payment. This is something apps like Paytm wallet has not yet tried out. Though RBI has been open up to them, the kitty has not been out of the bag.
Security is Something that Comes First
Every transaction done through Tez app is secured. Users need to download the app. To get started one has to link the bank account with the same phone number or sync it with the Google Account. Then you need to enter the phone number at first. Here you need to set up a Google PIN, which is required every time you open the application.
You can also use UPI PIN to log into the application or you can secure it with a fingerprint or a pattern lock. Google installed a 'Tez Shield', which is a multi-layered security feature and ensures data security on the app. But with Paytm, you cannot link up a bank account with protection like fingerprints or pattern lock, except those OTP verifications.
Payment and Cash Mode
There are two types of digital payment modes in Tez app — cash and payment mode. The major portion of the app is covering with the option 'Tap for Cash Mode'. On tapping, you get two options — Pay and Receive. You can select the same depending on whether you are making a payment or receiving a cash. It will look for devices nearby and will show the details of the person. As soon as it verifies, it is you who send or receive funds to and from accounts nearby without having to share important details like phone or bank account numbers. (In apps like Paytm wallet you need to share the phone number. And you need to add money to your wallet, that some see as a threat to security.)
As for payments you can add contacts on your phone if they have a Tez account or have a valid UPI address. It will help you to make payments or ask your friend for money. Indeed mobile wallet app developers who worked on apps like Paytm does not come with such options.

Options like Rewards and Offers
To make sure that more people fall for the app, Tez is offering you and your friend, who is not on Tez with Rs. 51 on app download. This amount will be paid when your friend makes their first payment. You can invite and add as many people you want, but the offer is limited to April 1, 2018, and Rs 9,000 in one year. Also for the first week, for every payment above Rs. 50, you will get a scratch card and may win a lucky draw of Rs. 1 lakh every week. You will get the Tez Scratch Cards (TM) in the app and can win up to Rs. 1000 for every eligible transaction.
Apart from the 'Offers' tab, you will also find the 'Rewards' tab. It will let you pay for any kind of payment transactions with the use of Tez. That is something that the team of Google's mobile wallet app developers has added.
App with Multi-lingual Support
To grab a share in the digital payment industry of India, Tez strikes the national chord of sentiments. The mobile wallet app developers have worked to support more than one language such as English, Hindi, Bengali, Gujarati, Kannada, Marathi, Tamil, and Telugu. That gives an essence of a particular app made for the natives and it is obvious that this will give it more hits.
Time to Pull Brakes!
Paytm was uniquely working on the mobile wallet application development and has integrated features that even posed a threat to apps like BookMyShow. We had a discussion on this last year and saw how Paytm was sighing hot breathe over BMSs neck.
Apps like Paytm Wallet, Hike or MobiKwik has sensed the impending threat and gearing up to transform their payment module. They are soon going to report about their adoption of UPI-based payments.
And since Paytm enjoys a lion share in the market, it is still in a safe position and might not worry about losing its foothold. But the features which Google Tez launched today in the morning, is something you cannot overlook. Paytm confirmed earlier in the month of May that they will roll out UPI based payment in August, but yet there is no confirmation from their side. Even the recent news from Digit also tells that Google Tez may support 'pay by Aadhaar' soon!
Hope Paytm is hearing the alarm and will be soon in the game with some new actions! They will soon work out a plan to outdo the competition. But, after two days it seems that not only Paytm, more mobile wallet application development company are ready to bathe their hands in country's 15% GDP.
Originally published in YourStory
WANT TO BUILD APPS LIKE PAYTM or TEZ?
Fuel your business with robust payment solutions to get the most of your business