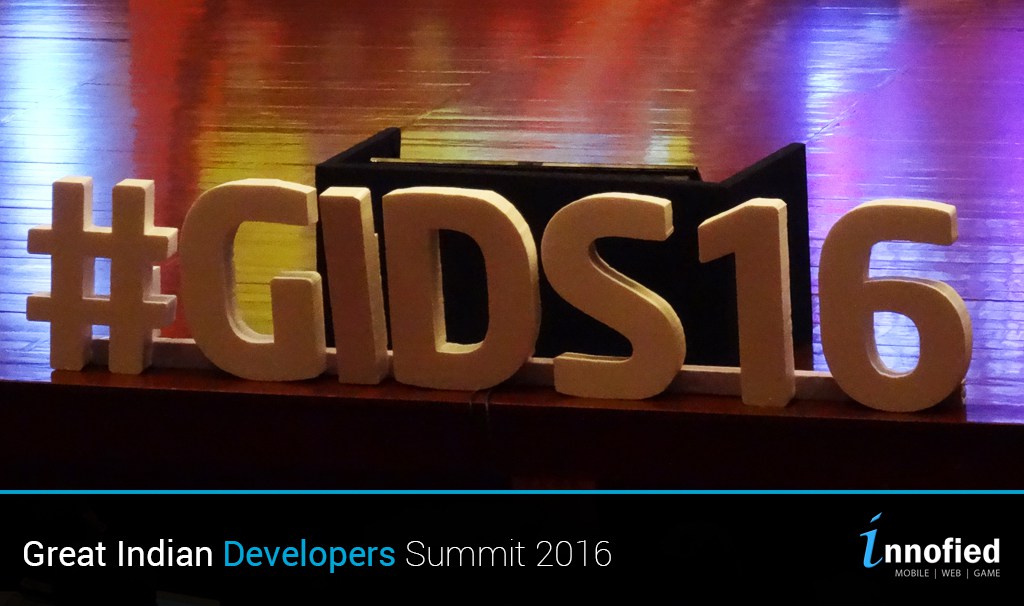 Innofied Attended Great Indian Developers Summit (GIDS), 2016
Web and mobile development visionaries are something that is not constant, it's ever-changing and it gets even better every day.  27th April 2016 at GIDS, web & mobile developers got the scope to brew some new ideas that are even more hot. HTML5, UI/UX, JavaScript, Responsive Web Design, Mobile UX, Native Apps, IOS, Android, they covered it all!
Yes, to celebrate business models using web and mobile, top-notch speakers shared their ideas at GIDS, Bangalore this year. Our JS developers from Innofied went for the event to augment new web & mobile techniques.
GIDS, a four-day long summit on Cloud, Analytics, Dynamic Language, Web & Mobile, Java and Dot Net began on 26th April and rolled till April 30. GIDS is the largest and significant developer event in South Asia global demographic shifts in software development. It was truly a privilege for Innofied to take part in it.
Speaker Session
We are not scientist; We are not engineers; We are story tellers (9:00 AM -10:00 AM) – by Scott Davis
It was a mind-blowing curtain raiser of the day. An amazing speaker and a mind blogging motivational session for one hour.
Technology vs creative; Is creativity essential for technologist? (10:00 AM- 10:15 AM) – by Raman Mehta
A follow-up session on technology, the prelim before developers starts augmenting new Java ideas.
Visiting the Expo (10:15 AM- 10:45 AM)

Taking a walk around of the summit and branching and networking a little.
Session 1 (10:45 AM – 11:45 AM)
Future of web and mobile
Architecting modern application for web scale
Redux: functional programming for the web
MBaas and more
Dockers for ASP.Net Developers
Leaner and faster web application using ASP.Net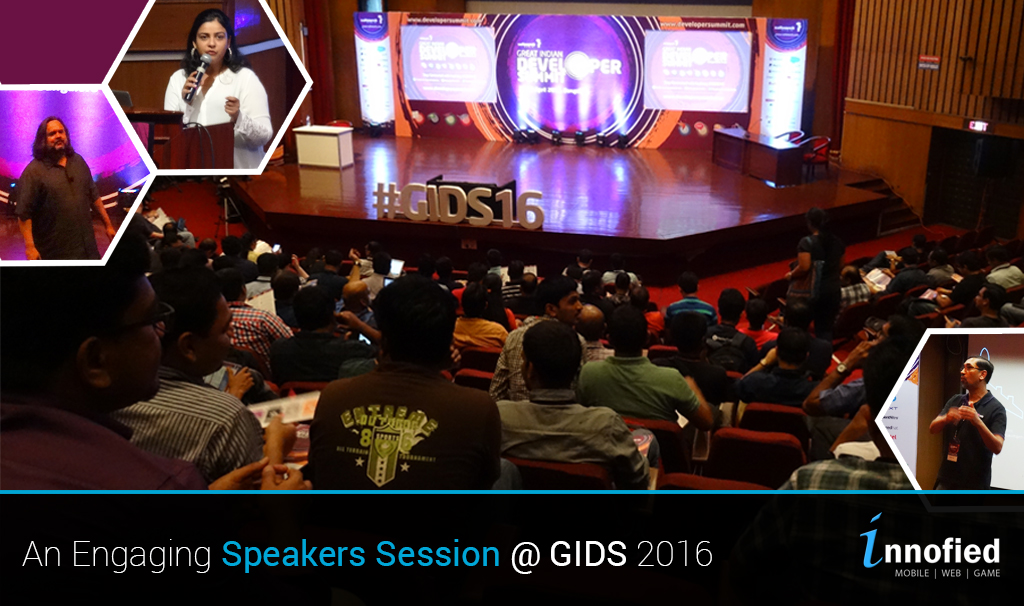 Session 2 (11:55 AM- 12:55 PM)
Securing your Front and Back Applications with Keycloak
Connecting AngularJS to Agnostic Microservices
Ajax without JavaScript
Web Apps with AngularJS
9 3/4 Ways Zoho's aPaas Lets Developers Focus on the Juicy 20%
Lunch and Networking (12:55 PM – 14:00 PM)
The food was awesome and networking simply rocked!
Session 3 (15:10 PM – 16:10 PM)
My Favorite Web App Technology Stack
Build Web and Mobile Apps Powered by the Cloud with App Services
Universal Application Development for Windows
Building Scalable Backend with Go
Writing Concurrent Programs with Ease using Golang
Integration for Web & JavaScript Projects
Testing in Grails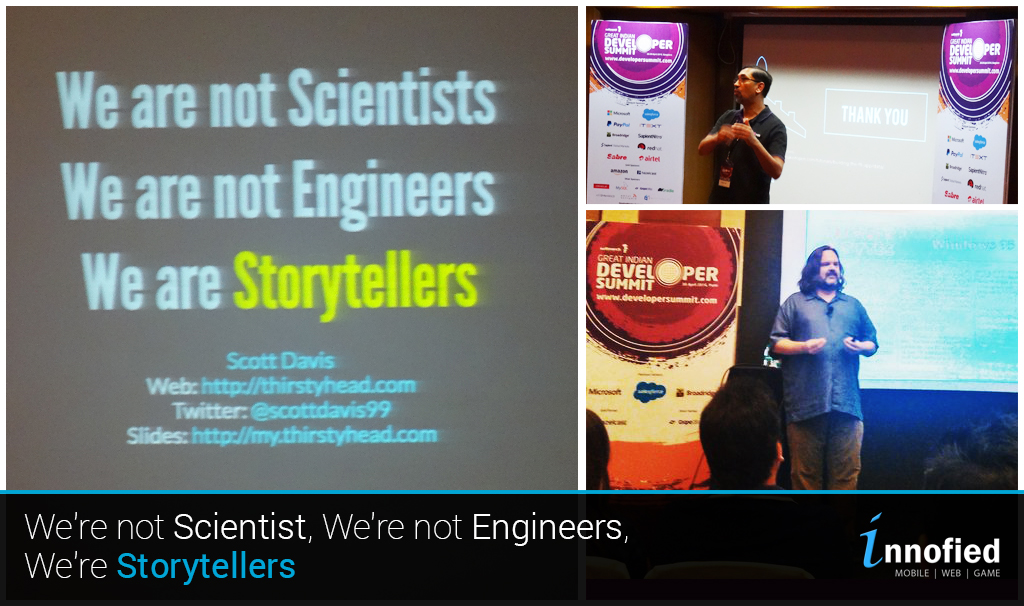 Session 4 (16:30 PM- 17:30 PM)
JavaScript Patterns Revisited
N1QL: SQL for JSON
TBD
Promises and Deferred Objects in jQuery
Hands on with Angular 2 – once more a rave discussion with Scott Davis
ES12015: Using Tomorrow's JavaScript Today
Innofieders had a great time at GIDS 2016!