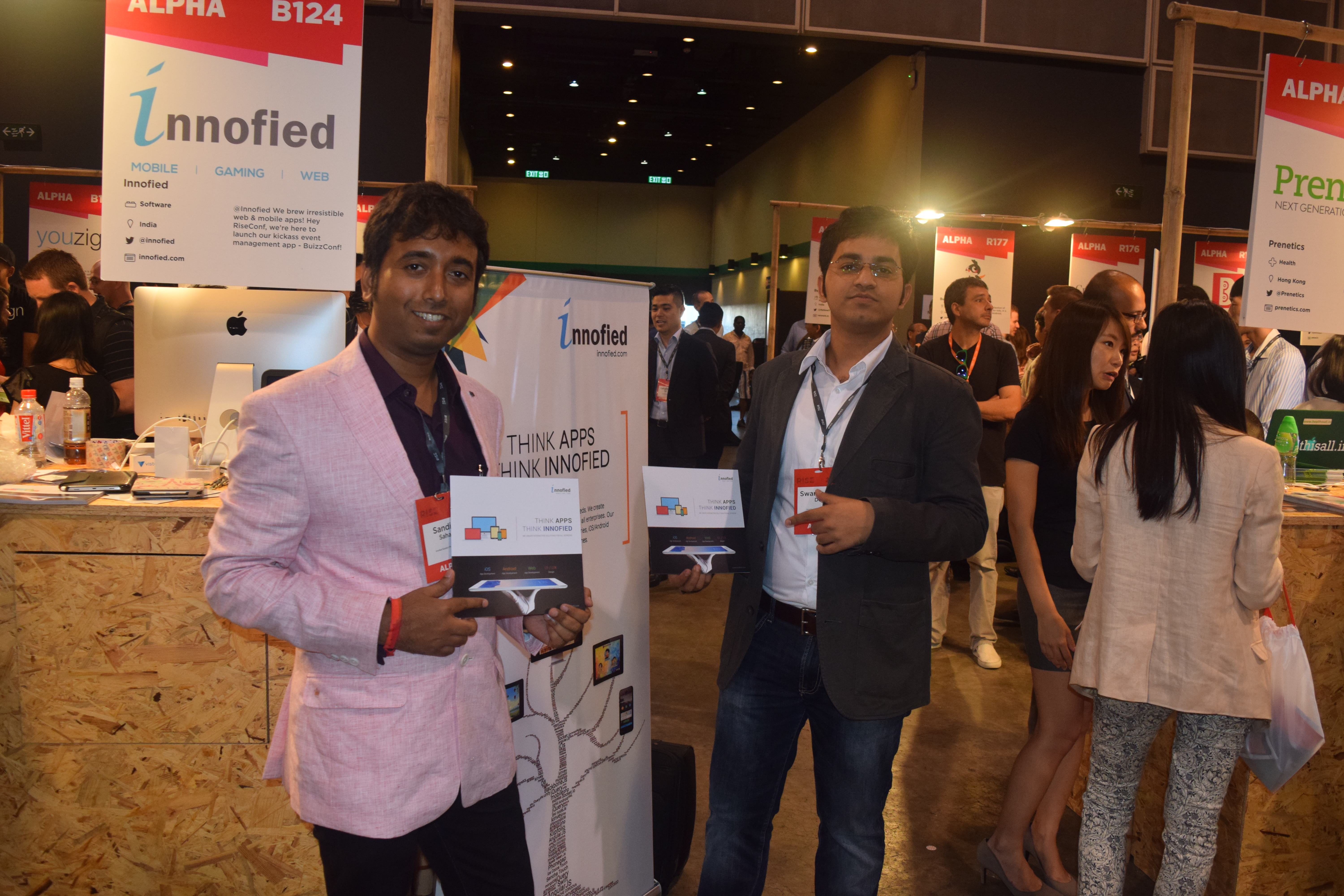 Innofied at RISEConf, Hong Kong – 2015
Innofied has always believed that one needs to experience and connect with the tech world, that exists outside our office. It is the only way we can project our ideas, create new business ventures and bring better products into this world. And what better platform for a company to do so than at RISEConf, Web Summit's first initiative at a technology summit in Asia.
So after lots of planning our team of 3 headed to Hong Kong, to be a part of this prestigious summit. Post our arrival we were baffled by the incredible level of talent showcased by many of the talented start ups that came there. So let me share with everyone the things I got to know at RISE and why you should visit it too.
Day 1: We exhibited
The first day we arrived early and set up our booth; we noticed mostly service based companies. As expected the event was populated primarily with Asia based start ups with only a few companies from USA, Australia, New Zealand and Africa that came to take part. Key enterprises from the Fashion, Travel and e-learning industries were also present. We distributed lots of brochures and cards displaying our skills and work prowess. Everyone showed real interest in our designs and exchanged many ideas. It went so well that we ran out of all cards and brochures in a matter of hours.
What completely overwhelmed us was the positive response of so many talented individuals. Later we went to visit the booths of other companies to see what they had to share with us. Among the varieties of work on display one appealed to us the most. A Kenya based hardware company showed us an application that would let you stay with the locals, eat with them and have an authentic experience altogether. A combination of technology with the right mix of culture is what impressed us all together.
Day 2: We networked
Most of the software based companies were present on the second day and we were ready to connect. The most noticeable products, from our experience were:
A Kiwi company showcased their app which helped farmers in their country share stats, experiences and results helping push farming to another level. We were totally amazed by their concept.
A certain hotel company took digitization to a whole new level. When a customer signs into the hotel they are given a smartphone/ tablet to communicate or use at their will. In case one needs to sign out, it's mandatory for them to input a proper review/ rating. Only then will they be allowed to leave. A very nice idea to generate constant feedback, that not only helps improve the overall condition but also generates buzz attracting prospective customers.
Elastic-search founder Shay Banon conducted a talk session, on how he used Lucene to develop one of the most impressive analytical search engines. It was one of the major highlights of the conference showing us how to execute complex concepts like his.
Was it worth it?
To conclude I'll say that RISEConf is a must for all entrepreneurs and visionaries alike. With a turn up of over 5000 professional tech enthusiasts from Asia and other parts of the world it is showing potential in becoming one of the most sought after events on the globe. For new startups and also for experienced ones this is a great place to connect with like minds and conceive new business initiatives. Our prominent display of works including e-learning app Barnoparichay and event networking app BuizzConf earned us many fans and numerous business ventures as well. We cannot wait enough for RISE 2016 to arrive and find more great minds to connect with.
Check out some snaps of our team networking at RISE, 2015: