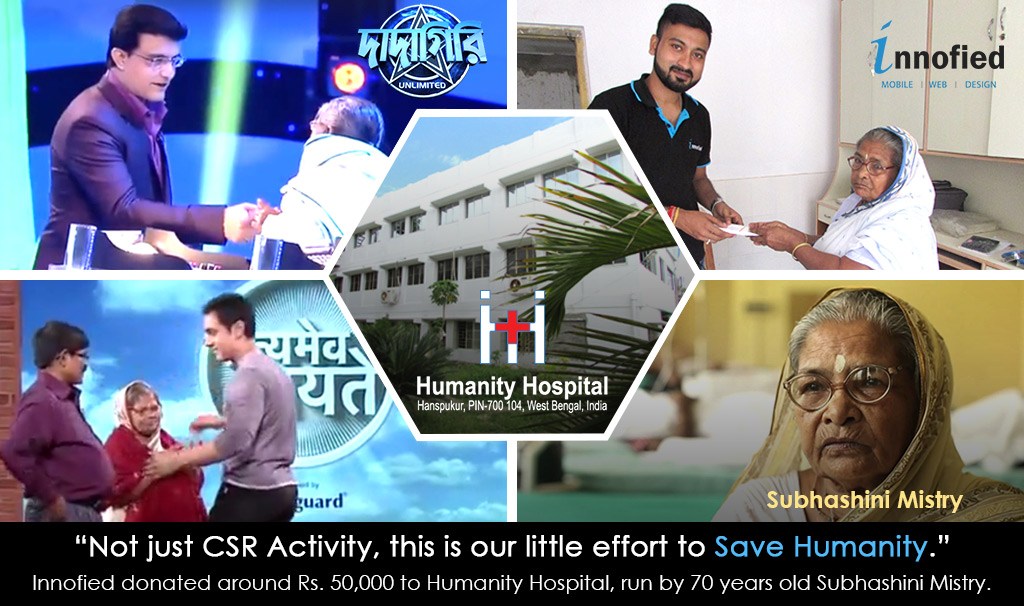 A Day Full of Hope – Innofied Donates for a Good Cause to Humanity Hospital
With news on bloodshed and killing humanity, which is making headlines every day it is hard to find a true human who cares for men and the mankind.  As a part of our welfare related activities, we have contributed to various orphanages, schools, old age homes and even hospitals. But none has set an example nor left our heart so much touched ever before. Everything changed in 2016!
It's Not Just a Social Responsibility, We Shook Hands to Save Mankind
Innofied raises a fund for the poor and distressed parts of our society every year. 2015 was no exception. All the team members took active parts in raising the fund with fun and amusing activities. This year we have chosen the Pre-Christmas Day, to raise our fund through a Food Fiesta. We had in our mind that the money raised would be going for a noble cause. And guess what our girls made it.
We arranged for an awesome non-gas cooking. There was three team (Snow Truffles, Rudolf Cupcakes, and Jingle Bells) who actively took part and made some lip-smacking dishes. They auctioned the foods from their respective stalls, and collected a whopping sum around Rs. 50,000/-. The whole credit does not go to the girls for taking all the strength to prepare all the dishes, but the boys who tasted, appreciated and donated with an open mind. Cheers Team!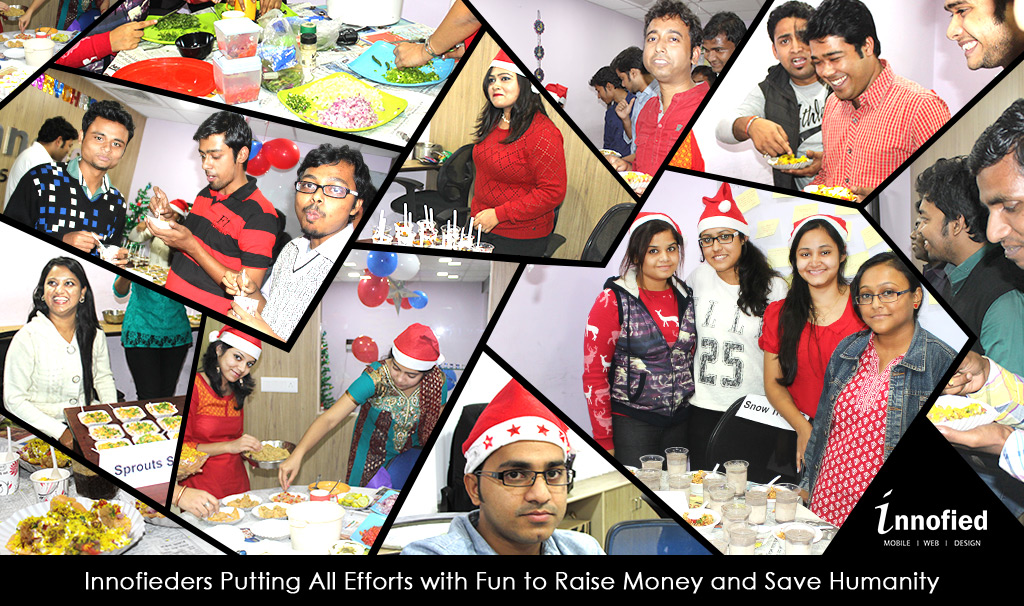 Last year we contributed a healthy sum of around Rs. 50,000 to Ramkrishna Mission Trust for the welfare of poor and distressed children. But this year it was tough to find an organization as such.  We hunted down various channels to find out an organization or a person with whom this sum of money would seek a justice Though this is a small amount for welfare activities, but we could at least try to bring smiles on the face of a few unfortunate people. That was the thought. And this thought kept our Co-Founders and team members busy since January.
After a rigorous search, we came across Humanity Hospital, run by Subhashini and her younger son Ajay who is a doctor. Initially, the hospital had 12 doctors and over 25 beds and now it has grown much larger. The first of a kind of hospital which tends to the poor with free medications and treatments so that none dies untimely like Subhashini husband.
This lady got well-represented in the shows like Satyamev Jayate Season 1 by Aamir Khan and in Dadagiri 2016, a show ran by Sourav Ganguly. Hope you have recollected the face of this old lady. No, not her fame, but the cause that made Humanity Hospital, motivated Innofied Solution.
Donating a Little to Humanity Hospital
Subhashini Mistry, a woman in her late seventies toiled for years as a brick maker to the maid, vegetable seller to manual laborer to look back in satisfaction at a two-storeyed, whitewashed building called the Humanity Hospital. This poor woman poured all her savings to build her dream hospital for the poor because she couldn't afford proper medical treatment for her husband and became a widow at 23.
Yes, the social welfare journey of Innofied this time took our team member to a small village named Hanspukur in West Bengal. Here stands the pillar of human and moral values, a charitable hospital operating under the umbrella of Humanity Trust.
Innofieders Day Out with Subhashini, Founder of Humanity Hospital
A pygmy woman with a white-clad saree came before the Team Innofied. She was so poignant and sincere for making us wait. She took us on a tour through the hospitals, told about her stories related to the hospital, unwinding future plans to have orphanage and old age homes. We exclaimed how heavenly is the place, and she smiled. That smile was worth the million.
A person who gave all her wealth and possessions, not to live happily in her old age. But to set an example before mankind, showing what should our duties be. How we can actually help the people. She showed that bloodsheds, greed, anger, terror, selfishness, ego is never able to overpower humanity.
Every team member of Innofied has appreciated this effort. Some said, "hope this contribution can help Humanity Hospital buy some new equipment or facilities." Some Innofieders are trying to provide non-voluntary help in the future. I think this type of journey won't take a pause at Innofied and we will continue it this year too with some other innovative ideas and will bring a smile to few more faces.
Innofieders learned a lot from this lovable granny, who is termed as 'Maa' by her hospital boarders. And in future Innofieders hope to help more people like Subhashini and their initiatives.