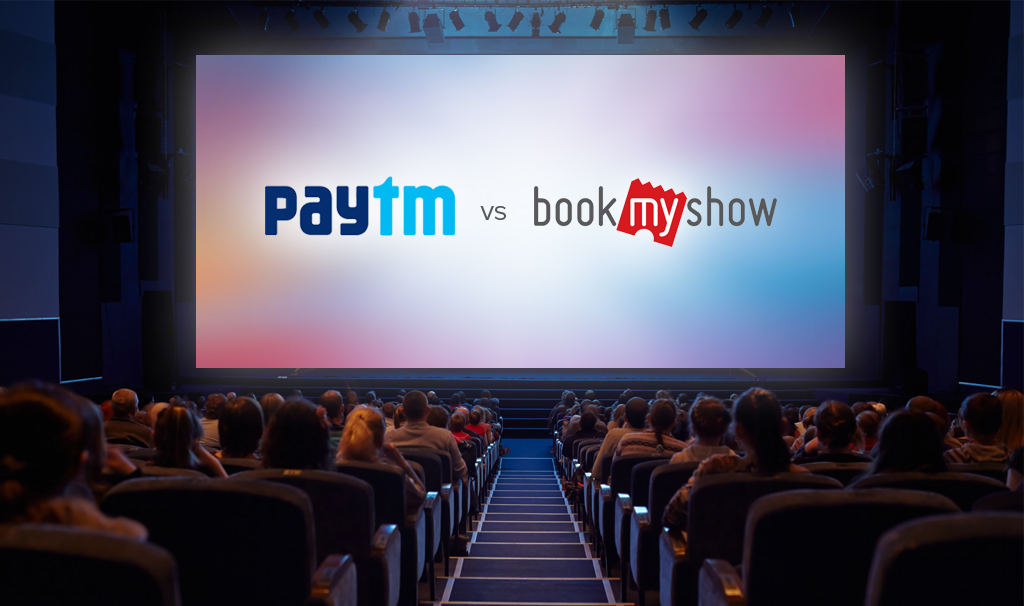 Is Paytm Going to Break the Monopoly of BookMyShow?
A movie buff like me hardly misses a latest Friday Release. Late by Friday evening, I do a little browsing, read a little snapshot of the new movie reviews and…I am all set to book movie tickets for two of us.
Booking movie tickets had broke apart the old notion of standing in a queue and waiting for hours to have a ticket. It is simple today. We have BookMyShow, a ticket-booking platform (both web & mobile apps), where you can select your favorite movie hall, suitable show timings, choose a seat and make payments online or pay them directly at the counter. It just takes a minute or three, without making you sweat.
Anyone today in India, from teens to young adults, baby-boomers to oldies, has a BookMyShow app on their mobile. When it comes to online movie & event ticketing business, BMS has a near monopoly in India.
A survey by ASSOCHAM-Deloitte report says that BookMyShow commands 90 percent market share in ticketing business.
That's a whoopee big score! No idea why no one else came to share the market in the last few years. But it is not going to be the same story for long.
Yup, BookMyShow has a new competitor in the market, and their monopoly seems to be in threat. Any guesses, who it could be? It's none other than Paytm.
Paytm to Go Head-on with BookMyShow
Digital payments and a Mcommerce firm Paytm is planning to expand their business by creating a marketplace for entertainment tickets, which in additional will give out deals and offers to customers on every ticket purchase.
Paytm founder Vijay Shekhar Sharma said that a number of cinema chains like PVR, INOX and more are likely to become sellers on their platform and can experiment with various pricing options and deals. Like a multiplex can choose to bundle free popcorn or valet parking with a movie ticket for a weekday afternoon show or have offers on discounted tickets for screening in theaters at a remote location.
Paytm business model is slightly different from BookMyShow.
1. This Noida based startup plans to further strengthen their offering by integrating offline experience. Hey, BookyMyShow take a heed, since you might have never thought to explore the offline world.
2. Paytm is thinking to let users pay for food and value-added services through their mobile wallet once they reach the movie hall.
3. Cashback and incentives for customers whenever they book a ticket from their mobile apps or the website.
Vijay has a different vision, which he wants to usher through Paytm as he aims to cover the whole basket ranging from ticket bookings to ecommerce. The company was already offering theme parks and event tickets, and now it's movie tickets on the line.
According to Paytm, online movie ticketing is a Rs. 3,000-crore annual business with ticket bookings accounting for a 25% share of the total. Currently running on a commission based model, Paytm plans to sell 30,000 tickets by the end of the first quarter.
The aggressive target of Paytm near about 100,000 tickets by the end of 2016.
Click To Tweet
I think, BookMyShow indeed needs a fresh lease of life.
Vijay further said that they are trying to turn cinemas to seller themselves, just like the old days instead of the current situation where they are sharing their inventory with a third party. But, Sharma also said that there should be no conflict with BMS as it can also become a seller on their platform.
Will BMS Continue to Rule? Why?
But wait, even with Paytm's new move BMS will remain the market leader in the entertainment space. At present, BMS through their ticket booking mobile and web apps gets 60 percent revenue from movie tickets and rest 40 percent from sports, live shows, and plays.
On March 31, 2015, BookMyShow had an average of 42 million visits per month and ticket sold per month was 4.5 million.
Click To Tweet
That's 60 percent more compared to what earned in 2014. BMS plans to double their number to 100 million tickets in 2016 and along with booking tickets, they will focus on the generation of user content through their review platform and creating special marketing campaigns.We are expecting some pricing competition now. Both BMS and Paytm can make the experience smooth and let people choose over a platform that will allow them to buy tickets at a cheaper price.
1. Will Paytm emerge as the new market leader in ticket booking industry or BMS will soon come up with something new to save their market share?
2. BookMyShow also provides tickets for sports, plays, so do you think Paytm will venture in these areas apart from movie tickets and events?
3. Are there any challenges, which Paytm may face?
What do you think? Share your opinion with us in the comment box below. Who accoriding to you will be the clear winner?