What makes you download Etsy app on your mobile rather than any other shopping app? The answer is simple. Etsy is having a cool look, one of the best ecommerce app designs and amazing navigation. We just love to use it!
So if you have this innovative e-commerce idea, already bootstrapped or have the required cash flow, next what you need is a great website and an app. Even if your website is a major resource, the target audience of today is more inclined to shop through apps.
But do you think any random ecommerce app designs firm can help? It is high time you utilize the best practices to help your startup reach new heights!
Having a killer mobile app idea is not enough to survive the existing market. Only feature rich, easy to use apps are welcomed by users. So what specific ways can help you hire ecommerce app developer?
Prior diving into mobile app development, let's find out how startups can find the best ecommerce app designers with fewer to no hassles!
Do You Know What You Want From Your App?
Well, that's a task you need to do before you start looking for a developer. You need to know the goal of your ecommerce app. Define it clearly with all limitations and then keep sharing it with your firm in various whiteboarding session. Prepare a checklist where you can at least jot down which features to keep and which you should not – For example,
Do you need a social media integration?
What kind of app you want to design-free, lite or premium?
What could be the login interface or will there be in-app purchases?
How Much Do You Know About The App Developer's Expertise?
You need to partner ecommerce app designs firm who have relevant experience or have worked for Fortune 500 companies. Look into the portfolio or their work shared on their websites or may be on their Dribbble or Behance accounts. When you get into the discussion phase with a company, maintain transparency and evaluate their work.
What is the best way to know about them? Get into a real-time chat, video-conferencing or get into a face to face meet up or may be talk over the emails.
At Innofied, we combine our expertise with your demands to get a beautiful app design.
Which Device/Software Are You Developing For?
With multitude of choices, you need to deal with different devices and software. This is the major reason why you need to asses your target audience. For instance, if your potential traffic comes from Android platform, mobile app development should be focused towards that. Statistical analysis will help you decide on the software and so, you can find the right ecommerce app developer.
The type of software you choose to launch your startup application defines the project development cost. At Innofied we serve competitive pricing for various app development.
Does Your Service Provider Prioritizes The Design Interface?
Aesthetically pleasing design is the need of the hour! Designing done in haste can worse your app performance. So, revenue-generating ecommerce apps must have an interactive UI/UX that is simple and effective. With hundreds of similar apps struggling for space in smartphones, your need to make your app must stand out in every regard.
Your app designing host must focus on structure, visibility and simplicity principles while designing UI.
"Measure twice, Cut once!"
This is what your hired ecommerce app developer should focus on, while designing your app. It has to be tolerant and flexible enough to welcome changes.
We know that this checklist is going to be handy for all the newbie startups, whether bootstrapped or not. So keeping in mind their needs, we have worked on a unique solution called Inno Commerce, which helps any business to get a customized ecommerce solution in few days.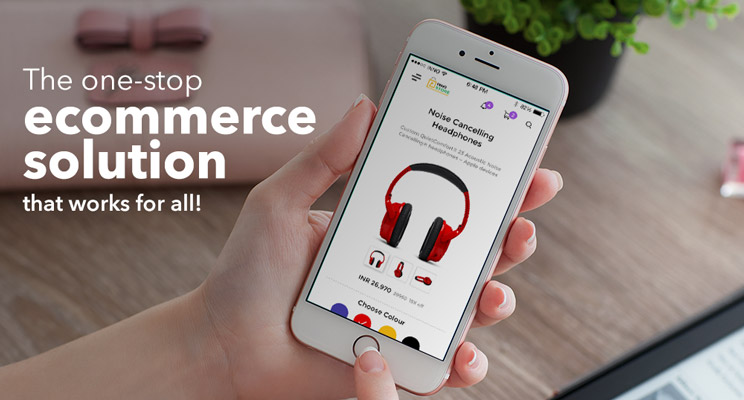 Inno Commerce is a complete solution to build a beautiful online E-commerce platform that would not only deliver your products, but offer extraordinary experiences to your customers. You have complete control of your e-commerce website and mobile app, from its domain name to colors, content and layout- everything!
What Do You Feel?
When you take a methodical approach to outsource mobile app developer to launch your startup, you end up enjoying higher revenues. It is high time to understand the strategies of mobile marketing that can boost your startup business. Take professional assistance today.