Updated on SEP 8, 2017
Need to rush an elder at home during a minor heart attack, though panic-stricken, a smartphone saves your day – Thanks to those countless healthcare mobile app development companies.
A click on an Emergency Ambulance App and in few minutes' a medical van arrives at your door. You arrive at the hospital, a doctor asks for patient's Medical History, you shared the same from the CPOE (computerized physician order entry) Database. Doctor asked to arrange for a few medicine that might not be in the stock, but a pharmacy app can give access to any medicine from a number of vendors. Rush to that vendor or get delivered it right at the hospital deck, your choice!
A human presence is very well required for our dear ones to get cured. And if the health domain is well connected to every facility with the help of the web and mobile technology, things get quicker and convenient.
How many of you would agree with me?

Is this scenario sound similar to you?
It happens sometimes right, you fall in a critical medical emergency like this and don't know whom to rely upon. But thanks to healthcare mobile app development companies who are on their toes to meet the desire and demands of the patients, doctors, and caregivers with the help of health apps.
[bctt tweet=""Health is not about what works for everyone else; it's about what works for you." – Shaun T Blokker" username=""]
The healthcare app development companies are booming. It is no doubt one of the most happening sectors. The healthcare app developers are in a race to develop a chain of on-demand solutions that will meet all the needs of the healthcare department with ease.
Industry Trends of Healthcare Mobile App Development Companies
Some of the common statistics that show how the healthcare mobile app development has contributed to the growth of the industry –
1. In the year 2007, the number of doctors or medical practitioners using mobile was 36% whereas it has been 83% and still soaring in 2016 and beyond.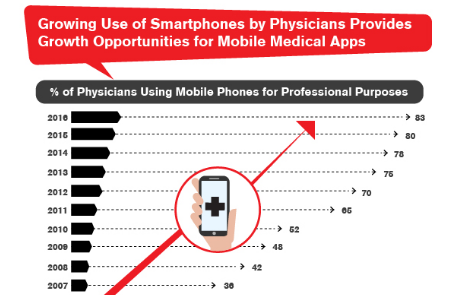 2. Top three markets in which the healthcare mobile app development companies see the rise of Uber for healthcare in Asia-Pacific, Latin America, and Europe.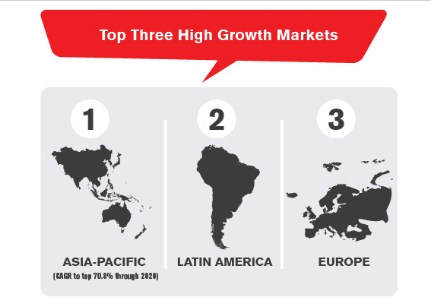 3. The healthcare app developers can expect the market of Uber for healthcare to soar at a rate of US$ 14.1 billion by 2020, AT&T, Wolters Kluwer etc.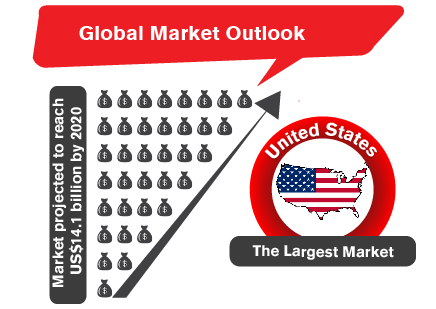 4. Some of the key players who are washing their hands in the growing trend include – Samsung, Philips, Alstrip Technologies, Medtronic etc.
To be or not to be Uber for Healthcare?
A dilemma it is.
Though most critics and health care practitioner welcome technologies and cloud integration in their domain. However, according to them, healthcare apps have not yet gained such high momentum. But the statistics above show that mobile usage is rapidly increasing. So becoming like Uber and meeting on demand needs of a patient can be a solution in today's market.
Even in a recent news shared in USA Today, we have come across a news that a $2,000 healthcare mobile app promises to be the Uber in its field. However, there is still contradiction whether health care requires uberization or not. But the rise of the on demand health apps do contribute some of the growth recently in 2014 after getting a fund of 300%.
Uberizing healthcare requires that doctors and patients both embrace the mobile app economy to give and receive health care. But dilemma exists as people still think that whether patients will use their smartphones to pick a stranger to take care of them? Is the condition medically and economically right to make this business model long-lasting?
Reasons behind the rise of healthcare mobile app development companies
There are a number of driving factors and inhibitors that led to the rise of the healthcare app developers and the healthcare mobile app development companies. Such as –
Rising adoption of the smartphones and tablets in the healthcare sector

Availability of the advanced networks and the connectivity solutions

Increased demands of more mobile medical apps among the physicians

Growing awareness for chronic disease management

Use of healthcare mobile apps for enabling remote health monitoring of the patient

The concerns over the security and the compliance are also some of the rising factors

Lack of proper evidence and the professional involvement

To avoid potential risks in the clinical environment
If these are the rising factors, then what are the probable growth strategies which healthcare mobile app development companies can hack to turn the ROI wheel for them?
Read More: How Top On-Demand App Development Companies Are Helping to Boost Business ROI?
Let us move on to the quick discussion on those growth strategies that have started to give impetus to the healthcare mobile app development. This will be a quick know-how on how to create an on demand health app.

5 Ways Healthcare Mobile App Development Unlocks More ROI 
If you are startup and looking to set foot in today's healthcare mobile app development environment, it is extremely important to have an app and maximize the potential with these strategies. So, let's dig in and learn how to create an on demand health app.
Step 1: Must Try to Make a One-Stop Platform
Now medical app development companies are looking forward to making a single platform. Why?
It will allow users to browse a big database of doctors, nurses, clinical services, medical assistance, physio care,  etc.
This platform will allow setting appointments or communicating with them through a single platform.
Even you can seek advice on the medicines you can intake or ask for medical assistance. A great example in this instance could be Doctor on Demand, which allows consulting a doctor through a video just with a tap.
Look for the vendors who keep those medicine with desired formulas
Read More: How to develop pharma apps to look for medicines vendors with a tap?
Step 2: App Developers Should Make More Convenient Apps
Say if a patient suffers from an illness or an accident, they need someone to take care of the initial first-aid. So how a healthcare mobile app can help?
With the help of on-demand health apps, one can easily benefit from the presence of an experienced medical professional.
Unlike those home healthcare industries that only support the patients with a callback using phone-based processes. Apps can save patient's time by connecting with the professionals who can provide instant healthcare any time and at any place.
Step 3: A Solution That Offers Faster Recovery
There are patients who need assistance when they want to recover from a long-term illness or a surgery.
Ask healthcare mobile app development companies to connect the app with medical professionals who can provide at-home assistance.
For prolong illness, you need to maintain a medical record. You can check Microsoft HealthVault that allows to keep records safe and up-to-date and share them securely with doctors.
(We have also worked on a similar app at Innofied for Tribeca Care.)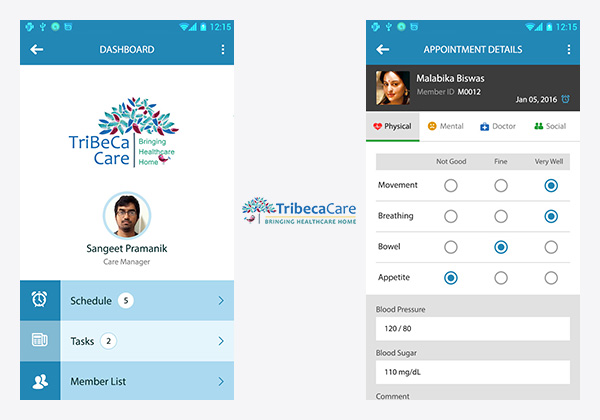 Tribeca Care is a healthcare mobile app development that allows caregivers to stay updated. Care managers can check all the details about doctors, shifts, attendance of nurses etc. The app intends to make the job of care managers easy. It has been particularly helpful in the eldercare sector. Along with elder care, Tribeca Care also provides several other healthcare services like physiotherapy, psychotherapy, nursing, doctor on call etc. Users of this app can save time by skipping the visit to the clinic and waiting.
Read More: How to create an on demand healthcare app like Tribeca Care?
Step 4: Developing Apps That Addresses Every Problem of a Patient
You will find some rising on-demand healthcare mobile apps trying to address various pain points of the patients.
Such as waiting at the clinic for hours or making appointments in advance. The medical app development companies are giving their best shot.
The patients in a grave threat wont like to check every hospital for kind of department they have. Just a click on the app must show them the facility of each hospital and the departments they have.
Step 5: These Apps Are More Than Just Medical Care
What makes healthcare mobile apps act more than just a medical care tool?
Healthcare mobile app development companies make sure that the platform provides enterprise-class reliability and scalability.
They support API and web portal for access to all management functions through a single login.
You will find updates made in the cloud and pushed to users without republishing it in the app stores.
The apps also come with multi-screen facilities. This allows consistent content updates across mobile and kiosk devices and at a cost-effective price.
A Health App Can Help You Set the Right Foot in the Market – Agreed?
If you are thinking to build an on demand health app, then stop it and join in the action. Here's a quick recap of the issues healthcare app development companies can address while creating an app.
Building a single platform for numerous problems
Provide instant healthcare to patients located anywhere
Faster recovery without waiting in queues even for prolong illness
Support patients with a huge database to browse about doctors, hospitals, health records etc.
Constant update on mobile and kiosk devices at cost-effective prices
Put yourself in the patient's shoes. Say, you are suffering from a disease and want to be recovered as soon as possible. In such an instance, you would trust the healthcare a little more if it comes from an expert physician. That's whats an on demand healthcare app development companies are focusing to build an on demand health app.
[blog_cta bgurl="https://www.innofied.com/wp-content/uploads/2017/03/health-mobile-app-development-companies-CTA.jpg" title="LOOKING FOR HEALTHCARE MOBILE APP DEVELOPMENT?" subtitle="From Health to Hospital, Fitness to Pharma, we build all types of apps." button="GET STARTED" url="/health-vertical" btnfontclr="#263238″ btnfonthoverclr="#263238″ btnbgclr="#ffffff" btnbghoverclr="#f6f6f6″]
Editor's Note: This post was originally published on MAR 31, 2017 and has been updated for accuracy and comprehensiveness.