Enterprise mobile app market is booming. The market size is estimated to grow from $35.10 billion in 2016 to $73.30 billion by 2021.
Last year VMware, MobileIron, IBM, and JAMF invested heavily in enterprise mobile apps. The enterprise mobility growth as per Gartner will be at least five times faster than the internal IT organizations can deliver, that too by the end of 2017. in such an environment it has become essential to hire mobile app developers to give your product the enterprise-friendly boost.  
A little more than half of the enterprise app developers bring in less revenue per month, which put businesses below app poverty line. The reason is that the if you hire mobile app developers they will follow the consumer app gold rush, which came to an end years ago.
It's time to shift.
Simply eking out revenues through in-app purchases and ads need to replace with user-friendly enterprise mobile application development.
Ojas Rege, VP of Strategy of MobileIron, says that people are willing to pay for applications that deliver value. However, enterprise mobile app development suffers from complexity, specifically when we get down to integrate the enterprise mobile management frameworks. And thus fails! Unlike the consumer apps which focus on solving the one specific problem, enterprise apps tend to do too much. 
Enterprise app developers create a product which allows the workflows and the information to access through the same interface regardless of the user's role and needs. We know that a failed app is a wasted investment and pushes the upper management to an upset stage and puts the enterprise app developers in the hot seats. One of many reasons for which the mobile apps fail is the rush. Either you hire mobile app developers who simply squeezes the same features from the desktop into an app or convert a mobile website into an app.
"Any intelligent fool can make things bigger, more complex, and more violent. It takes a touch of genius — and a lot of courage — to move in the opposite direction." E. F. Schumacher
Further studies also show that some branded apps garner a favorable response in spite of having flaws in the apps. Consumers show a positive response to businesses which have their branded apps.
On the other hand, businesses who ignore to have an enterprise mobile app faces sloppy sales and customer retention.
If a business can only benefit from an enterprise mobile app, then simply putting any feature in the app container is not going to work. You need to hire mobile app developers who will help your enterprise mobile app get a friendly boost and will stuff with something that users want to use. We are going to discuss the enterprise apps' usage for both customer-facing apps as well as employee facing apps.
Hire Enterprise App Developers for Customer Facing App
If you are trying to appease your customer through the enterprise mobile app, you need to start rethinking. Since you need to develop a mobile app that their customers want. You have to put yourself in their shoes to rethink the business completely. Let us see what are those obstacles that we should avoid while developing enterprise mobile apps for the customers.

1. Is Your Enterprise Mobile App Ready To Make A Great Impression?
No, it's not just the first impression that counts, you rather need to be quick if you are approaching your customers on apps. Every day, some prospective customers are introduced to your app. And you just have a few seconds to create an impression with your interface.
With gusto, the first screen needs to tell how the application works, must push the user to start an interaction and if the user is looking for something in particular, then he or she should get it from the first screen itself.
Without these few things, a user is most likely to leave your app and find a solution anywhere else. When you hire mobile app developers, make sure they confirm a high engagement through an interactive UI/UX design. And the mantra to successful and intuitive design is asking the right question so that you can define the shared goals of your customers- but you need to do that before you bathe hands in enterprise mobile application development.
And once you get the understanding, you need to move quickly and brainstorm tangible ideas for design direction. The best ideas surface and enterprise app developers can use it to create prototypes, allowing the team and the stakeholders to understand the concept and experience them as well.
2. Those Push Notifications Should Not Bother a Lot
You are a marketer. You need to sell.
And it obvious that your enterprise mobile app will also send push notifications to reach out to target audiences. Your notifications might have text, images, videos or landing page links. But you do not like your customer's finger to reach the "close button (X)" as soon as a push notification pops-up.
Thus, your notifications might have text, images, videos or landing page links. But you do not like your customer's finger to reach the "close button (X)" as soon as a push notification pops-up.
So, hire mobile app developers who know the use of localization technologies and user segmentation to help you plan and push notifications as per location, preference and user situations.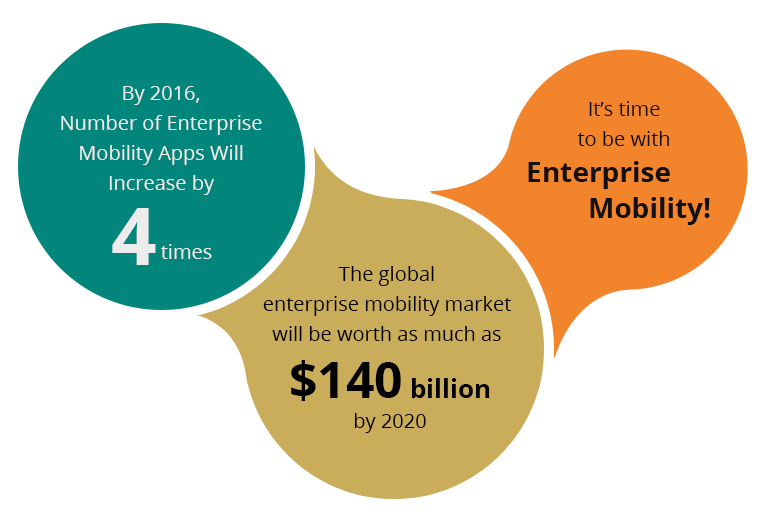 3. Personalized Experience is Something That a Customer Counts
Your enterprise mobile app may have robust features and a great UI/UX, but if you are missing out on personalized elements, then you are not going to have the brand-buzz as you want.
Moreover, enterprise mobile application development is something that is here to stay. By 2020, the enterprise mobility market is going to be worth $140 billion. So if you are not upgrading the experience of your enterprise apps, you are missing a chunk of good revenues.
To make the same tune audible to all ears, you need to have device specific UX elements to delight your audience to let them have the feeling as if the app personally addresses them.
For example, a customized shopping list or last browsed products in a retail enterprise app just steal the attention of your customer and they just dig more into your apps!
4. Localizing Content Makes You Someone More Reliable
No matter how big your retail chain is, if you have a small franchise in an unknown street in the DownTown, an enterprise mobile app can help to have a better reach.
[bctt tweet="With localized contents and better customer assistance, you win the confidence of your customers." username=""]
Whether you pick on some in-app features or send push notifications, you must address your target market in a specified time and a relevant manner, depending on current user location.
So when you hire mobile app developers make sure to brainstorm the latest features to make your enterprise mobile app more user-friendly to find things locally! 
Hire Enterprise App Developers for 
Employee-Facing Apps
[bctt tweet="The simple equation of a happy enterprise: Happy Employee (LHS) = Happy Customer (RHS)" username=""]
Enterprise applications are phenomenal and have changed the way people work in an organization. It is growing in popularity and enterprises are making work easier, increasing operational efficiency and opening up new opportunities for growth. And this is simply because enterprises want the other side of the river to be happy, that's their customers.
1. We need to pay attention to the simplicity and the quality
Employees are constantly using consumer apps of great qualities and it seems they feel accustomed to those apps. It's natural for them to demand the same level of quality, simplicity, and intuitiveness in enterprise apps.
The downside is that, if you do not provide your employees with similar quality apps, they will abandon it. They will likely download other consumer apps that to do the same task. So the part of your enterprise mobile app development adoption plan should tell that your app is of high quality.
2. The enterprise mobile app must come with platform compatibility
Apart from the app being user-friendly, the apps should be compatible with the platforms that your employees use. There are employees who likely use all the major platform to make their tasks easier. As most organization does not support a BYOD work model, so it is mandatory to look for enterprise mobile application development on Cross Platform rather than on Native. The main benefit is that it improves your app reach while cutting down the loss in performance.
At Innofied, we advise not to put your time and resources in building different versions of the same app. Rather create a web app available in the cloud and accessible on all platforms.
Your Takeaway
Currently, your business needs to look over enterprise mobile application development, to enrich and extend the audience reach making it popular among employees. And for that considering these features are important.   
They will not only give your app a friendly boost but will also retain users and add real value to your organization. When you hire enterprise app developers make sure you brainstorm together and enlighten your business with better outputs.
What's your opinion? Do you have anything more to add? Are there any more features to make your enterprise mobile app user-friendly? 
[blog_cta bgurl="https://www.innofied.com/wp-content/uploads/2017/07/blog-cta-bg-img.jpeg" title="WANT TO KNOW MORE ABOUT OUR ENTERPRISE SOLUTIONS" subtitle="Fuel your business with robust web & mobile enterprise solutions to rock your bottomline!" button="GET A CUSTOMIZED QUOTE" url="/contact-us" btnfontclr="#fff" btnfonthoverclr="#000″ btnbgclr="#a60d60″ btnbghoverclr="#00c2ff"]