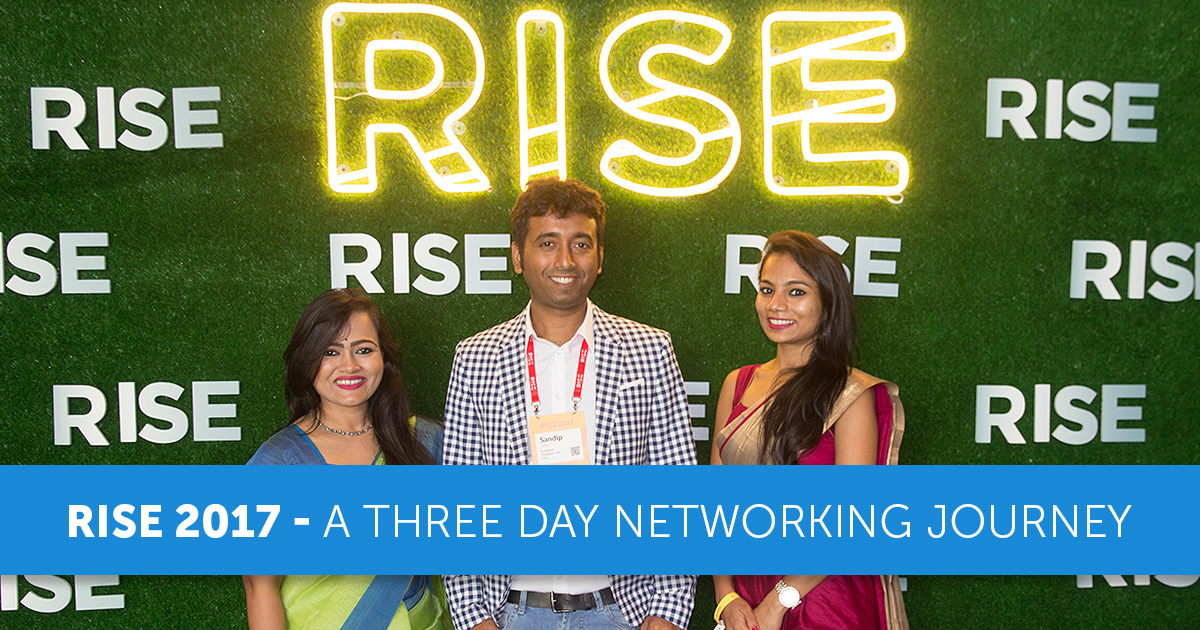 Innofied @ RISEConf 2017 – Where Networking Goals Get Redefined
14,000+ people. 90 countries. One Conference
It's a hat-trick for Innofied I guess! Yup, three times in a row. We have been attending RISE since 2015 and guess what, RISE has never let us down! A scoop of great networking, a hell lot of scopes for startups, investors, entrepreneurs, tech enthusiasts. And unlike every year a big win for the Hong Kong startup scene, getting much-needed exposure.
Limelight, men of importance, growth and immense new stories to tell – that was RISEConf 2017.
Gary Vaynerchuk (American Serial Entrepreneur) to Joseph Tsai (co-founder & executive vice chairman of Alibaba Group), Razer's CEO, Min-Liang Tan to Stripe co-founder, John Collison, stardom was no less. And to capture the stardom, RISE had 565 world-class media houses – CNBC, Reuters, Bloomberg, CNN, Xinhua.
RISEConf 2017 – A Smart Full-Energy Networking Session
This year RISE began on 11th of July and the 3-day session was like a roller coaster ride. We started with the launch of Buizzconf and in 2016 we teamed up with some promising startups. Super excited like the previous year's, we rolled in for a renewed networking dose.

Day 1 – Introduced to New Thresholds of Technology
The first day went networking with some awesome startups and out of the box innovators. We visited the ALPHA counters, listened to some great startup pitches in the center stage, was there in the Q&A section where we heard from Gary Vaynerchuk, Joe Tsai, and many more thought leaders. We also attended some great seminars at Builders, Enterprise, Startup University and Breakthrough Stages.
Alibaba executive vice-chairman Joe Tsai and SCMP group CEO Gary Liu on centre stage at the Rise conference. pic.twitter.com/M5ykcrubHY

— Bien Perez (@BienPerez) July 11, 2017
What attracted us more on day one was Q & A sessions like AI (AI & AR: Hope or Hype), Fintech (Building for Asia's New Economy) and Regtech (one of the new darling of technology and seen in a discussion was Tim Hwang, chief executive of FiscalNote). Automation in driving and ecommerce and media houses, meeting the onerous regulatory demands with the help of automation and how fast the traditional banks are changing themselves to step into the era of Fintech 2.0.  It was an overall learning session for us.
Day 2 – A Jamming Session of Networking
Day 2 was really good. We met with so many startups and entrepreneurs and shocked to note that they have every element to claim themselves big, but they were not investing in mobile apps.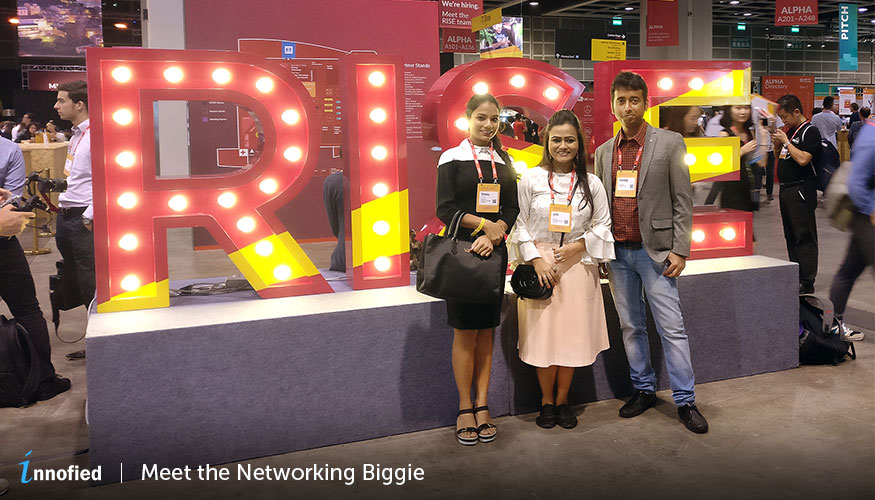 Reasons –
1. They have not yet overcome some wrong myths of having mobile apps for business.
2. They think it is too pricey.
3. Some people were not having enough investment.
But we chalked them out the right way to execute and start building an app even with a shoestring budget.
Day 3 – The Exhibition Hour
Day three was ours. It was the day we exhibited at booth number A120. And what was much applauded that day was our ethnic wear.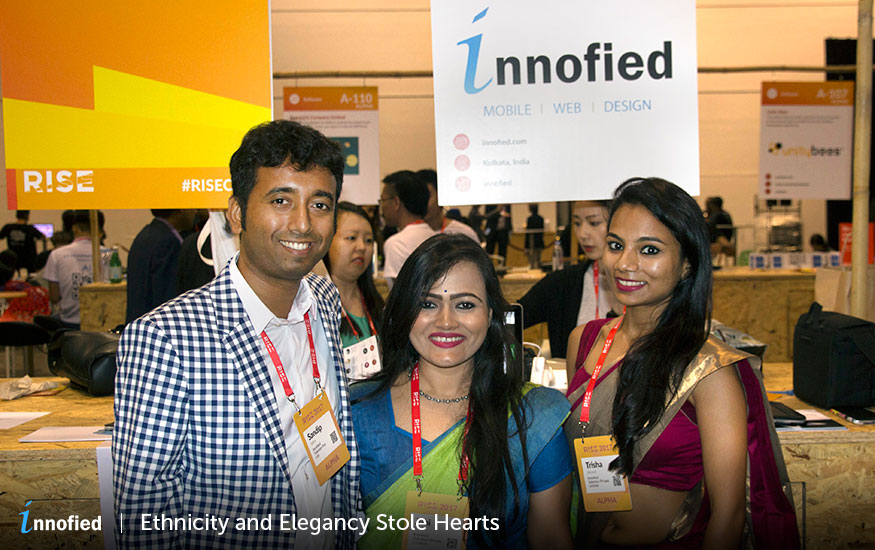 We're Indians and we're proud to be. Our team member clad in beautiful sarees was all in praise. There was a huge crowd to manage. We reached the HKCEC Hall at the right time with a lot of anticipation. We're all set to solve the endless query when it comes to the web, mobile, enterprise solutions, startups, AR and IoT.
We met some old fellas', and a bunch of new people who were equally eager to know about our products and services. We met entrepreneurs, startups, investors, students, working professionals and was cracking all their queries randomly. It was a hectic session, and we ended around 6:30 in the evening.

What Made Innofied 'Apple-Eyed' at RISEConf 2017?
We went to RISEConf for the third time in a row. And if you ask us why we are exhibiting here in South East Asia, repeatedly, it's all because people here take interest in what we offer and how we work. And just like other, we do not talk about our own products, we offer people with solutions and services that have made them stumble upon or put their development on hold.
"Sandip Saha, Co-Founder and CEO of Innofied says, "Like every year RISE is a special event for us to get connected with lots of startups and know their work. We are overwhelmed by the interest shown towards our work and to collaborate and work with us. Overall RISEConf 2017 was a win win situation for us and other startups."
Our networking goals redefined and refreshed this year, and we're looking forward to RISE Conf 2018.
WHAT MAKES US STAND OUT IN THE CROWD
Wireframing. Design. Development. Product Marketing. We know all. Let our works speak for you.