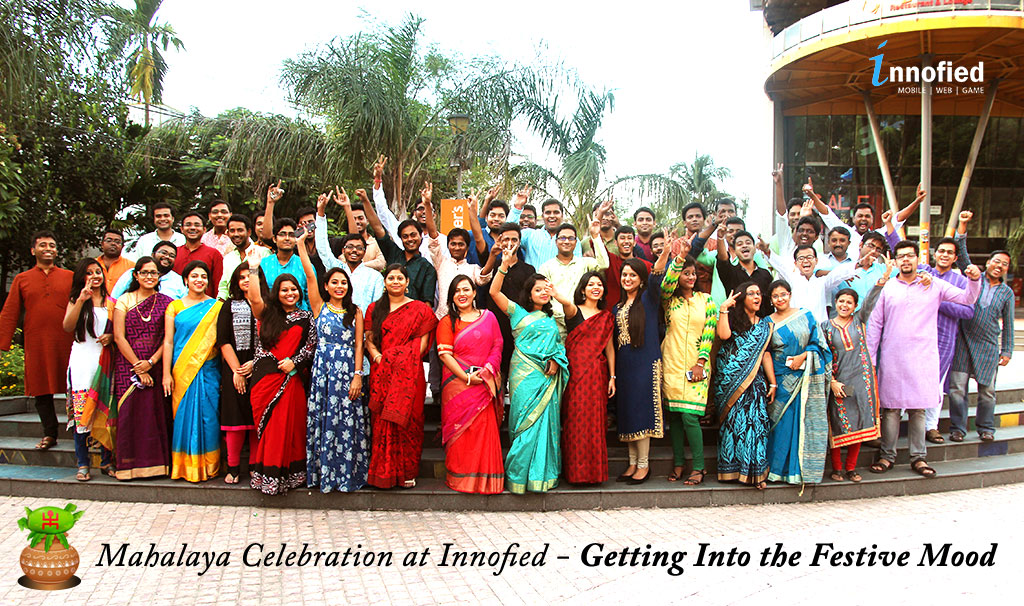 Mahalaya Celebration at Innofied – Getting Into the Festive Mood
Mahalaya is the most auspicious occasion observed seven days before Durga Puja, which heralds the advent of Goddess Durga. With Mahalaya, what we associate the most, is the All India Radio program that recite the verses on "The Annihilation of the Demon." Just with the right tuning of the radio channel and strong smell of the night jasmine, we wake up with a festive mood every Mahalaya.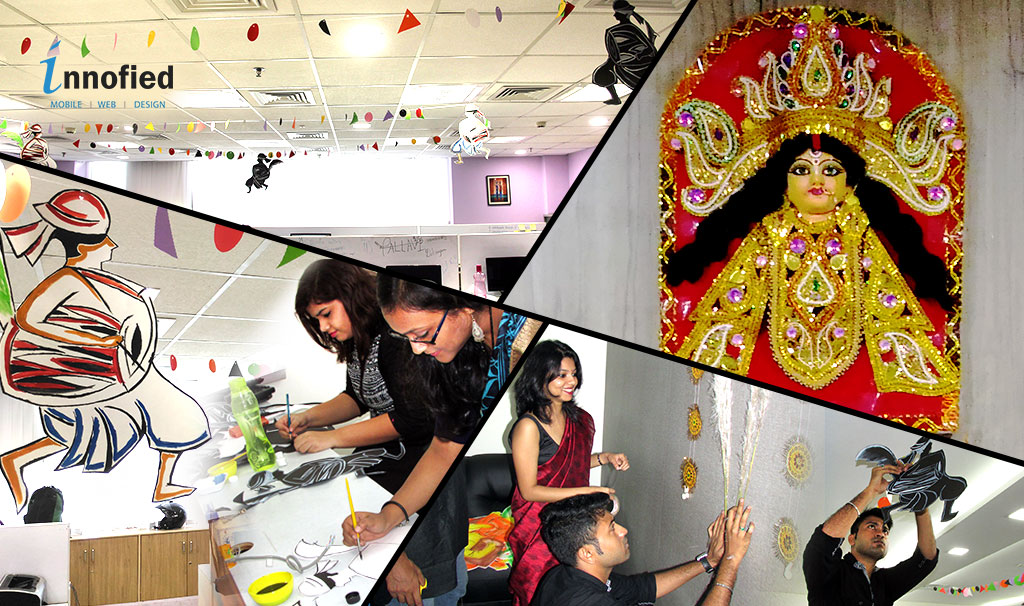 And to keep the mood persisting throughout the day, we almost celebrate Mahalaya in various ways. So why not our workplace? This time we got Innofied decked with innovative decorations to feel the true essence of Durga Puja. And the cherry on the cake was the food. We had a gourmet lunch arrangement lunch to mark the beginning of celebration.
And why taking a stop at the decoration, our Innofied's Cultural Team kept the festive beat in full swing with a stupendous program.
The Show Began with Pomp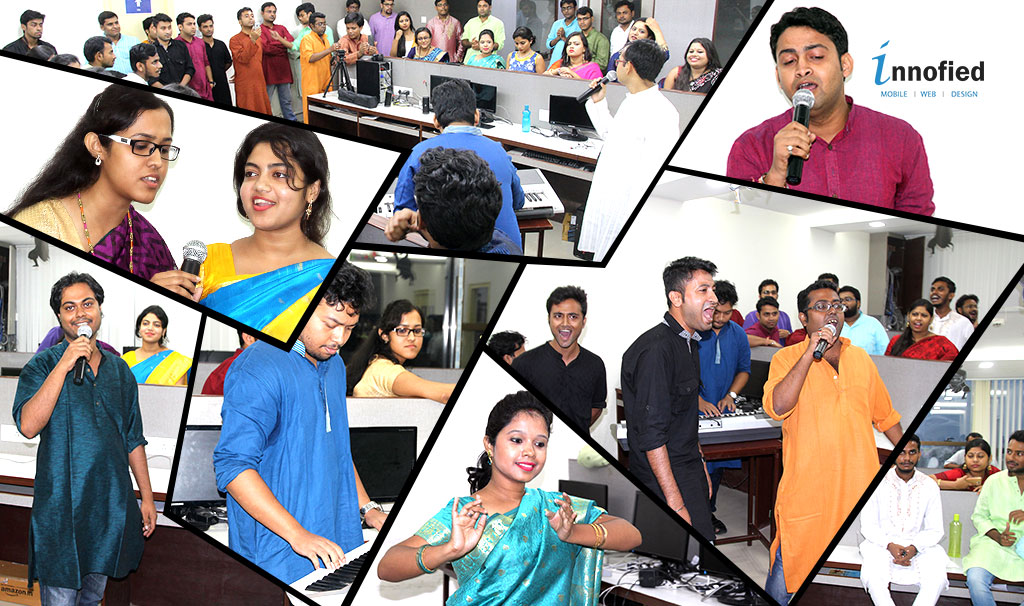 At 5 PM, we started our cultural program and the first to hit the stage was our Marketing Head, Palak Biswas with his commendable baritone voice. A marvelous groove from Bangla Band Kalpurush and then we moved to tribute Rabindranath with two melodious compositions, "Bohe Nirontoro & Eki Sotyo Sokole Sotyo".
Next on the list was again a song, but a little trendy and modern. The new catch of our program was recitation. Again we moved to the era of Rabindranath. "It is impossible to keep a program devoid of Rabindranath and his creations", quoted our host of the show. So, soon we hummed to "Nirjharer Swapnabhongo". After long session of songs, recitation was an artistic relief to ears.
Keeping the aura of Rabindranath intact we had a duet composition by our next performers. After listening to enough of songs and verses we moved to dance performances. We have our own danseuses performing on Bengali modern songs. It was beautiful to watch the creativity and enigma of the dancer.
Now we don't like to be stereotype, so soon came on stage our hip-n-happening singer with Louis Armstrong's "What a Wonderful World" – that was truly honey to ears and clattered many claps.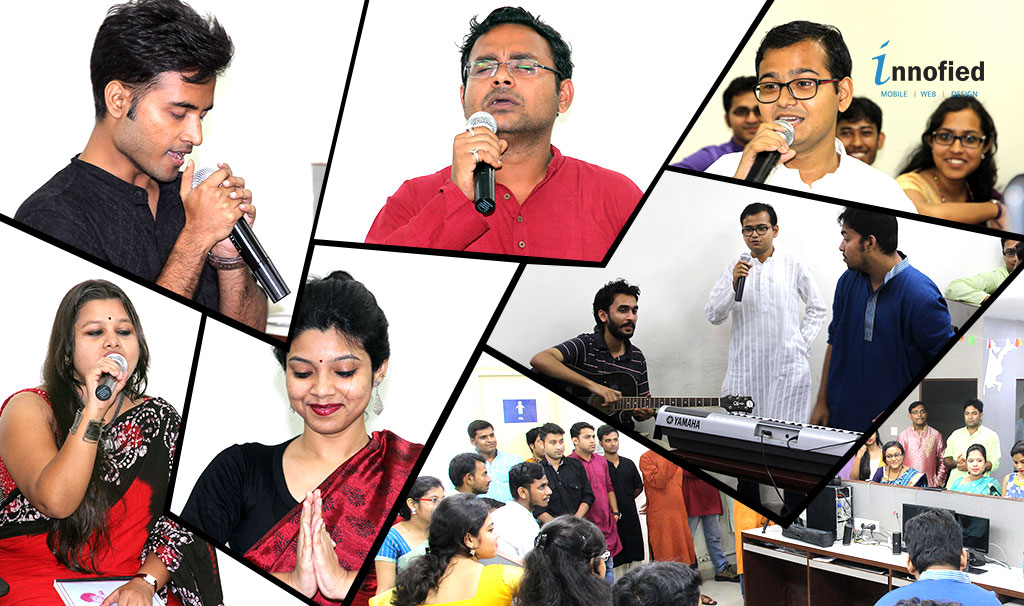 Good music is something that hardly anyone dejects. Yes, you don't need to be a musical guru or an expert to savor good music. What you need is ears. And with that rich taste our next performer, struck the note of his Synthesizer. He had magical fingers I must mention.
Next on the list which kept the aroma of Mahalaya intact was a dance performance on "Ayur Devi". The dancer was elegant in her moves to represent Goddess with utmost of ecstasy and vengeance.
Now we had 'once more type' songs in our lists too. Up came one of teammates with his melodious voice and a romantic song "Main Rahoon Ya Na Rahoon".
The Showstoppers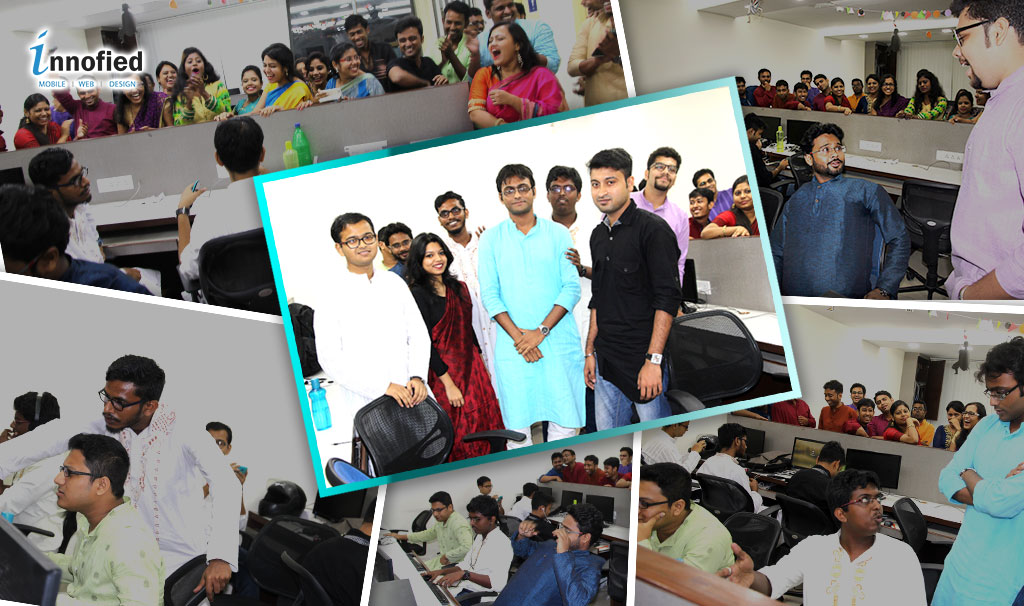 How can a show would be tagged as completed without a drama or an act? We had that too. A mimicry based comedy drama called "A Day at Innofied". ROFL – I hope you all know the abbreviation, and we literally were "rolling on the floor" after watching this light-hearted 10 minutes comedy strip. They made the gag enacting different characters within the office and showing how they walk, talk, execute, synchronize and spend their day at Innofied.
The last performance and obviously the cream of the show was our Music Band. We officially launched Innofied's very own band – CodeBreakerzz – And guess what, they broke all codes of music.
All good things comes to an end and so do our performances, with a note that we are going to make it large on our Foundation Day.