"Dude, you've written that the cost to develop a mobile app is more or less $15 to $20K!", smirked James.
I smelled the tease.
"Eh, James, you know, that budget is 'just' fine for a basic project", I replied. I knew he referred that info smirkingly because the amount he spent with us was about 3x the mentioned number!
I tried to make James, my client, understand that if someone has the budget more than $10,000, they must consider looking for a professional mobile app development company. And when they do so, what they get is a quality product and hence an increased cost! For people with a good budget, the app product will simply be GREAT.
Since we had this chat way back in 2013, things have changed a lot. People are overconcerned about the cost of app development and I've been asked this question numerous times. With 4 years down the lane, I think it's time to finally return to answer the epic question, "how much does it cost to make an app".
Whether you are looking for iPhone app development cost or Android one, there are certain factors that determine the cost of app development:
Backend server support on app will cost higher

Complexity, customized features, platform will add to the cost

Apps with simple features on single platform will cost up to $20,000

Post development marketing adds up to the budget
Now, these are some of the basics but most important. Since people who have low budget may get petrified that their app development is not getting on board, this post is to help them with the best possible analysis that defines the app cost.
Let's Find Out What Influences Cost Of App Development
You may have come across a number of articles over the web talking about app development time and developer hourly rates.
But is it that simple?
Does cost estimation hinges just on simple time and hour estimates? Hell No! There are different crucial factors that help in successful implementation of an app idea- Android or iOS. You need to evaluate the talent, complexity of the product and the post delivery support including marketing.
1. Your Choice Of App Development Team Will Decide Your App Cost
Well, that depends on what project requirements you have. For a 'basic' one, you will need a UI/UX designer, two developers, one project manager and a QA(Quality Analyst). If your app requires backend support, the team needs a backend developer.
For an app with 'customized' features and support, that requires an admin panel, you will need at least 2 to 4 Android or iOS developers for each OS and rest will be same aforementioned. And where are you going to get those? Well, from a trusted app development company! So is there any way to find the best development partner?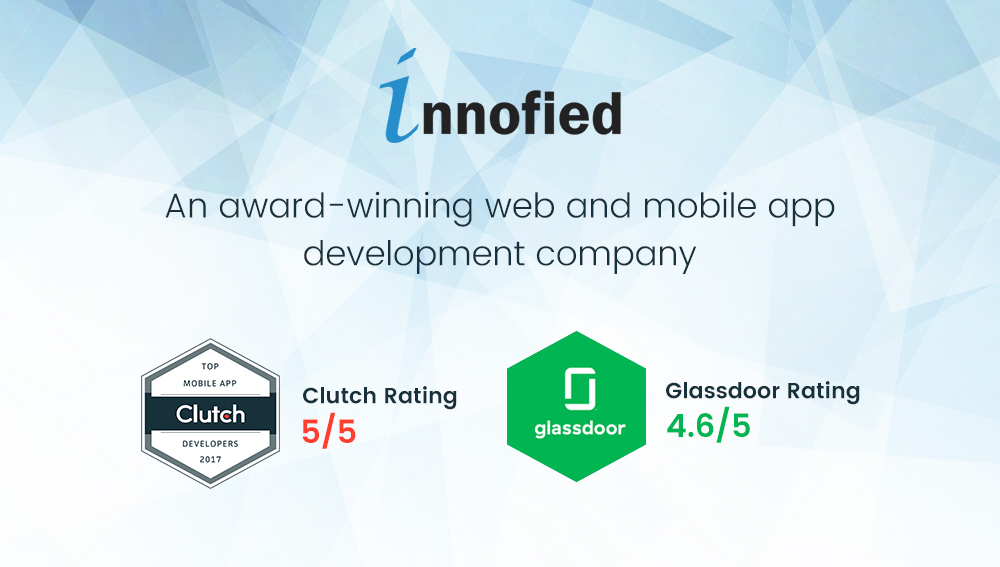 Trying out a company according to the Clutch reviews is one of the best things to go for!
2. Does Your App Need Costly Elements?
Now, this is one of the major factors that determine mobile app development cost. So what are these costly elements that account for more cost?
Complex technology

Customization in animation and designs

Number of devices used and OS required
Let's move to them in details.
A. Your App Cost Couples Due To Technical Complexities
Apps are itself a complex product. And there can be numerous complexities to it. Suppose you want your user to sign up directly via their social login. That looks simple but is time-consuming and complex to actually develop. It requires third-party integration, including frameworks and different services. It adds up to cost to create an app.
For an instance to integrate payment mode, you need to have Braintree, Stripe or CCAvenue. If you want social media integrations for signup, login or share, you can accomplish with Twitter, Facebook, Instagram or other APIs. Layer and Actor can help you with Real-time Chats.
B. App Cost Increases When You Fine-Tune It With 'Backend Development'
To talk simple, you can think of backend as the data messenger between an app and its database. It enables APIs to help exchange data seamlessly. You can build your business keeping backend as the base.
"Everyone seems surprised that Instagram chewed through $500K in venture funding to build a new frontend and backend. I'm not." – CRAIG HOCKENBERRY, STACKOVERFLOW
C. Admin Panel Is The App Manager- Are You Giving It A Thought?
What's an admin panel, you may ask! Well, that's typically a dashboard that helps manage users, operations, commands, view stats, control actions and lot more. Anyway, you need a manager for your app right?
Admin panel does the job for you. Also, there are customizable admin panel templates available online but customizing it for your own business needs can be difficult. In fact, if you get your own unique solution, you get many efficient results.
D. Some Hardware Components Which You Can't Ignore
Gyroscopes, NFC Bluetooth, Heart beat sensors, GPS, accelerometers are some of the major hardware that modern smartphones are laden of. There are different sets of different devices and hence your developer's approach has to be different for each device. And communicating with each of these may increase the time of development and hence cost of app development.
E. Yes, The Most Important Complexity- UI/UX Designs
Yes, I know you have heard a lot about this in many articles! But that's important peeps.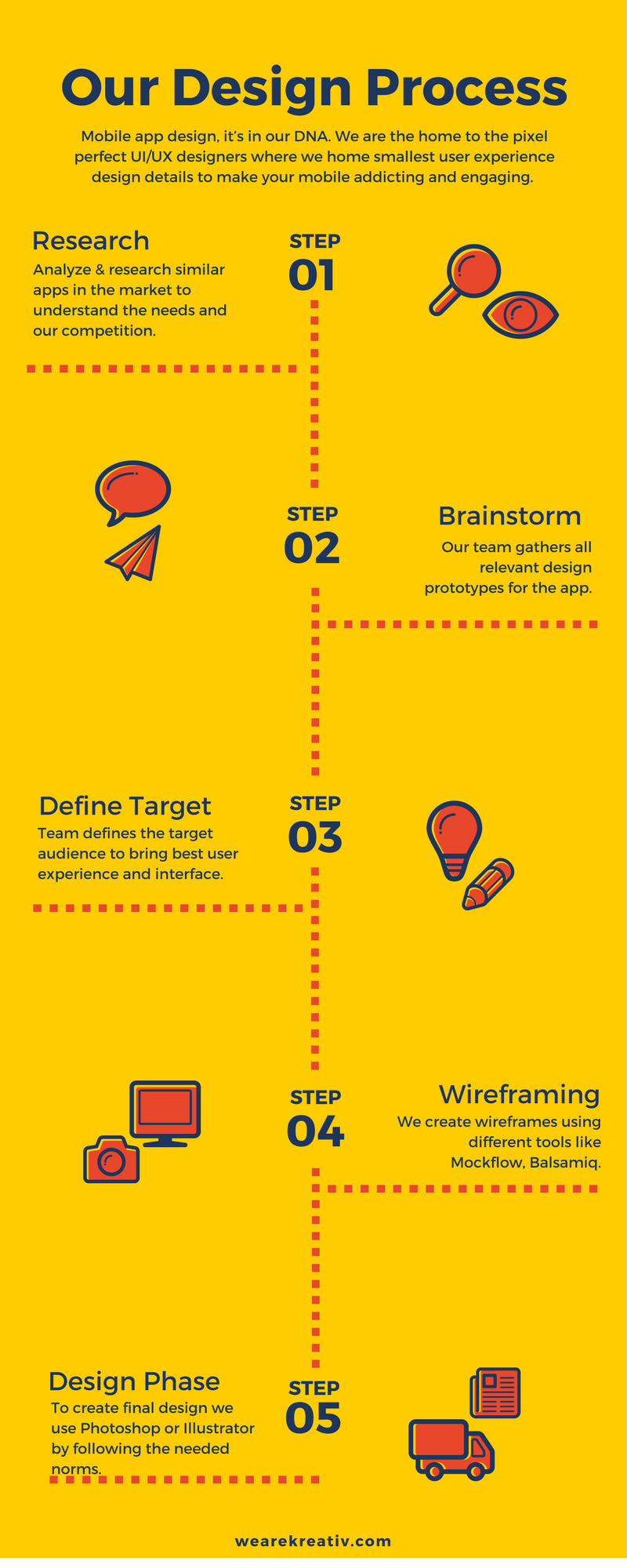 Building a custom, fine-tuned UI/UX is not just difficult rather you need some experienced heads working on your project. There have to be some major iterations in design, wireframe sketches and a lot of other things that will increase the development time. At Innofied, we Research, Strategize and Design to bring alive an amazing user experience. We will suggest your the best customizations and great UI components. Better designs you choose higher will be the cost of app development.
F. Operating System And Devices- How Many Of Them Are You Considering?
In general, Android app development takes a lot more development time compared to iOS. This is because there is a vast range of device models with different brands in  Android. And to develop apps that run bug-free in all those, you also need testing devices which add up to the cost.
3. Which You Wanna Go For- Agile Or Waterfall Development Process?
Agile and Waterfall app development methods are two major methods popular in the industry. But they are quite different from each other.  While waterfall development has a clear documentation before development gets started, Agile development is more like free-spirited development. Developers work in sprints to find out what goes with the coding.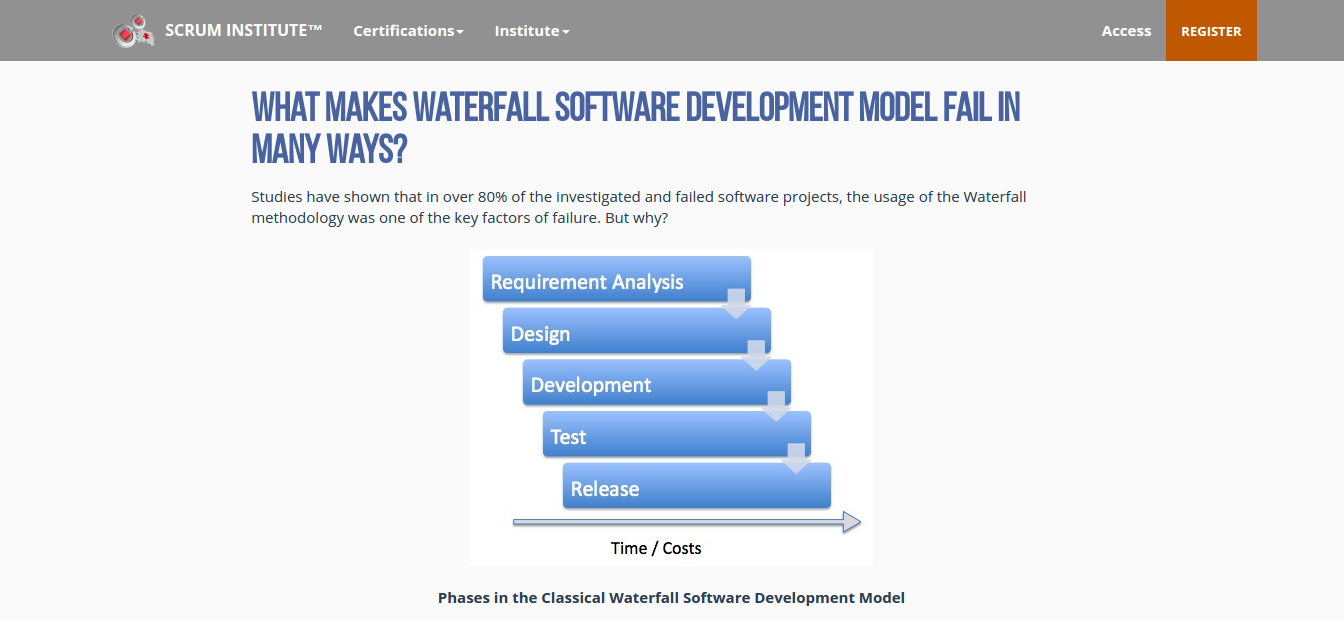 Waterfall project starts with a planning of each of the aforementioned stages. If there's a delay in a single stage, the entire process gets delayed. But it's often difficult to set every requirement when you start the project. In most cases, initial requirements get modified and few of the changes. Then you find out some additional requirements that suit customer preferences better. Well, the situation becomes a complete mess.
Whereas, Agile development happens a stage after another, in short milestones are set. It's more of an iterative development also known as a hybrid approach. There is obviously some documentation including mockups, app screen wireframes. And in detailed functionalities, the major requirements are figured out during the app development. It helps you in better app marketing. Let's check them for details:
better product quality
increased project control
higher client satisfaction
Risk is reduced
generate better ROI
At Innofied, we strongly believe in the agile app development methodology and focus on the same. Check out how we do it.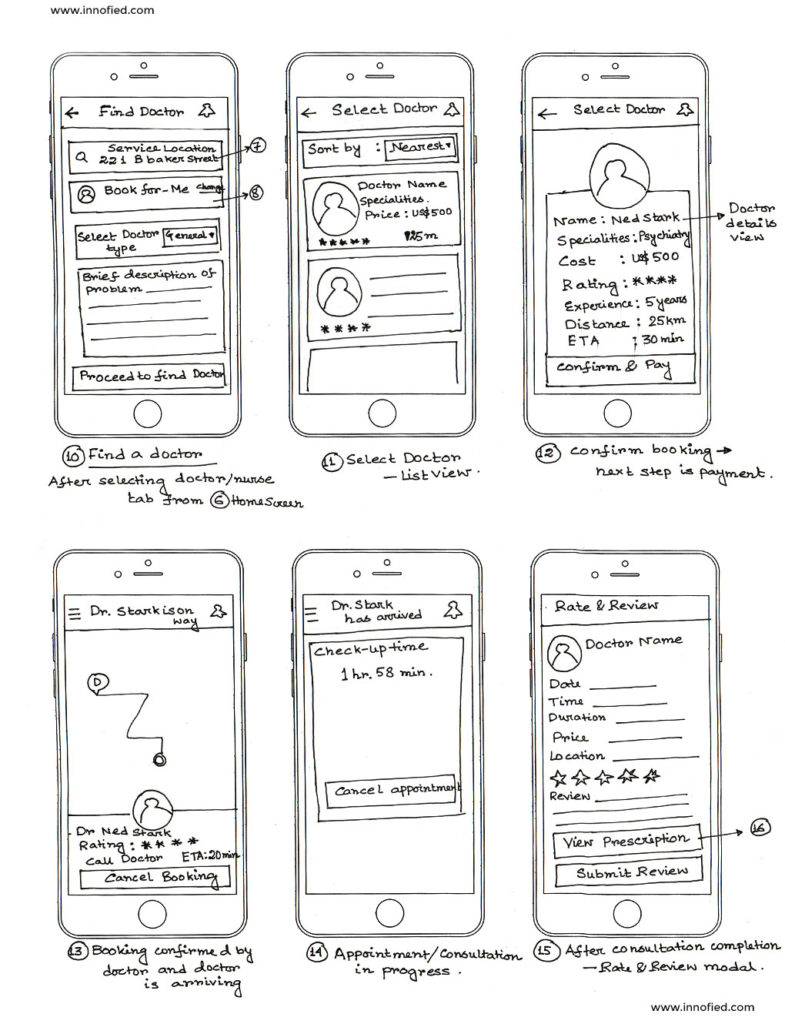 Talking about the cost, as Agile Development gets you better results, you get incremental releases when your milestone is accomplished. You reach your audience faster. And hence the cost of app development is higher.
4. What About Simple, Less Complex Apps? Does it Cost Less?
Let's face it- Apps with complex features are not always fun! Rather, we find simple apps more trustable. I sometimes wonder why managers are more focused to add more options in their navigation screen when their focus must be to evaluate how simpler choosing an option can be. 'Simplicity is Virtue'- if you're following this principle, you can put your every effort to create your app without losing out its robustness.
But,
Apps with a simple interface and fewer complexities can also be challenging. We've to build apps with fewer challenges and fewer pages under five figures. And here the cost will reduce if you eliminate some of the major points mentioned here. Still, to get a quality and decent app, you need to start with $15,000 to $20,000 or so. We have a design philosophy that simplifies your features and makes the User Interface seamlessly. If you aim to ' solve problems' with your app, you can go for simple mobile apps in IOS and Android. Talk with your app development company to have your app on both platforms.
But here's the thing- Android apps are cost more compared to iOS. Why? Let's talk it in the next point.
5. Why Does Building An App For Android Cost More?- The Tax For Android
Even after 5 years of rigorous app development in my company and all those technological advancements we have implemented, we still feel Android apps are difficult to build. It almost takes 3x times longer than its iOS counterpart. That's also a major reason why our clients prefer to develop their app for iOS first and then move to Android.
Just to figure out Android or iOS takes more time, Innofied analyzed a dozen of projects in the last few months. We measured both iOS and Android platforms, their line of codes and language we used along with the hours required.
Here's a snapshot of our latest app product.
The facts were not very surprising- Android app tool 40% of more lines compared to the iOS equivalent app. Swift for iOS takes a lot less time compared to the language Java for Android. And this was the cause for increased Android app development cost.
Coding is definitely one important thing but 'time' is a crucial factor as well. And once again, Android took almost 30% of more time compared to iOS apps. This accounts for the 'Android tax' which is a major addition to the cost of app development. Reason behind?
It is claimed that Java is a more verbose language compared to Swift for iOS. The platform Cocoa for iOS is more developer friendly to be precise compared to Dalvic. You mobile app developer can easily use WYSIWYG techniques for iOS and XML layouts manually written for Android. Hence the time and cost for Android gradually increase.
The Cost Bottomline
The total cost to bring your app to the market is just beyond v1.0 budget. Remember that there a lot more than the initial design, development and product management. There is certainly a fixed budget. And your customization will determine the cost of app development (Calculate your cost HERE!).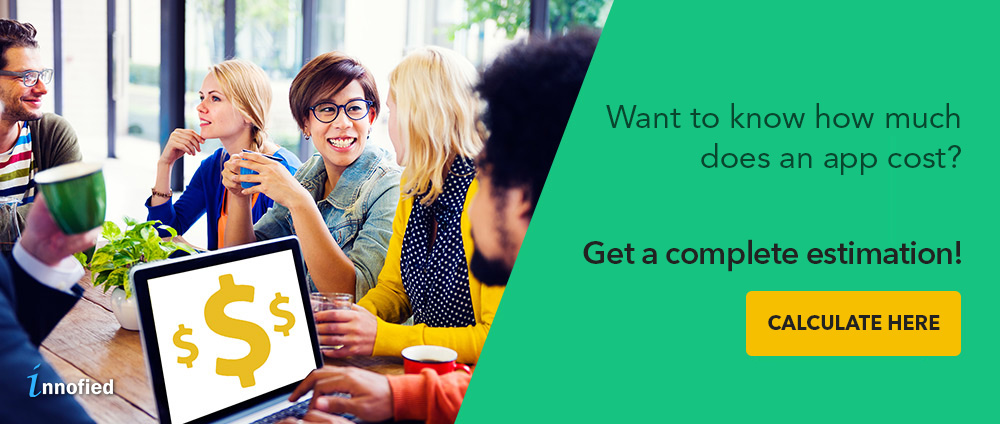 So, if you are really serious with your app- and your dream- don't just take a chance. Consider experienced developers and market leaders for your 'dream app'. Even if you are looking to upgrade your pre-existing app, outsource a company that does some amazing brainstorming. If you are an early stage startup venture, try evaluating the complete cost to bring your app to the market.