Progressive web apps are the future of web app development. Period.
PWAs introduced in 2015 has set the stage on fire since then. This year it is one of the raging web app development trends that is going to grow in the next four quarters. There is a lot of buzz around PWA app with claims it as the future of web app development.
The debate between mobile web and mobile app has spurred more action. Thus, it became easier for this emerging solution called PWA, to receive a warm welcome.
What made progressive apps popular?
Simple. They use less data than a regular mobile app. They took over the emerging markets that suffer from poor internet connectivity. PWAs are taking off around the world. As hundreds of global marketers use them to create a seamless user experience on mobile without building an app.
So it is not hard to say that if you are a big brand, you're sure to embrace progressive app development. Afterall, it is the user experience that you want to cater – regardless of the platform.
Stories of sufferance before the launch of PWA apps
Before the coming of mobile apps, we had to create separate mobile websites which had less content than their desktop version. All was done to reduce the burden on the mobile websites and make it load faster. The maintenance cost of such websites was double, and quality was not up to the mark.
Then came the era of responsive web design, which still has its own limitations.While the native apps are still prevalent and are certainly not going away anytime soon, but their limitations will continue.
Since 2015 we saw people looking for companies building progressive web apps that seem to address the pain points of both responsive web design and native app development.
Why were they in a rush?
Well, native apps are undoubtedly fast and efficient. On the other hand, websites are slow and faces connectivity issues. Accelerated Mobile Pages, the other name for PWAs was able to solve the slow connection issues and worked in all possible scenarios. Especially when we see a page like the one given below.

The annoyance couples when you see the page loader roaming as if it is on a World Tour. We wait and wait and nothing seems to get visible. This is where the PWA apps is a boon. Web application development company asks the brands and business to build it, just for this experience.
What are Progressive Web Apps?
Progressive web apps look and feel exactly like a native app builds in iOS and Android. But instead of downloading them from the app store you can access it through your browser. So you do not need a separate app. PWA apps development allow you to build an online presence with the presence of app-like features
Load the product like an app

Let it function like a native app

Stay responsive

Easy to access through mobile browser
Smoother animations, custom loading screen, and no navigation bar to obstruct view – that's the catch of progressive web apps. As said, since last two years PWA app development has garnered attention and brands like Twitter, Aliexpress and NASA were quick to pick it up.
But the hush-hush was not much until Google I/O Conference in 2016 and 2017. Even news is there that Google wants progressive web apps to replace Chrome Apps. (As reported by Android Police)
Why a web application development company gives a thumbs up for PWAs?
PWA apps development helps to eliminate the user friction by using app -level user experience. Your consumer will no longer need to find apps in the store or install them and eat up the storage. They just need to navigate the site using Chrome or Safari. Reason to use PWAs over native mobile apps – well, ThinkWithGoogle has an answer. (Check the graphic below)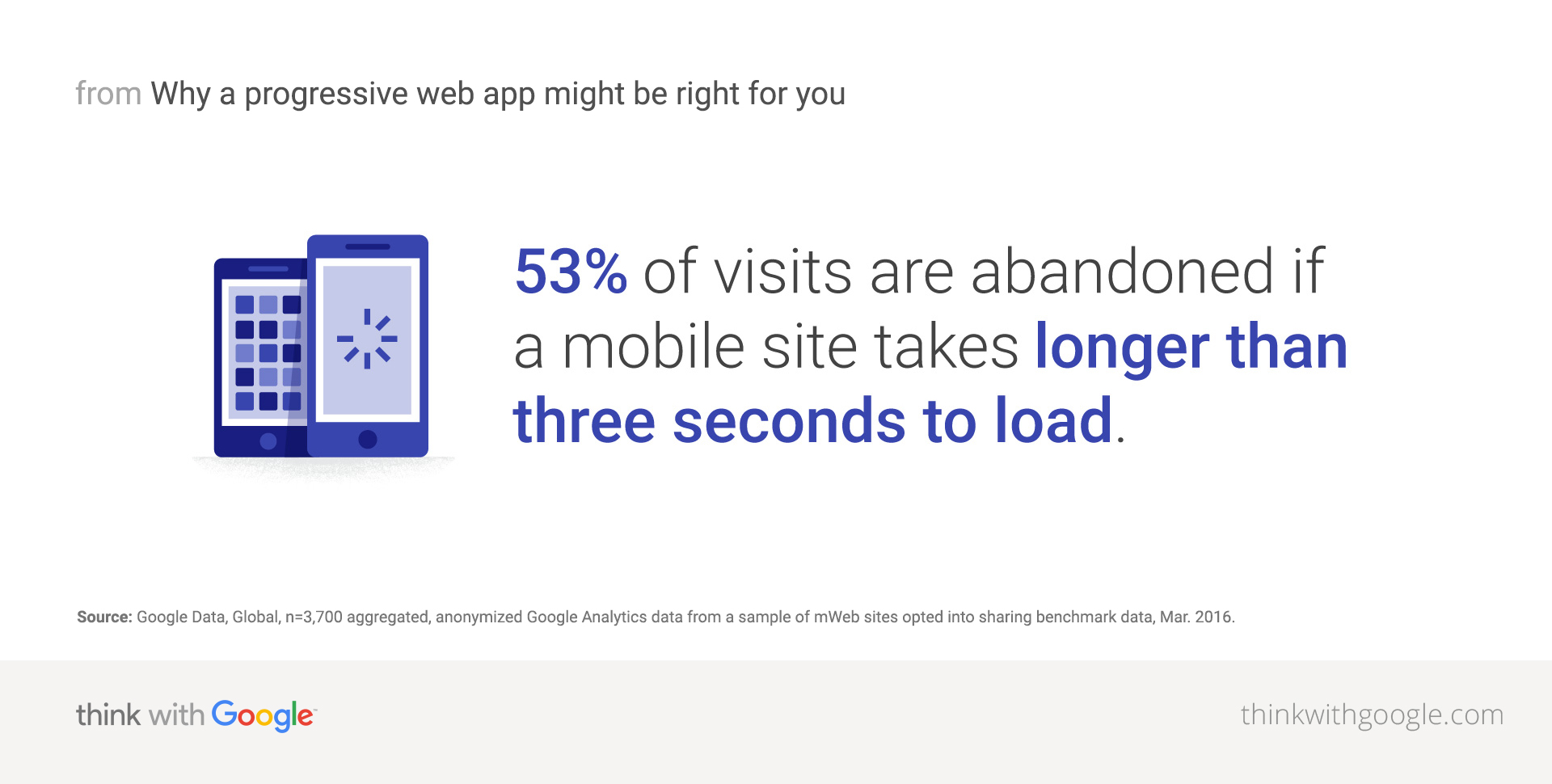 So with users abandoning a mobile site if it takes more than three seconds to load, PWAs will be a great option for the marketers.
Other than abandoning the site, there are tons of other reasons why web application development company think PWAs are more than just a TRENDY BLIP. It is very much needed for your business. And here are the reasons that tell why your business needs to build it.

#1. Reducing the friction for your users
This is perhaps the top reason for which PWAs are more in trend. Hardly any consumer will find any conflict while looking for your business if they can access your PWA apps.
For a native application – a user needs to perform certain steps – download the app from AppStore, wait for the app to get downloaded, accept permission and then start using. PHEW! Ths, when it comes to progressive web apps vs native apps – the former is a clear WINNER. 
[bctt tweet=""Only about one-third of smartphone owners download any apps in an average month, with the bulk of those downloading one to three apps." – Dan Frommer, as per Quartz report." username=""]
For a progressive web app, a customer needs to find your website on Google or Safari and then immediately get launched to your business. No downloading and no waiting.
This also reduces friction as you no longer need to worry about the use of additional data to download your app. Even you don't need to delete the app in case you fall short of memory storage.
#2. Security is not at stake with PWAs
Today, cybersecurity is a hot plate in the web world. Period.
It is a topic which lingers in everyone's mind. With new web design, web app developers move to any websites that deal with customer information to HTTPS. Since HTTP was not enough to secure much consumer information protection, thus it was replaced.
As more websites are programmed in HTTPS it is easy to launch apps in a secure environment. Thus giving your customer a confidence that their information is safe in your hand.
Web app developers will use Cache and Fetch APIs to load PWA apps quickly and this means it will take less time to load content. This function will allow users to load PWA offline from their home screen, without an internet connection.
#3. Flexible like native apps
After building progressive apps, you will be going to get a fully native app user experience. Shell of PWAs look like any native application and can mimic any gesture that you find in a native app.
They hail from managing customer information to online ordering and various other loyalty programs. Even you can prompt a web user to save the PWA to their respective home screen as a shortcut so that they can instantly access it whenever they want You will also get the full native app functionality including push notifications.

#4. Speed of your app increases
When it comes to speed, progressive apps are highly reliable. Javascript that runs separately from the main thread, allow you to load the PWAs app instantly, despite having a feeble internet connection.
By nature, progressive web app development enables your business to build a fast solution that is fast to cache information in the browser and the app.
#5. It can actually work when you do not have internet
The web app developers employ Cache and Fetch APIs to load the PWA apps quickly, that means less time is spent on the loading of the content. These function also enable the PWA apps to work offline from the home screen. Even if your users are not having an internet connection, PWAs still send background updates and push notifications.
#6. Your business does not need the App Store middleman
The major setback comes when you hire an app development company to build you a native app, comes when you have to deal with the app stores. After you build a native app, you must register your account with the app stores and pay fees for each download and in-app purchases. With PWA apps you are free from registering with stores like App iTunes or Google Playstore.
#7. For faster adjustments your business needs PWAs
If you build progressive web apps you do not require to send new builds to the app stores if you need to make few adjustments, which at times eats up much of your time.
For example, if you find a critical bug in your native app, you developer will find the problems, fix the same and will send the build to App Store or Playstore and wait for them to review and then send the new updated version to your customers. With progressive web apps development, you can launch fixes instantly and don't even need to maintain two separate base codes.
For the critics, who might feel that PWA can be a solution everywhere
We are both native and web application development company and perfectly agree that "website as an app cannot be an ideal solution. Since PWA apps have less access to native system features compared to native apps.
Read More: Complete Guide to iOS App Development
Even, not all browsers give full support for everything that a web app can do, although seasoned web app developers can tweak the core functions in most circumstances. The worse case scenario PWA will offer what a mobile website can.
Moreover, progressive web apps are a little Android-centric, so iOS partially support them.
But there's always another side of the story and that tells PWA apps are the future of web app development!
[bctt tweet="65% increase in pages per session, 75% increase in Tweets sent, 20% decrease in bounce rate @Twitter #progressivewebapps #pwas" username=""]
Not just Twitter who had reduced 20 percent of their bounce rate, but brands like Lancome saw a 53% of rise in iOS mobile sessions and 17% more conversions. MakeMyTrip.com also saw 160 percent rise in the shopper sessions and those returns are a simple projection that your business can't IGNORE – I bet!
Why your business really need to build progressive web apps?
Native is not going anywhere soon. Don't worry. They have their seatbelt quite tightened. However, we are going to witness a massive rise in progressive app development. Mainly the domains like e-commerce, media, and restaurants can garner more profits and captivate more audience. All because –
Progressive app development will cost you much less compared to native apps

They provide an app-like experience even when you run it in the browser

They are built on cross-platform so you save time on adapting your service

Since backed by Google, so the growth and approach will be refined and fast
Just like other web application development company we feel super excited to offer PWA app development. Though it might not be a solution to every business, we believe that PWA apps can build a strong mobile presence for your advanced products that are already in the market.