"The app market is saturated. Chances of monetization is just too low! It's safer on the WEB."
Ask any startupreneurs about their plan and 3 out of 5 will tell you this.
But I am still confused about this 'saturation'. How is the app ecosystem considered saturated within its 6 years span? Whereas web has existed for almost 20 years!
Well, I think it's not just about the saturation. For instance, there are 2.2 million apps on iOS App store and still counting!
Is it stopping anyone to create more apps?
So, it's not just about choosing web over an app. The chance of monetization and ROI is still high if you understand few crucial things while manifesting your app 'idea'. Like,
Is the idea solving a user problem?

Will it be easy to use?

Does your app idea has enough takers?

Are you going for the updated technologies?

Have you planned to validate your MVP?

Have you got enough funds to sustain your app idea?
There are many more questions to answer. But these are the starters that can make or break your product. And whoever has failed to make their startup app idea successful, might skip answering these!
Fret not!
If you are that wanna-be-startupreneur or already have got the million dollar app idea, get your requirements clear. Executing your idea right is the first step to success. And we will start with the scope of iOS app development services for startups.
It's 2017. And What's The Total Share Of iOS Users?
700 million!
Yeah, that's big…
Apple's total share of iPhone user is growing exponentially. And it will reach 1 Billion in no time! Tim Long, BMO, Capital Market Analyst estimated the number to be a staggering 715 million that includes 228 million second-hand mobiles.
And with the launch of new iPhone models, with never seen AI, it is expected that iPhone users will increase in the upcoming year. Having said that, iOS platform will have a good number of apps integrating updated technologies. These updated technologies will be the breeding ground for numerous apps to embrace the changing market demand. Let's explore some of the major trends that will rule in the near future.
Ios App Development Trends For Your Startup
1. The Idea of a Smart World, Integrated With IoT and Wearables
Smartphones, smart homes, smart health, smart cities and smart you- this will be the undoubted motto of the upcoming year. IoT apps already started with a bang in 2017. And it's time for IoT and wearables to dominate in full swing. So, startups industries like healthcare, education, finance & real estate, event or retail, there is a genuine scope to go for IoT apps for iOS users.
Also, apple watches are on trend and already booming. So, startups can look for iOS app developers and keep innovating to fulfill the demands.
2. The Yet Unexplored Accelerated Mobile Pages
Almost 7% of the web traffic is from the AMPs to the leading publishers of US! It is expected that this technology has got the momentum. AMPs, or Accelerated Web Pages in the Layman terms is an optimized web page for mobile phone users. It is creating mobile-centric web content that loads anywhere, regardless of the network strength.
This is yet another untouched scope that is going to be a trend soon. AMP will get new support from Google's iOS apps and in the coming years, the percentage spike will be obvious. After this, it is expected that it will help in better SEO ranking as well. How?
Well, it will increase your CTR, which will directly increase your visitors, rankings and search indexing.
3. New Wave of Mobile Payment Industry
Is your startup targeting millennials? If yes, payment industry is a good sector to invest. Millennials love to do their finances at their fingertips. And apps like Paytm wallet, Apple Pay, Tez, etc have already got a lead.
Related Read: Google Tez vs Apps Like Paytm Wallet — The Game of Digital Payments
Customers are shifting to mcommerce and that's good for your business. You can make customers more comfortable with your mobile payment apps that have something unique to dig in.
4. Augmented Reality/Virtual Reality Apps
Augmented Reality is now beyond gaming and the entertainment industry. They have a huge potential to transform different industries altogether. Be it healthcare, education, engineering real estate, startups from every genre can use this technology to present their product in a better way. Look at how real industry will get transformed.
By giving an extraordinary visual experience to your consumers, you can show your product relevance in real time. There can be virtual showrooms that will take much lesser space that for display. The technology can also be used for your branding and aggressive product marketing. But for an amazing outcome, you need to consider iOS app development services seriously. You should know how the service can manifest your idea.
5. The Age of On-Demand Apps
The trend of on demand apps goes without saying. Millennials or baby boomers, everyone finds them convenient and easy to use. They are lifesavers. Period.
So what kind of startups can go for iOS app development services?
Cleaning, laundry, beauty salon, food delivery, taxi, event, courier- you name it and you can have an on demand app. And people love using them. They are loT convenient to use when you are living a busy life and have got no time to do your laundry or cook your food. And if you enter this market with professional iOS app development services. They will understand the requirement and develop the right product.
So these are top trends to enter the market with iOS platform. You can start with iOS and move to Android checking the response from your audience. But how will you ensure your iOS app idea is going to be a hit? I have a solution for you. Test it with your MVP.
Minimum Viable Product- The Weapon To Save Your App Idea
Almost 90% of startups fail with their idea.
Did they go wrong with their strategy?
What are the underlying risks talking about the iOS market?
We can sum it up to 3 major things:
Poor business model

Poor product marketing

Less investment
Well, if they are really smart, they can easily bypass that. How?
Enters MVP- Minimum Viable Product. It is your silver bullet to kill all the reasons for failure. It's all about "not moving ahead with your idea without having a strategic, strong and tailored management process"
Let's not confuse you anymore. MVP is all about understanding what your customers want. And go with the idea. It is the most crucial stage of software development when you release a new product. With bare minimum features and a simplistic version, you can launch your product into the iOS market. And yes, you can still release it to the first customers. It will gradually evolve over the time when you'll get more insights from your audience.
Related Read– The Advanced Way To Build An MVP App For Your Startup!

The best idea is to launch the MVP with a featured that really, REALLY differentiates you from your competitor. Have it in place, launch it, validate it and get the first-hand user data to improve your product. Hence, the chances of failure reduce.
So, how to validate your iOS app development MVP?
How To Choose iOS App Development Services?
So, you have got the basic idea of your iOS app, know the share of iOS app users. And you are confused about taking your first step. Fret not. If you have the basic idea of how iOS app development services work you can get it done. It not a rocket science fellas!
Steps To Follow
The first step is to choose one of the iOS app development services. I know you have heard all the unsubstantiated claims of delivering the best quality. But, there are better ways to scrutinize the best iOS app development company. At Innofied, our team of developers have worked for leading brands and have created award-winning solutions. Our vivid portfolio speaks for itself and we are proud of sharing our client's success.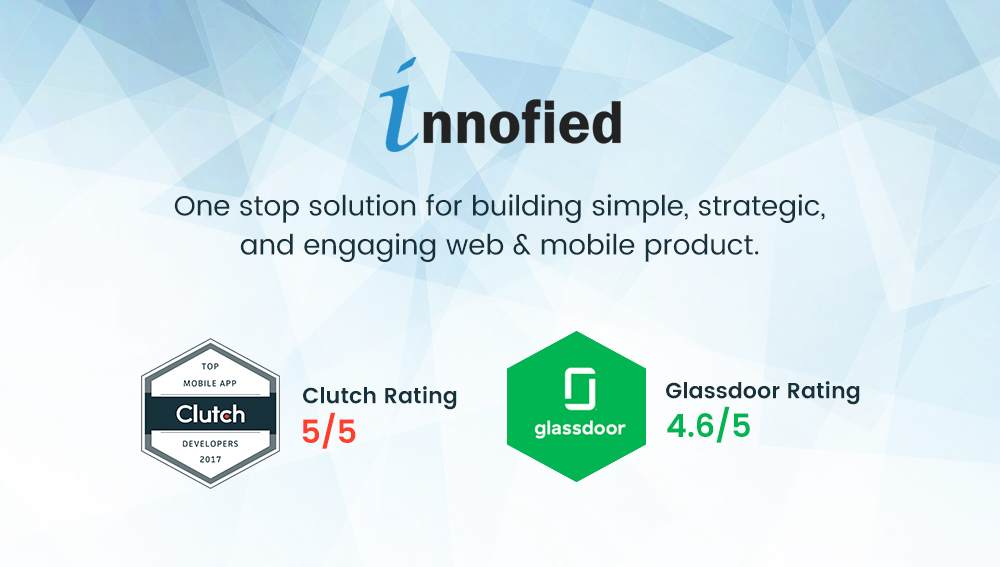 Coming back to the ways of finding the best company, you may need to check on few things like their flexibility, expertise and UX quality. They must have a higher client retention rate with clearly defined specialties, unique development process, and a proven skill set. The team must have a synergy that ensures surpassing technical and aesthetic challenges.
So, it's safer to look for mobile app development companies specializing in iOS app development services. They should have a strategy that goes beyond the build. The product they create must be scalable and easy to market to put you ahead. For inference, check their portfolio on Sites like Behance and Dribbble.
Finally, always check their day-to-day processes they follow. With any business partnership, transparent communication is important. Make sure they are comfortable in doing regular communication. The build created by iOS app development services must be awe-spiring!
The Nuts And Bolts
It sums up to create strategic planning to succeed with your iOS app idea. It is all about the agile planning that will give you results at every milestone. you might need to know the cost analysis for your iOS app idea. Estimate the cost by sharing your app idea with one of the most trusted iOS app development services. Create a strategic partnership and you are ready to take the world by storm. We have helped hundreds of apps go live in app store. Have an idea in mind? connect with our experts today.