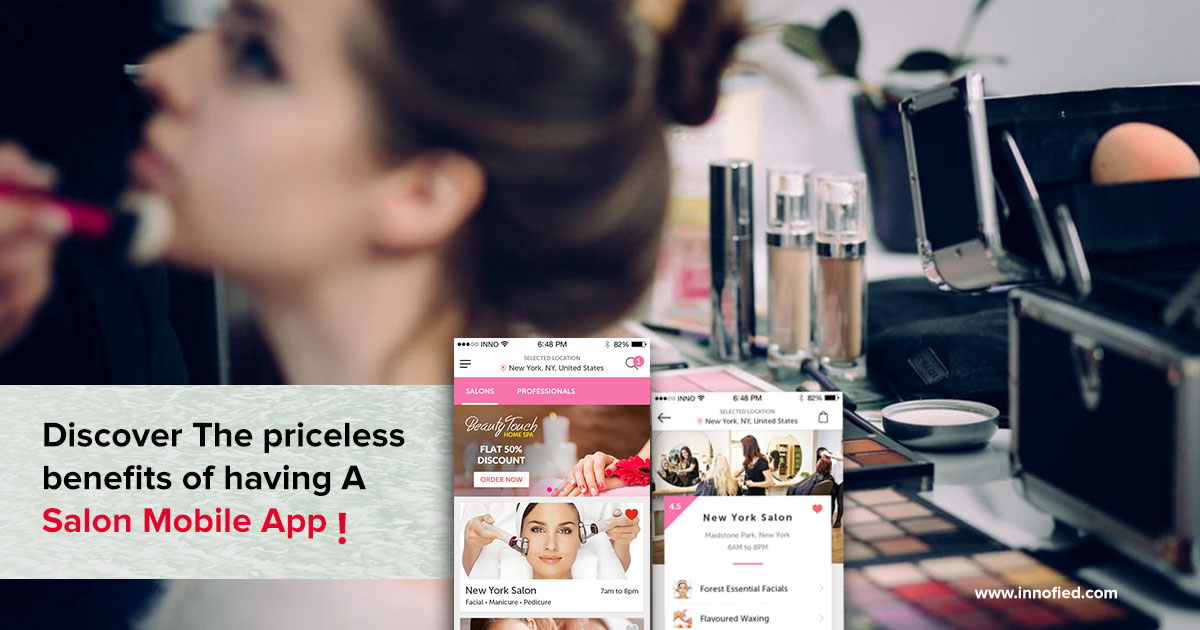 6 Ways A Mobile App Can Dramatically Improve your Salon Revenue
Updated on Aug 26, 2019 
So you have a beauty salon and you are struggling to get more business for it. 
Well, you cannot ignore the fact that today, the maximum number of your customers are first googling the best salon nearby. And then probably choose one according to the ratings, availability, and cost. So, if you are not getting enough business, probably you are missing out on targeting the local customers!
Salon business has been there for a long time now. While the traditional salon business is still going well and good but there is always a room for improvement.
In the age of digital marketing, if you still miss on your online customers for your salon, you are doing it wrong!
Why?
Let Me Tell You Some Beauty Industry Facts:
Present Beauty Industry Trends
About $3,756 is spent by women in a year for enhancing their appearance with products and in salons, according to a study done by Groupon. And that's a huge industry to target. If you are in the beauty industry or have a salon of your own, it's time to target this industry. And what's better than going live on an app?

Currently,

apps contribute more than $40 billion to the industry

– that's an astounding figure, isn't it? App-based businesses are expanding with remarkable success!
Precisely, small businesses have the maximum scope for growth. If you own a salon business, you may feel the grave local competition. The biggest challenge lies in customer retention. To enjoy an unbundled supply of customers, you need to produce happy customers. Be it emergency appointments or cashless transaction, access to local deals and offers or instant notifications on discounts.

If you lack good management, you lose customers! And you don't want that, I know.
So, what could help you get better traffic in your salon? A robust mobile app for beauty salon is the answer! But how? Whether you excel in a haircut, manicure, pedicures or massage- streamlining your services on an app platform will make management painless. The goal of your salon service is to alleviate the stress factor from your customer, isn't? You can give it a head start with on demand app development, designed for a memorable experience. Every time!
Let's dig into the best reasons for why and how your mobile app for beauty salon can solve your hassles.
1. You Can Reduce 'Wait Time' With Your Salon Mobile App!
Don't you struggle booking appointments on call in your salon? You have to keep a separate caller for your business to receive calls, set appointments, fix stylist and so and so forth!
But with a mobile app for beauty salon- You let your customers book appointments on the go. That's a major benefit to be ahead of your competition. If you hit this spot with a professionally designed on demand beauty app, you are filling out the scope. Technology-driven management will tailor your inventories and easy inventory management. Your users can have booking done on-the-go with beauty salon mobile app.
Zifi is a great example of a successful mobile app for beauty salon. The app lets you book for different salon treatments for free. You need to pay when you avail the treatment. The on demand mobile app has made it easier to be the epitome of beauty. This mobile app for beauty salon is seamless, easy to use and neat.
Zifi says, "Choose your stylist, book them instantly for free and save the date!"
So, there's already some competitors gearing up for attracting more clients. Having said that, with an offline business, getting a robust customer base will be a challenge. To get the most out of your business, you must go for beauty & salon app development. With that, you can reach out to more number of customers. No more calling for beauty salon mobile app platform!
2. List Your Services In A Library Style Display For Clearer Understanding
When you get customers who come up with different styling demand, how do you handle them?
Say anyone can query about the latest trends in haircut or throws a request like- "I need a nail art…" Or  "I want a haircut, but not too drastic…!" These queer requests can be handled if you already have an app database filled with choices to get spoiled! That's also a reason why app downloads have skyrocketed in recent years.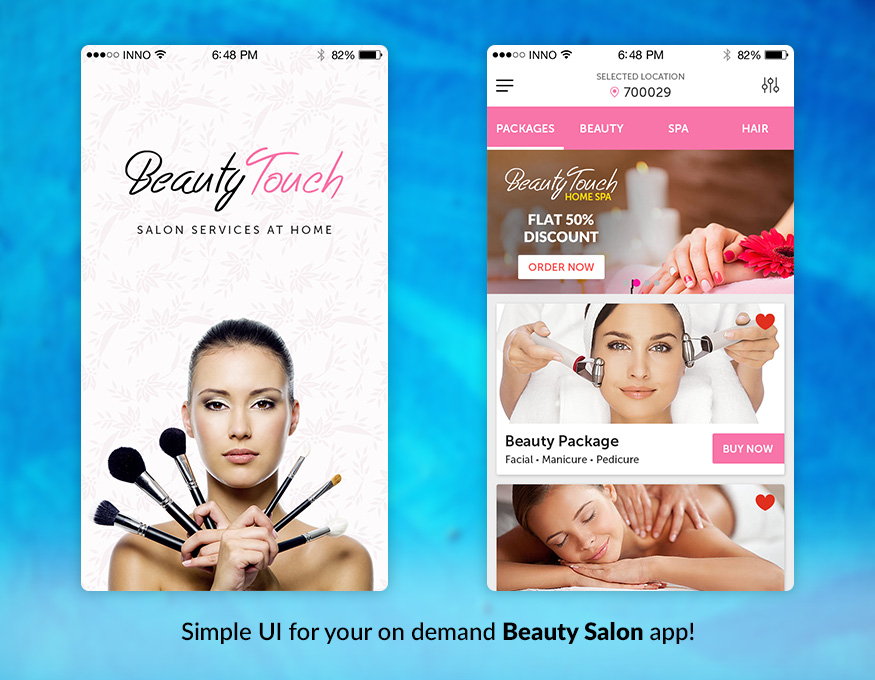 So, as you compile the latest trends in your app library, you are good to go. What you can do is,
Create a simple UI in the beauty salon app:

Collect current trends in hairstyles, pretty manicures, and massage trends. That way, you are giving your users a clear choice to make. Enhance your mobile app for beauty salon great navigation, clear menu with attractive images.

Use customer photos

: Photos are always enticing. Make sure you enlarge them with details. This database will assist your customers to choose their preferences.
3. Loyalty And Reward Programs On Mobile App For Beauty Salon
Who doesn't love rewards?
Whether it's a weekend offer or a special deal on holidays- apps can get your customers connected. With apps, you are connected with your users 24*7 and can serve them with attractive loyalties and rewards on a regular visit. You can entice your users with loyalties as they enter certain geolocation! If customers come to know about these attractive rewards, they are going to stick to business. So In-app loyalties, to reward your regular customers, can be good for your business.

To include it in your on demand mobile app for beauty salon, talk with your beauty salon app developer. Ask them to add this feature.
4. You Can Offer Your Customers with Cashless Mobile Payments
People are always short of cash these days!
No, don't get me wrong. A huge number of population can now afford a better standard of living. But carrying cash is not what they prefer these days.
So, it is high time you understand the importance of cashless payments. People prefer to go cashless to cut down risks. And that's why debit and credit card payments are given priority.
Andrew Gazdecki explained why mobile payment will replace cash transactions. Think of the steps you need to get cash- find an ATM, get into the line and avail cash. Additionally, you have to deal with cash back! So, for faster bookings, find a way to include cashless payment in your mobile app for beauty salon. Stripe is a popular payment integration platform for iOS.
So, if you are new to your salon business, include fuss-free mobile payment integration. This custom payment gateway can increase your customer base. While you indulge in such a session with the best salon software developer, discuss easy UX for payment integration page. So how to create a beauty mobile app with all these features?
Implement a secured mobile payment system that manages every transaction made. You can go for Stripe, CC Avenue, and Braintree

Integrate with

Paypal

or leading such platforms for business transactions.

Include one-touch payment for regular customers. Keep their details safe.
See, we made it simple for you!
5. Customer Management, Tracking, And Payment- All In One Mobile App
No more listing down every entry, calculate the payment and follow up your customers on a call. On demand app development for salons eliminate every manual hassle and can let you manage your business- even when you are not present. It makes you omnipresent!Mobile app for salons can be your business backbone. How?
It will track your customer's billing details

Salon Apps can manage cashless payments and stores in the database

It can send a push notification to remind customers of their scheduled appointments.
In short, salon apps can rock your customer's world- and your revenues!
6. Offer Nearby Salon And Spas A Platform To Do Business!
Now that's a different genre entirely! You are creating a network of salons from where a user can book as per their choice. Take Zooty – Salon Trends & Deals, for instance.
They have a big database of salon and deals nearby. And users love to compare and buy a deal. So if you don't have your own salon business, you can opt for this kind of mobile app for beauty salon.
Salon visitors love to compared different salon service before choosing one. To offer the best to your customers, spoiled them with:
Trending styles in haircut, facials, and makeup
Compare prices in spas and salon for the area
Detailed service menu with individual pricing
Option to shop for trendy 'looks' and 'salon service'
Upcoming offers and deal in push notifications
Entire booking history
This mobile app for beauty salon will be a one-stop solution for every beauty enthusiast
What's Your Take On Salon Apps?
Let's rewind everything! What are you getting if you mobile?
iOS and Android mobile apps

Book from anywhere

Powerful analytics

Customer information

Website (optional)
That's a lot for surviving the market, ain't it?
With little effort and dedication, you can boost your salon business. Giving this an online platform will expose you to a larger set of audience which will automatically increase your revenue stats.
To have a head start, get a detailed whiteboarding session with a mobile app developer for beauty salon. If you want something like on demand app, express it straight. Talk about the challenges and chalk out a plan. After that, you may need a solid marketing plan to promote your business! It's easier than you imagine.
To get an idea on what your app would look like, you can check our beautiful salon app portfolio. After that, you can share your beauty salon app idea with us and we will get you the best-customized app which you have always imagined of.
Editor's Note: This post was originally published on May 15, 2017, and has been updated for accuracy and comprehensiveness.