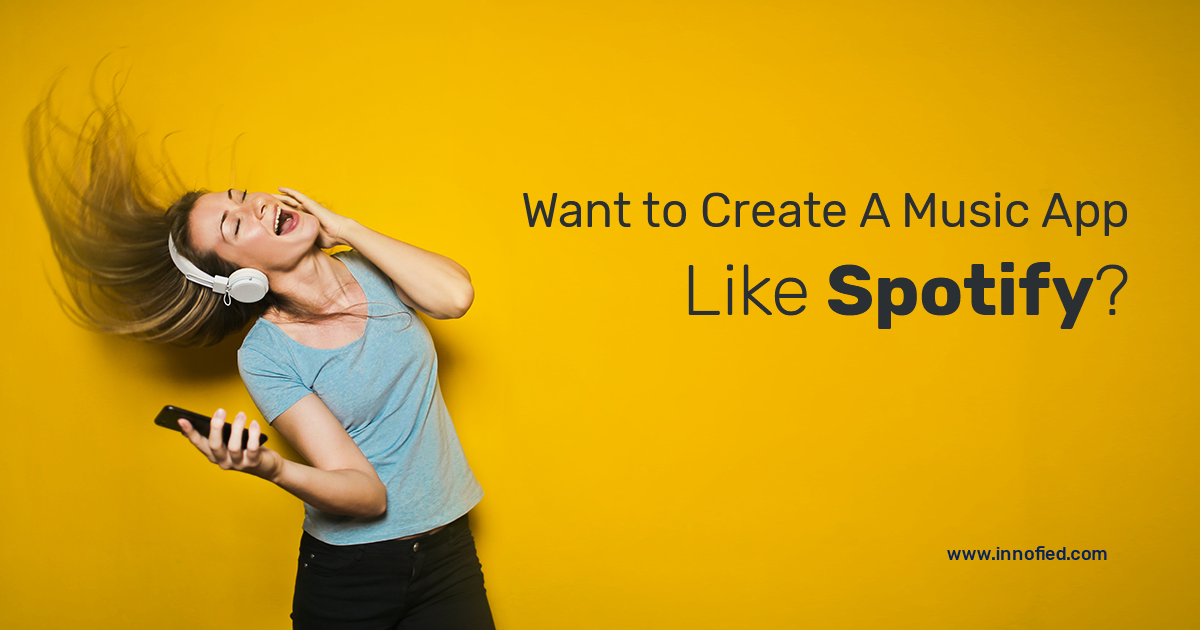 An Expert Guide To Create A Music Streaming App In 2019
Updated on Aug 9, 2019
The world of music has witnessed quite a few revolutions and technical elevations till date. From the days of the gramophone to the days of music streaming apps, the industry has evolved a lot. Can you guess the reason behind all these? It's nothing but the ease we get using the music apps! The busy man of 2018 has no time to wait for his desires to get fulfilled. He wants everything on demand and this tendency has made way for music apps like Pandora and Spotify.
Talking about music apps, Pandora is ruling the market since 2005 and Spotify is its best successor, to date.
The Glory Of Spotify!
Spotify was launched back in 2008 and has become one of the most popular music streaming app today. It has taken up a share of 40% when it comes to downloading music streaming apps and had garnered a staggering 4.09 billion euros in revenue in just 4 years!
Ever wondered what was the idea behind the startup founders? Were they able to identify the need to create a music streaming app in the market? 
Well, it seems yes. No wonder so many different music startups have taken up a note. Notable examples include Pandora, SoundCloud, iHeartRadio, etc. But, yes, if you are reading this, you are not too late. If you want to know how to create a music app like Spotify or Pandora- you are in the right place. Let us help you out with your music app idea.
But before that…
If you are looking forward to having a strong foothold in this sector, you must also be thinking about how to create a music app that is capable of providing the desired songs to the users, on demand.
Before we jump into how to create a music streaming app like Spotify…
Let's Understand The Idea Behind Spotify
Spotify is the perfect example of an easily accessible music app. It has garnered much publicity among the users and is rated a 4.8 in the App Store and 4.6 in the Play Store.
The way Spotify works is quite different from other music streaming apps available on the internet. Spotify mainly tries to make your music hours as consistent and as comfortable as possible.
The music Spotify provides its users, stay stored on different servers. While streaming a track on a device, Spotify surveys through millions of servers. These servers basically are the computers and the other gadgets of its users. To achieve more accuracy, Spotify servers use the cache memory of the users' devices which holds the newest downloaded data.
Interested? Let's check out how to make a music streaming app like Spotify.
How To Create A Music Streaming App Like Spotify?
Spotify today has gathered over a multi-million user base in the AppStore and the PlayStore. But this popularity comes after huge hard work. No worries, we don't want you to put in such amount of hard work, instead, we prefer smart work. Here we provide you with a guideline of where you need to start from.
1. Let's Talk About The Idea
Before jumping directly into the development phase you need to get the perfect idea of how you want your app to be like. Google similar music streaming apps and go through their pros and cons. And startups are leaving no page unturned to make it big in this sector. But this practice will help you figure out how to create a music app to be the best of its kind, yet easy to use, surpassing all the roadblocks.
2. What You Need to Plan And Estimate
The music streaming app industry has a lot of potentials. But that ain't it. You require proper research about your target user base, what are their likes, their lifestyle and come up with the best conclusion of the most potent way to hit them with your MVP. And finally, modify your music app as per the preferences of your target customers.
3. Do You Have The License To Create A Music Streaming App?
When it comes to providing your music streaming service to your customers, the thing you need to keep an eye on is getting a license for the top-notch audio content you're gonna provide them with.
This license is known as the Public Performance rights in the US. The American Society of Composers, Authors, and Publishers or Broadcast Music Inc are in charge of it. In Europe, it is handled by European Stage Authors and Composers.
4. How Will You Hire Music App Developers?
At the end of the day, all you need is a team of developers who will be building your desired app for you. Though there are quite a few factors for you to keep in mind, when it is about the cost to create a music app like Spotify, you can always prepare some rough estimations. To help you with that, we have jotted down some development team costs details below.
USA/ Canada : $50 to $250/hour
Western Europe : $30 to $170/hour
Eastern Europe : $25 to $150/hour
Australia : $50 to $150/hour
India : $10 to $80/hour
Project history of the specific app development company should never be ignored while you're hiring them. Indulge with your hired team to make sure things are going well. At Innofied, we stay in touch with our clients over Skype, phone or email. This helps us stay connected with our clients and provide them with continuous support.
5. Are You Ready With The Prototype?
You would never wish to skip this phase. A prototype is always important when it is about app development. We always provide our customers with a clickable prototype.
This prototype bears an overview of the actual product the customer is going to receive. This demo version gives both the parties a chance to rectify their issues and make changes at the initial stage if required. And the best part? It comes at the lowest price possible.
6. Think About The MVP First
This is the decision-making stage where you finalize your MVP (Minimum Viable Product) and all other factors regarding the project and buckle up for the real game.
Innofied provides you with a dedicated team and experienced project manager, who take up your project as their own and give their best to develop your desired application. So, create the MVP before you create a music streaming app.
7. Test, Test, And Test Again
Post the application has been developed, all you need to do is to test your app in depth to get confirmed that no characteristic is missed so that your app is ready to rock!
The most common mistakes developers do is handing over their app to the customer as soon as they get the product ready. They tend to avoid the testing phase. But we at Innofied test the app after each of the feature is added to the app and we do perform final testing when the app is finally ready. And yes, we provide bug supports a well after the app has been uploaded to the Play Store or the AppStore.
Okay, but these are not enough to create a music app for Android or iOS stores beating Spotify.
Features are important! Let's figure out what critical features you need to add to get the app you are dreaming of.
Features To Keep In Mind To Make A Music App Like Spotify
It doesn't matter if you are a pro or a newbie. Follow the features listed below while creating your music app. I guess you will definitely get your hands on the app you have been dreaming of.

1. Registration, The Door Of An App
First things first. After users download your app from the store, they should get authorized. The authorization step provides the app admin with all the information they require personalizing and sort music for respective users. So, buckle up yourself to analyze and scale tons of data you're about to receive post the app launch.
Make sure your users find this step pretty simple and smooth.
And finally, provide them an option to log in through their social media accounts and earn extra perks for sharing stuff in social media. This will help your app get new subscribers and a strong presence in social media in just a few taps. so, when you create a music streaming app, make sure the registration process is easy. 
2. Provide Them With The Best Music
Different variables of settings and options based on levels of user access and features should be present in the music app to sort the music similar to the user's taste. The users might want to create a new playlist or customize the provided playlist according to their moods, situations, genres, etc. on demand. An app containing such a feature is bound to turn into the darling of its customers.
3. Easier Way To Find The Favorite Track
To find the music of their preference, users need to search for them first. To navigate them through the vast collection of songs, the Search feature plays the most important part. This is a function that helps users to have completely personalized music experience. The reason behind this is, in this world of on-demand, all they want from a music app is getting their preferred tracks right at their fingertips without much delay.
4. Socialize Them Through Your App
Let's help your users by letting them follow their favorite musicians and bands, make new friends with whom they would share their music experiences and stay up to date all the time. If such a feature gets included to your app, it might turn into the most loved music app defeating all other apps providing a similar experience as we all are aware of the human nature of socializing. This feature not only helps them share songs which their friends and loved ones but also lets them highlight their favorite tracks in their social media handles. Make sure you add social media connections when you create a music streaming app.
And let's not forget that this feature is also gonna boost up your music app with good social media exposure.
5. Push Notifications 
This is quite a deciding feature for a music app like yours. People usually enjoy getting to know about their favorite celebrities, that's the way it works nowadays. Users all over the world want personalized benefits as the one mentioned. And push notifications are the best way for that, no doubt. While you wonder how to make a music app for Android or iOS, always think about push notifications. 
6. Let Mobile Network Not Hamper Their Music Experience
Occupying some storage of your user's device to save some real-time details to help them keep enjoying their favorite tracks while having a flight or while traveling through a subway. Your app user will also get a list of local files. So, in this way, he'll be able to track what he'll be able to listen when there is no internet connection without complaining about their phone storage.
And yes, that is it. It is that simple. And I guess, if you are reading this, you find no more need of googling stuff like "how to make a music streaming android app" or "how to create a music app like Spotify". We have created a similar kind of music apps before. Have a look!
Ready To Create A Music Streaming App?
Music is ultimately the best healer and maybe that is why the music app industry is reaching its peak at this pace. Definitely, Spotify is currently ruling the industry and but this doesn't mean that it can't be beaten.
And if you are reading this then I guess you have already figured it out how to become the next big thing in the music streaming app industry. 
If you have a music app idea in mind or want to create a music streaming app just like Spotify or Pandora, choose an award-winning mobile app development company- Innofied.
Editor's Note: This post was originally published on Dec 11, 2018, and has been updated for accuracy and comprehensiveness.