[vc_row]Updated on Aug 16, 2019
Whistles, claps, and cheers! You are celebrating your dream app going live with a pop of champagne!
The happiness of going live is colossal.
Finally, you achieved it – your app has landed in the app store and you feel like landing on Mars!
And Bam! You wake up from your dream…
You are still clueless about how to get your startup app idea live!
Well, there are entrepreneurs who succeed in reaching the market with a concrete app. And there are few, who just dream. So what made those entrepreneurs be successful in colonizing the app market? How exactly they reached there?
By getting their Minimum Viable Product right.
You may have heard about terms like Minimum Viable Product or Minimum Marketable Product etc. But do you actually decipher the meaning?
What Is Minimum Viable Product All About?
Startups are shooting up everywhere with a bunch of geeks calling their day jobs. They are trying to venture into some unique (read insane) ideas with the aim to change the world. If you too are a startup with some 'billion dollars' app idea, you may have heard the term Minimum Viable Product. So, you went to a mobile app development company and asked for a custom app. You got the project proposal and you gave them the green signal.
Then you have your team googling the app features, created a nice looking app and did the grand launch – without realizing that your target audience were asking just for a better version of a mobile-optimized website! Though you had all the unwanted extra features, your idea didn't receive well. Oh, and you blamed MVP for it.
Building an MVP is not building a Beta version of your app. Creating a few workable mockups is not the MVP. Implementing the minimum features, without the essence of its viability, is definitely not the MVP.
The Legit Idea Of MVP That No One Wants To Share!
The Minimum Viable Product is kind of an experiment.
When you build the mobile app development MVP, what makes you choose a defined feature set?
You research, take risks and experience from your experiment to make your MVP.
[bctt tweet="No Market Need- is one of the major reasons why startup ideas fail, says CBInsights!" username=""]
So you see, a lot of these startups make their own assumptions – People will be interested in my product. But that's not the case. To figure out if you have done the right assumptions, you must know what will be there in the first phase of your product. And if this version excites the early adopters. As you receive feedback, corrections get easier. So, MVP is about making your product stable and that the particular set of features is 'actually solving a problem or need'.
There is a widely accepted concept of MVP by Eric Ries, author of Lean Startup:
MVP is the version of a new product that allows you to collect the maximum of validated learning about your end customers, with least effort!
I was awestruck by reading one Medium article that explained the Minimum Viable Product is a whole different dimension. Jon H. Pittman, the author of "The Tyranny of the Minimum Viable Product" explained the way to map MVP. and how it should have both Romantic and Classic Qualities. You can read more about it from the Zen and the Art of Motorcycle Maintenance by Robert Pirsig.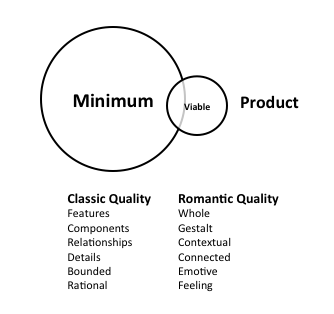 Source: https://uxdesign.cc/the-tyranny-of-the-minimum-viable-product-fb25e2e57e6e
In short, you need to have the intersection of romantic and classic qualities to create the user experience. If you overweight on the classic qualities at the cost of romantic ones, you'll end up with poor user experience. And this the problem with most of the developers. They tend to focus on the core functions and features of the product (the classic quality) and not exactly on the product viability as a whole (the romantic quality).
So, that was the simple plain understanding of MVP. Now what?
How Do You Actually Create Mobile App Development MVP?
To know how to make an app MVP you should spark the emotion into your users – that triggers them to buy your idea. Here are best-kept secrets to follow on how to build an MVP:
Validate your app idea

Focus on what users want

Never distract from your app goal

Follow the Lean Development process

Focus on WHY and not WHAT
Let's dive into more details and focus on every step you take.
Why You Must Validate Your App Idea – With No Guesswork!
How to validate? – the million-dollar question.
Let's take Buffer for example. Joel Casoigne, the founder Buffer, researched whether social media users wanted an app to schedule their posts. To test that, he got started with a landing page and checked whether people were showing interest. He also created available plans page and asked for contacts to check again when Buffer was complete. To his amazement, people were actually leaving their email. After updated the paid options, he found out that people were still clicking on it. In short, his idea got clicked and validated within one week of the release!
So, it's all about going live with your MVP by keeping a feedback loop and monitoring it regularly. You should go for split testing, where you can compare results after making a particular change in the app variable. With this, you can decide which feature is giving you more hits.
The above example is one of the countless examples including Airbnb, Spotify etc. These instances prove that you can gain better insight by actually releasing your MVP – than by guessing, speculating and going by your 'own' instinct.
Why Should You Make Your Users A Priority – And Not Your Idea?
Your likes, your dream idea and your Eureka moment – does definitely not answers what your users need. Most startupreneurs have this knack to forget about the end-users while idealizing their product. It's for sure not the right way of developing the mobile app development MVP.
We've already talked about why it's important to think alike with the market need. And this calls the User-Centered design and development outlook to be the right plan. So, you should rather focus on understanding the app environment, user behavior and the usability of the product while planning the mobile app development MVP.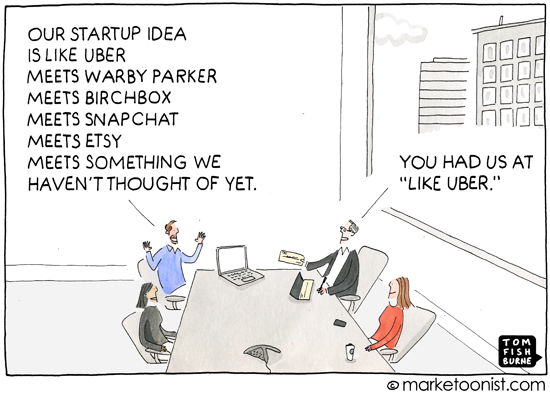 Source: https://marketoonist.com/2014/10/our-startup-idea.html
By following the first step, you are successfully gaining a concrete idea of what features are in sync with your user's needs and habits. Despite getting distracted by a sparkling feature, beautiful colors, a unique new concept – focus on what your users actually want. Don't get stuck excessively with the design and development without actually knowing the market need. It's all about making it launch fast to iterate faster and reaching to the actual users fastest!
Why You Must Watch Over The Prize – The End Result!
Successful entrepreneurs have always kept their eye on the Prize.
And probably that's the mantra of their success. If your team confuses the MVP goal in the process of reaching the actual goal – you are finished! Here's why you must never do that.
Your hypothesis was your app idea will be actionable enough that users would love to pay for. Take a deep breath there. It does not matter how different your MVP idea is. In the end, users don't care how innovative your idea was or how beautifully or cost-effectively you planned everything.
What your audience wants is – how convenient is the idea and if it's making their less miserable. So it's not intelligent to think, "What if we add this feature…?", "What if our users can do this…?". If you start thinking about these, you are in trouble, my friend!
Precisely because, maybe the feature or that 'beautiful big sized button' is not at all beneficial; you can always do the 'extras' in the future app version, but not right now. So just be clear about the mobile app development MVP strategy you have made and stick to it. Constantly remind yourself of the importance of the mobile app development MVP strategy you have drafted.
Don't divert!
I Am Overwhelmed With So Many Options And Features – What To Include?
10 years ago, finding a partner on phone, get a ride on demand, pizzas at your doorstep or booking a hotel room around the world were some ludicrous ideologies.
These issues, however, were some of the actual issues. People didn't know there could be a solution to address these. And now, they are willing to choose a convenient option to travel, transport, date and eat!
So while choosing the features of your app, you must think – what's there to offer that's still unavailable? If you feel off track, think of this question. Apart from that, there are two major considerations to make while you choose your features:
A. Where Are Your End Users Located? Where Is The User Geography?
Whichever geography you choose to launch your product, check the viability of customer saturation. It is essential for some app ideas. You might need to research if your app idea has the need in that geography to make it expand organically.
B. How Your App Will Create Your Profit? Who Is Gonna Pay?
You revenue model or earing model will not take off if your target audience is not at all willing to pay for it. Filtering out is hence inevitable. Money can never drive the service but the need can. So, find users who have genuine demand and equally ready to pay for it.
So once you figure these out, you are good to go. Set your core features and fix the time of your launch. Start small and eventually you will conquer the app stores.
Summarizing The Mobile App Development MVP
It's easy to understand that the answer to how to build an MVP is tricky. But but… with a clear user-centric approach, you can create MVPs that stands out, is desirable and accepted by the mass. You must check out the cases studies of successful brands like Uber and DropBox and learn their idea.
Also, learn from the mistakes of those who failed. Put simply, building MVPs is about acting on your strategy, iterate from your feedback and develop rapidly. You will be in a win-win situation by following these mobile app development MVP strategies. 
Editor's Note: This post was originally published on Nov 15, 2017, and has been updated for accuracy and comprehensiveness.