As a developer and owner of any app, you might often wonder the most staggering question – how to measure app success once it is up and running. And most importantly, which features of my app are doing the good work they are intended for? In the following article, you will find out the answer to understand at least one of them.
Any successful mobile application owes its growth and success to a holistic combination of in-built metrics. One of the most important of them is REAL-TIME FEATURES. The significance of real-time features in the success of a mobile app is acute.
When science and technology were yet to be an everyday thing in our lives, people waited for days and even weeks for things like correspondence and communication via letters and telegrams. Telephones and mobile phones brought that distance down to a few minutes, and it eventually came down to a matter of seconds with instant messaging services like WhatsApp and Messenger. Now Direct Messaging is a must-include feature in almost every app and website, and the thing that works in its favor is the idea of having a real-time conversation.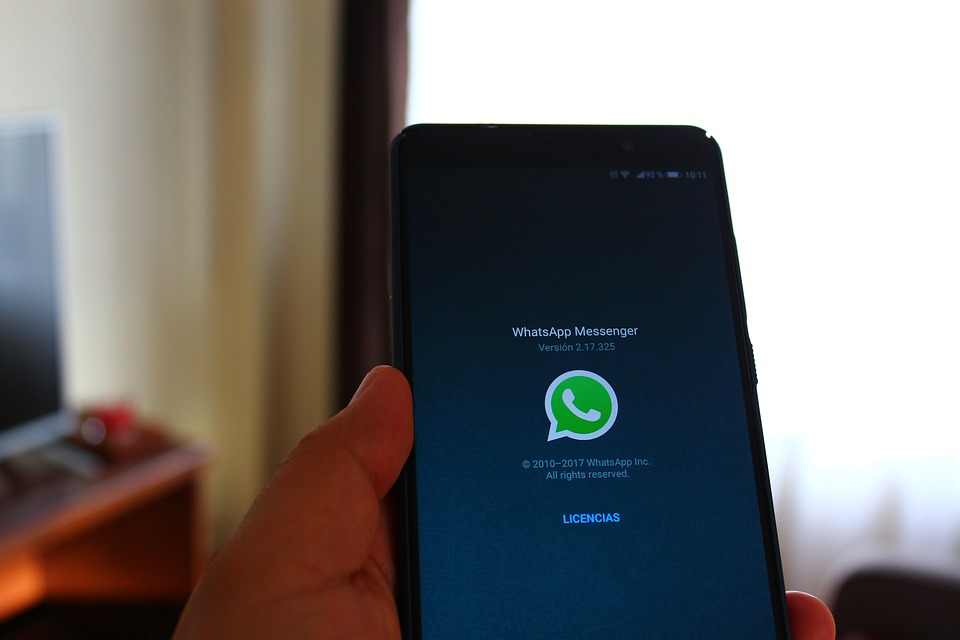 The same inherent concept works for several other real-time features of applications, such as push notifications, updates, live tracking, schedule checking, GPS navigation, etc. These are some of the key features which determine the success of a mobile app. Before getting to the different types of real-time features and their significance, let's take a look into the importance of it for your mobile application.
Why Do You Need To Leverage The Benefits Of Real-Time Features Integration?
Technology has gone to the extent where we are used to super-fast responses and our patience runs really thin when things do not go as fast as expected. One of the torchbearers of such expectations is real-time features. They enhance the usability factor of the app and push the users on a psychological level to tap into the app.
1. User-Friendliness
The first and foremost objective of real-time features is to deliver a great experience to the users of the application. Speed is of the essence when it comes to anything digital. Be it a website or an app, people want everything fast and on-spot. What better way to ensure that than real-time features like instant messaging and live streaming? Also, your app needs to be user-friendly, as people hate using buggy apps. 

2. User Engagement
Users spend a lot more time on the app if you are providing real-time features. For example, live tracking of delivery apps or on-demand cab apps keeps the user hooked to the status of their purchase. It is also true in the case of instant messaging apps. Users are much more likely to hop onto a platform where they can communicate real-time because that creates a sense of togetherness – almost as if they were sitting and chatting in real.
3. User Loyalty
By providing real-time updates, you are keeping the customers in the loop and thereby gaining their trust in the process.  Real-time features allow transparency in the customer-app interaction. Apps with real-time features accomplish a higher rate of customer engagement than the apps which do not have them. 

According to a report by Sensor Tower, applications with real-time conversation features lead the rankings of the most-downloaded apps, with WhatsApp topping the list with a massive 223 million downloads. Facebook Messenger follows closely behind with 209 million installs and TikTok catching up with around 170 million hits.
With Statista suggesting there will be 6.95 billion mobile users by the end of 2020 and 50% of all mobile traffic being through applications, the future will be all about providing the best user experience to customers via mobile applications. And one of the best ways to keep them engaged and attracted to your app? You guess it right – real-time features.
Real-Time Features: Types & Examples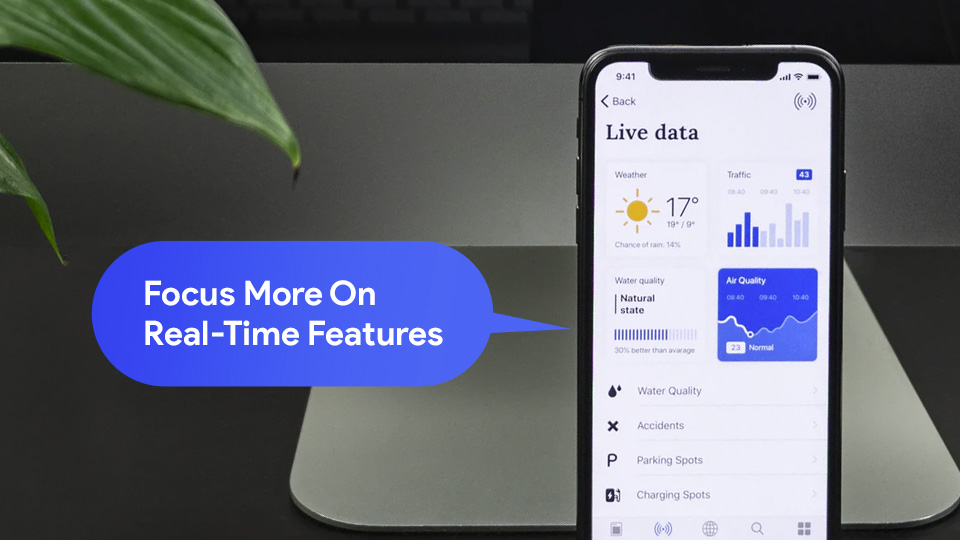 Still wondering how to measure app success with real-time features? Let's move forward to the different ways real-time features can be integrated into applications.
1. Real-Time Messaging
Instant messaging is the most widely used real-time feature of apps. The feature has been embraced by almost all kinds of apps to facilitate user-admin communication through the application. According to Techpedia, the overall success rate of in-app messaging is a whopping 98% and around 83% of messages have been communicated within the first 3 minutes. 

2. Push Notifications
Real-time push notifications increase the number of app visits significantly. In simple terms, they are like digital pokes by the app on behalf of you to the user to take a look at your business. Many times people download an app but then do not remember to access it much. 
Notifications remind the user of the app's existence in their phones with exciting content like the launch of a new product or the availability of a lucrative offer like a discount or free home delivery. According to a report by Localytics, including push notifications feature increases the rate of retention by 2-3 times and the launch rate of the app by as much as 88%. E-commerce apps score the highest success with push notifications, with music, travel, food and drink close behind.
Push notifications can be used in a variety of ways. They can simply be promotional and give an update on a new product; or in case of medicine and healthcare apps, they can be reminders of the next appointment or prescription refill; or in case of educational apps, it can be reminders for pending assignments. The options are endless.

3. Tracking And Live Status
People like to know where their orders are and real-time features make that possible. Gone are those days when users will be happy placing an order and then waiting in a clueless manner for it to arrive at their doorstep. Any app which depends on logistics performs a hundred times better with tracking and live status feature in-built. 
If you did not know that before, it will most certainly show up when and how you measure app success later on. Whether it is an on-demand taxi app or food delivery app or retail shopping app, let the customer know where they are in the process and keep them updated on the status.

4. Live Streaming
The dark horse of real-time feature is live streaming. Stated out as something for fun and entertainment, live streaming has become a real weapon for the business world. In 2019, internet users streamed 1.1 billion hours of live video, as per Stream Elements. Companies use this feature to host AMA or Q&A sessions, How-to tutorials, webinars, product launches, and several other virtual live events. Grand View Research says the video streaming market is likely to hit a value of 184.3 billion by the year 2027. 

Quick Tips On How To Measure App Success
Now you know how and when to include real-time features in your app. But how will you know if it is working or not? Obviously, you don't want a flop launch of your app. How to measure app success and see in quantifiable terms that your strategy is working? The answer is – by tracking these following metrics which go on to show how well an app is performing in the market.
1. Number Of Users
This one goes without seeing. Track the number of times your app is being downloaded and installed and the number of users who are active on it on a frequent basis. Once you start tracking, you have a baseline idea of currently active users and can measure from that if refining your real-time features or making positive changes are making a difference or not.
2. Session Length And Frequency
How often someone is using your app and how frequently talks about your app's performance. If yours is an m-commerce app, then real-time features like push notifications and offer alerts should increase the frequency of sessions, while live streaming and video calling features in social media apps increase the length of the session. Keeping track of average length and frequency will give you an idea of the fruits your app is bearing.

3. Screen Time
Getting a hold of average screen time can be great to understand what is clicking with your users. Someone might be using your app four 4 hours out of the 24 a day has, while someone else might be using it for only half an hour. This means the first user is getting something of value out of your app, while the second user – not so much. If you want to tap into the second type of demographics, you might need to tweak around your features a bit.

4. Screen Flow
Tracking screen flow allows you to see the navigation of customer actions between screens. You get to observe what they did, what they did not, and at which stage did they stop doing it. This will give you an understanding of where you need to fine tune your app and which features of your app are doing great. By getting a clear idea of the problematic areas, you can now deal with any roadblock in your conversion rate. 
Final Thoughts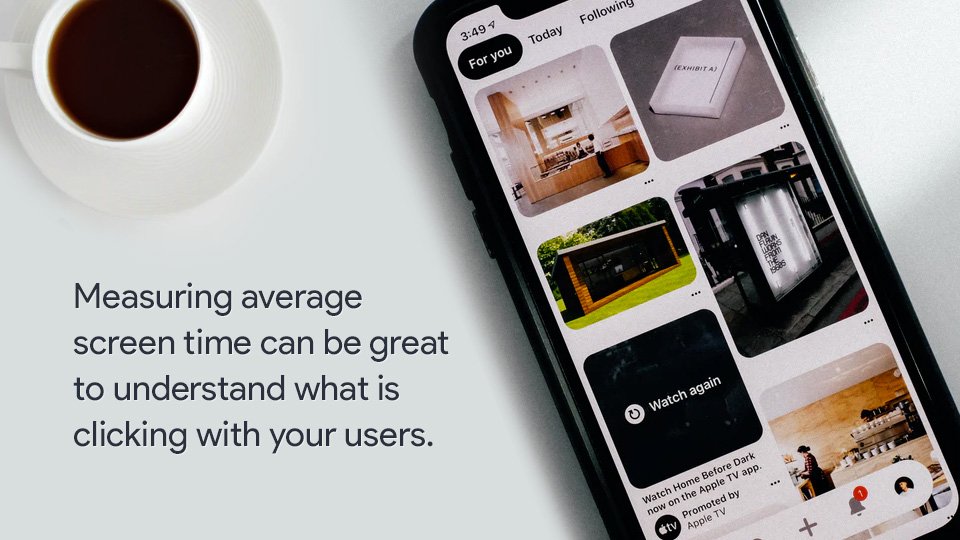 The entire point of building, developing, and launching mobile apps is to capture the vast global market by giving the audience what they want. With 2.8 million apps on Google Play Store and 2.2 million apps on Apple App Store, the app market is expected to generate $189 billion by the end of 2020, says Buildfire. So, by now, you must have got the bitter taste of the competition and understood the initials of "How To Measure App Success"Y. 
They also say that the average smartphone user avails the service of around 30 apps a month. If you want your app to be one of those, real-time features should be one of your important pillars. If creating an application is the virtual equivalent of opening up a Japanese restaurant because everyone else is doing so, then refining your real-time features is like getting the recipe of the sushi right. The better you do it, the more customers you will get. Get into a FREE consultation with our mobile app development experts on this.