In today's world, technology speaks the last word. Without the support of applications, you cannot act smart to initiate a smooth day. An in-app route planner is an application-based technology that connects your destination to your recent location.
Several companies design route planning apps, but only a few come up with an interesting outcome. People tend to use route planning applications in the middle of the road. They may look for a shortcut way, in heavy rain, in scorching heat or during a panicking moment. Having a complicated app will worsen the situation. Experienced software developers come up with innovative ideas to build user-friendly applications to minimize hazardous long distances.

Key Benefits of Route Planning Applications
Time-saving is more important to execute everyday work within the deadline. In-app route planner technology is a boon that is focussed on saving the time of the riders while reaching the destination. However, it not only saves time, but this technology appears to offer plenty of benefits to mankind. 

1. Cost-Effective Routes Are At Your Fingertips
Without implementing a route planning app, companies have to maintain communication expenses. They have to track the map and the current location of the team. Apart from that, they will find it difficult to spot the exact address to commute. With a route planning app, companies can easily monitor the progress and track the current location of the team. This is helpful. 
2. Less Distance To Cover
When you are directed by an AI-powered application, there is no chance for you to get confused in the mid-way. The application will drive you towards your destination, followed by the shortest way. No wonder, fewer miles can benefit you by,
ü  Low fuel cost: When you ride less distance, your vehicle consumes less fuel. It ends up alleviating the overall expenses.
ü   Reduced vehicle maintenance cost: The more distance you will cover with your vehicle, the higher will be the chance for the vehicle to get damaged. Hence, in-app route planner technology also reduces the maintenance cost indirectly.
ü  Less chance of accidents: A route planning app reduces the chances of accidents to a great extent. There are less traffic and fewer chances for mishaps. In this way, companies can easily skip costly risk management packages.

3. Proper Trip Planning
Route optimization interface enables the drivers to spend less time on planning the trips. Such high-standard route-planning applications come up with an amazing setting. It informs the rider about the shortcut way, traffic, dead ends, and landmarks. In this way, the delivery man can easily identify the best way to reach the destination without wasting much time. 
4. Enhanced Productivity
Many riders often tend to disobey the routine, take unnecessary breaks and waste time with excuses supported by damaged vehicles, traffic and messed up routes. This hampers the business and elevates the additional costs. With a route planning app, you can optimize the route, plan a compact trip, and save time.
Several companies are using this fantastic technology to grow their business effectively. When a delivery boy can plan their trip productivity enhances. They face less traffic, and it initiates quicker deliveries. No wonder, such a route planning application multiplies the productivity of the riders.
5. More Jobs To Complete Per Day
With the help of route planning technology, the riders can easily complete one job and then switch to another. This technology aims to display a route that is effective for the riders. The team finds out the shortest route so that the delivery man not only completes his target but can also finish more jobs a day. All in all, this software increases the profit graph by helping the team in completing the targeted job.
How To Implement In-App Route Planner Technology?
Several companies are looking forward to implementing route planning software to achieve new heights. If a question like 'how to create an app interface' strikes your mind, then there are specific points that you must follow while designing an in-app route planner technology.
1. Optimized Route Map
Without this feature, there is no meaning in designing a route planning application. While working on a road trip application, the developer implements amazing features that enable the riders to optimize the route and the waypoint. 
Apart from the above-mentioned settings, the route planning applications should also feature amazing specifications for the rider to choose custom routes banking on the curviness, weather, and land elevation. Best engineers aim to develop applications that can display details on temperature, weather alerts, road conditions, wind, and humidity.

2. Voice-Guided Route Planning App
No one finds it feasible to check the device repeatedly to make sure that he is following the right track. No wonder it can cause accidents and unwanted injuries. To avoid such inconveniences, the developers generate route planning apps featuring voice-guided navigation. 
With the hands-free and voice-guided navigation feature, the rider will be able to concentrate only on the path after listening to the right direction in a robotic voice. Designers also make sure that this feature informs the drivers about the weather update and accident-prone areas.

3. Enhanced Graphical User-Interface
An enhanced graphical user interface enables the users to interact with devices having graphical icons. This is great! The human mind is likely to catch the graphical icons more than the text-based interfaces. Audio indicators and graphical designs allow the riders to use the exact specification without much hazard. There is no doubt that the text-based interface is comparatively more boring and tiresome to handle than graphical user-interface. Hence developers implement graphical user-interface to ease the riders in the midway.
4. Important Stops And Requirements
Suppose you are riding towards your destination as per the direction of the route planning app, and everything is going well! Now, how will you find a petrol pump service nearby if all of a sudden, your car runs out of diesel? Such practical hazards are so common when you are on the road. For this reason, developers include features that inform the driver regarding important gas stations, food stations, washrooms, hotels, and more.
Without these specifications, the users have to switch to another location-based app to look for important stops. But when you hire experienced developers, they keep these things in mind and create an app useful from every aspect. 

 5.
Save And Share
Nowadays, people tend to save and share important information with friends and family. Application developers implement unique specifications to save and share the most-used routes with the team. Apart from only the routes, the route planning apps save important locations, restaurants, medical shops for your help. If any of your friends or family aim to visit a similar location, you can just share the saved route in order to ease the journey.
 6.
User-Friendly Interface
Just like the graphical user-interface, user-friendly interface is another important aspect to shed light on. A user-friendly approach is very important in order to attract the lion's share of the riders. No matter whether you install a graphical interface or text-based interface, if the design is not user-friendly, riders will find it difficult to use the application. Hence, a user-friendly interface is essential. Experienced developers aim to implement a user-friendly interface to popularize the application among most of the travelers.

If you are still confused about how to create an app interface then talk to any experienced developer and enrich your knowledge. All in all, the importance of in-app route planner technology can never be ignored.
Applications Benefitted By Route Planning Technology
It goes without saying that plenty of industries get benefitted from route planning applications. Technology is vital as it has opened new windows for different businesses to flourish together.
ü  Travel applications: Users use route planning apps to fix specific routes to reach their destinations.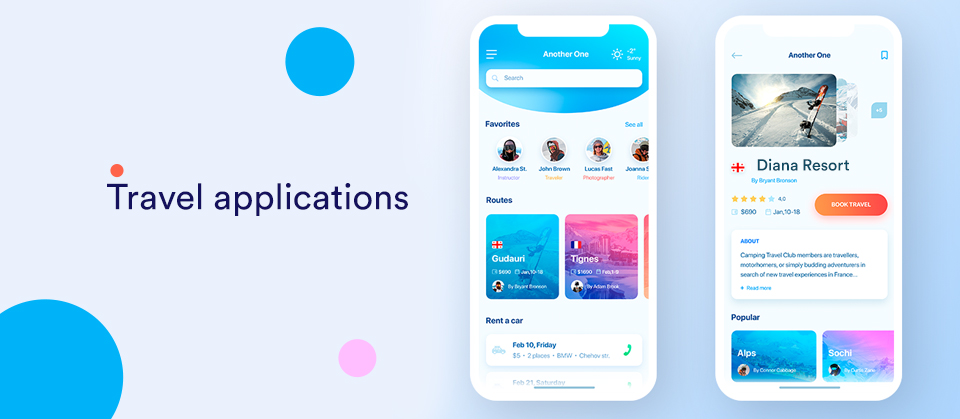 While traveling, the tourists find it convenient to initiate adventurous activities such as hiking or mountaineering. Hence due to the route planning apps, various hiking or mountaineering apps get benefitted.
ü  Event applications: If you are in a new city to attend an event, then the route planning apps guide the users to find an easy route to nearby food stations, pubs, coffee shops, hotels, and other essential places. Furthermore, the route planning app can find you the road to exclusive exhibitions in the town. You can also view maps and routes marked by other users.

ü  Real Estate apps: Suppose you visit a new city with the help of a route planning app. Afterward, you want to look for a rented home to stay there for a couple of days. In such cases, you will need real estate apps that aim to offer services regarding real estate issues.
ü  Parking apps: Parking apps help you to find out an area to keep your vehicle. This is very helpful. When you visit a new place, it becomes difficult for you to find a parking area. Hence after you reach your destination, a parking app will help you to park your car.
ü  Transportation apps: No wonder, route planning apps are directly connected to transportation apps. When it comes to delivering multiple parcels or picking up several passengers, transportation apps help the riders in various ways.

Implement The Amazing In-App Route Planner Technology In Your App Today
Want to see the results of implementing in-app route planner technology in your app? I bet you will love all the pros of this technology. 
If you are planning to hire someone to develop a route planning application, then Innofied can satisfy you with its unique mobile app development services. To be honest, not everyone can adopt new technology; our tech geeks have the core passion to develop a mind-blowing, unique software that even the non-tech-savvy people can use.