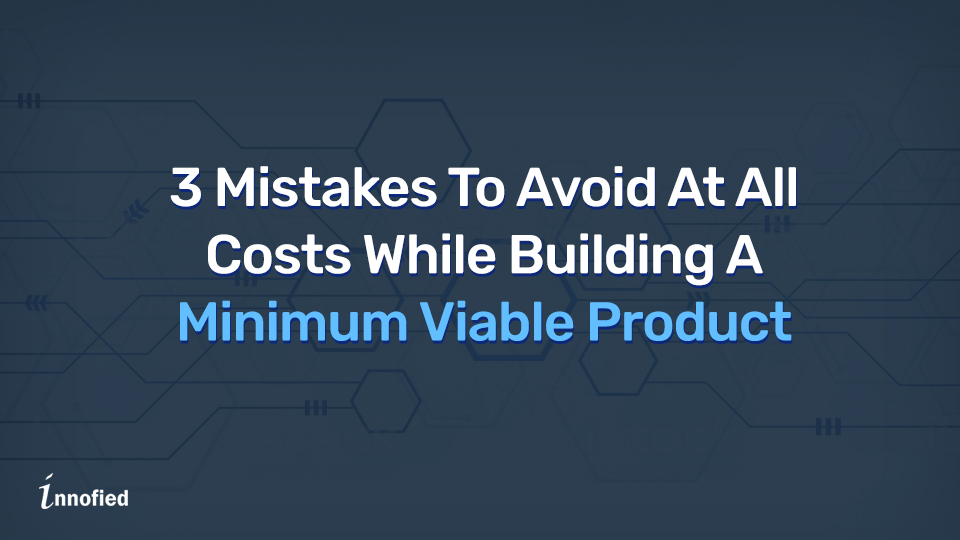 What To Avoid While Creating Your MVP
So… you have a brilliant idea for a web or mobile application. You have created a roadmap with all plans charted out and have a team, ready. The minimal version of your product is ready to be launched.
You are super excited with your idea as it Is going to completely change the way consumers or businesses do or access a particular service.
All that is Great!
But gone are those days when investors were cutting cheques for ideas with zero or little validation. If you are a startup or small business owner, then the budget is an important aspect that cannot be neglected.
Today, investors are mostly investing more money to scale companies, rather than initial market and customer testing.
Therefore, I would strongly suggest that you start with a minimum viable product aka MVP for your mobile app, and this is essential especially for all.
And if you don't know what MVP is, A minimum viable product is the most basic version of a product with just the adequate amount of features that can be launched. An MVP for a mobile app is no different.
According to CB Insights, the number one reason why startups fail isn't lack of cash. Of course, I am not suggesting that you don't need a proper financial backup, but due to lack of research on market demand, many startups fail.
Let's find out what you can do or don't in order to reduce the chances of failure of your MVP for mobile app.
1. Assembling An Incomplete Team
When it comes to launching a product, forget the term "jack of all trades". No one is equally good at marketing, design, development, writing, sales, and so on. You need to have different departments to address a particular goal and there is no way around it.
Not to mention that a single person multitasking is likely to lose focus.
In case you are looking for a partner or co-founder, make sure that the skill set of your partner does not exactly match yours. To break it down for you even further, if you are good at marketing, partner with someone who comes from a technical background. Similarly, if technology happens to be your cup of tea, marketing should be your partner's.
The importance of a complete team cannot be stressed enough. It is crucial for your project's success, and just a designer and developer or marketer and a system administrator is not adequate.
2. Aiming For Perfection
While perfection is desired by most of the startup owners, there must be a basic idea of the line between overdoing something and addressing a basic requirement.
If you are a startup owner, this holds especially true for you. With a limited budget, not only is it close to impossible to create a flawless product, at this point your goal should not be perfection. Your goal should be testing your product idea in real-market conditions.
The whole idea behind creating MVP for mobile app is to test user response and get feedback to work for improvement. Therefore, the focus should be on eliminating bugs and glitches to reduce the uninstallation of the app. Being picky about the design and layout should be avoided.
After allocating a huge budget, months of work, and high expectations, you would not want to end up getting disappointed if the response is poor.

3. Skipping The Prototype Phase
This is an extremely crucial phase. You cannot miss out on this part while creating MVP for a mobile app as this is where your idea becomes a reality. This is much needed for a number of reasons and from a business point of view. A fully functioning model helps your project from the point of user experience. No matter how much time and effort it takes, make sure you get this part right before proceeding further.
Why all the emphasis on this stage, you ask? The following steps will help you understand:
Interface architecture:
The basic foundation for your application, it is vital to get the right framework for your app as per the requirements. In order to ensure engaging interactions, scalability, and reliability, you must begin with interface architecture.
Low fidelity interactive prototype:
A sketchy rough work helps your app's data architecture and should ideally be simple. You can use it to test the broader concepts. It has the characteristics of the product you have in mind.
High fidelity interactive prototype:
The final step, this stage would include the interactions and graphics which in terms of resemblance is closest to the final product. You can navigate through the application through this prototype, so don't mess this stage up while creating MVP for mobile app.
4. Development Method Of MVP For Mobile App Was Incorrect
If you are new to mobile app development, there is a good chance that you may not be aware of the right development method and how important it is. Broadly speaking, there are two methods widely used – Agile and Waterfall.
Though each comes with its own list of pros and cons, a survey conducted by Aambysoft suggests that the success rate for the agile method is 64%, while that of the waterfall is 49%.
While the waterfall method comes with fixed pricing, the Agile method includes hourly rates. It is suggested that you follow the Agile method for creating MVP for mobile app, not just because of the favorable statistics, but the following reasons:
It is faster due to the fact that developers spend less time planning.
With better flexibility, you can change whatever needs to be changed as per your needs.
Better transparency provides space for you to see how much time has been spent on each step.
5. Do Not Ignore User Feedback And Suggestions
Ignoring suggestions and feedback from users defeats the whole purpose of creating an MVP. Make a list of the common complaints and ensure that you address those issues.
Working on feedback not just shows that you care for your customers, but help in retaining them as well. There is nothing worse than a disappointed, unsatisfied customer. Once your app gets a negative review, gaining users' trust and circumventing could be difficult, if not impossible.
Have An App Idea In Mind? Want To Build An MVP For It?
We understand the trouble and work it takes to launch the perfect user happy product. Which is why we offer unique solutions to all your app based needs. We have helped numerous startups grow to their fullest potential, yours could be next. Contact us for a free consultation!