[vc_row]Updated on Aug 8, 2019
Hungry? Get a pizza delivered in just 30 minutes!
I instantly get a solution to my tummy cravings. Millennials like me are unlikely to cook and more towards ordering pizza, burger, pasta or fries from a food joint – binge-watching their favorite show on Netflix. In short, convenience is what created a coveted yearning for food on demand!
Millennials are shifting their preference from traditional dining out to mobile on demand food delivery services like- Pizza Hut, Domino's, Papa John's and Burger King. The wide range of restaurants, unlimited cuisines and the option to pay in a single tap on food delivery apps have made lives easier! Period.
So, it's likely that digital technologies are rapidly changing the food delivery industry. Customers like you and I are more accustomed to making deals online, via apps. On demand delivery apps like Postmates and UberEats have already started the wave of convenience-driven deliveries through apps. This is the reason why food delivery app development for restaurants is on the high rise. Let's find the two major food delivery app development models which are trending.
There are two major food delivery startups models actively ruling the market:
The aggregator model
Food delivery platform with logistics support
Let's explore which platforms are feasible to create a food ordering app.
A. The aggregator food delivery startups
The aggregator model is based on the old traditional food delivery system. They are the third party to manage the customer and local restaurants. They offer the platform to access to the user to browse through various cuisines and delicacies. Basically, the job of food delivery app aggregators is to facilitate order support and exposure. Once the user signs in to the app, he can check the menus, reviews, ratings, and prices before placing the order. As the order gets confirmed, the aggregator passes the information to the respective restaurant and the delivery happens.
In this case, the delivery is done by the employees of the respective restaurants. for those who are wondering how to make a food delivery app can go for this model. This food aggregator portal development model is great if you are investing big. 
B. The food delivery platforms providing a logistics delivery system like GrubHub and Uber Eats
This is another delivery platform that helps to partner restaurants with their logistics support. These aggregators are making it simple for small restaurants, food joints, and home delivery services to deliver seamlessly. They are opening up new horizons for the food delivery startups who couldn't afford to have their own delivery system. For any restaurant, a partnership with this kind of aggregator is always beneficial. They don't have to worry about deliveries or paying drivers or maintain vehicles. If you are planning to build this kind of app, you can be their 'Messiah'. The restaurant owners can rather focus on making their services better choosing the on demand delivery app developers.
So what is your idea? Well, according to my experience, I have seen developing a food delivery app similar to UberEats and GrubHub is always profitable. It gives you a major coverage and hence more user base. Let's find out what it takes to create an on demand food delivery app for restaurants.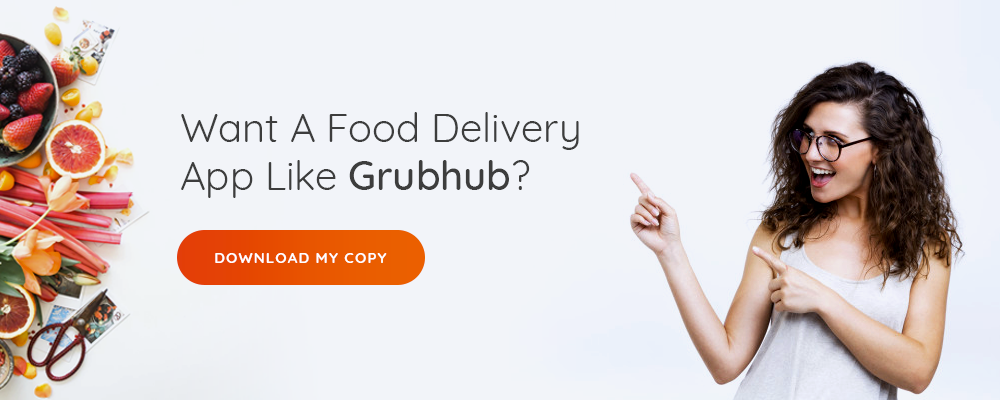 How To Make a Food Delivery App like Uber Eats/ GrubHub?
To survive in this overcrowded market, you have to be smart enough. You have to fight for your presence to promote your service. I have tried to compile the common challenges that are the roadblock for all startups.
You are not sure where your audience is!

There is no clue of how many versions you need for your app

You are unsure of the right features that should comprise your food delivery app

There is no clue how to partner with restaurants or food delivery services

You lack a major admin dashboard to manage all your employees, services and inventories
You just cannot start your food delivery startup with an assumption like – "everyone loves delicious food" or "there is home delivery convenience"! Going ahead of the competition is not easy. To have a strong foothold in the food delivery industry, you have to overcome these hurdles and take a fresh start. You should know how to make a food delivery app like Uber Eats! you should also look into finding the right on demand app developers. Let's first start with finding your audience.
1. How To Find The Right Audience To Market My Food Delivery App?
Defining your startup's end-user is way beyond just 'tasty' meals. That cannot be your sole USP. You have to understand what separates you and how that's beneficial for your audience. You can always think of curating your menu to be different yet appealing to solve how to make a food delivery app.
So, define your target first. If you are targeting busy professionals, who are looking for healthy food options, you can define your audience zone and delivery freshly cooked foods. Then you won't be targeting hungry college students on late Saturday night! Got it?
If you have the USP to serve delicious fast food delivered in minutes- you have to target busy millennials who love to grab a pizza with a beer and enjoy Netflix. Diet is not a priority for them. They are not making 'healthy eating resolution' on New Year's Eve!
Though there can always be improvisations to your idea, you are the boss of delivering almost anything! UberEATS has the idea to deliver a wide selection of delicacies. But on demand delivery app like Postmates, have made the USP deliver anything, and not just food. So, don't lose your focus!
2. What Do I Need For My Food Delivery Startup?
On demand app development like Instagram and Snapchat or a navigation app HERE WeGo, one app for the potential audience does the job. But the scene is different for food delivery apps. To build a food delivery app aggregator model, you must have 4 deliverables of your food delivery startup:
Customer app          Delivery driver app        Restaurant App          Restaurant Web admin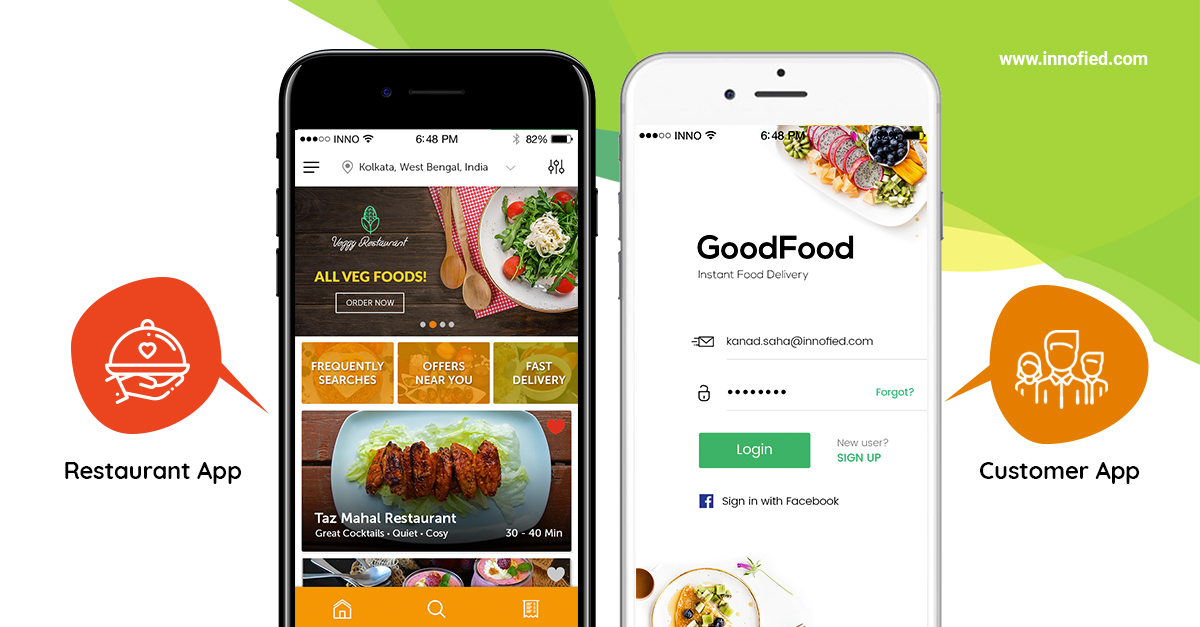 Don't complicate your ideas. Instead, think of how you can make the process easy for everyone in the process – user and your restaurant business. Users want the food delivery app like uber eats to be clutter-free – facilitating one-tap order. They want to browse through different restaurants with different search parameters. On the other hand, there must be a detailed and easy to use database for handling available orders, and GPS integration to clearly define the pickup and drop location. You being the manager, need to check the list of deliveries and client contacts to create the whole loop.
If any part of the chain is not maintained, you might not get the desired result. But don't panic. We are here to help you transform your idea into reality. Let's explore what you need in to create a food ordering app versions one by one.
3. Everything That's The User/Customer App Is Comprised Of
While developing the customer or user app, keep the UI extremely interactive.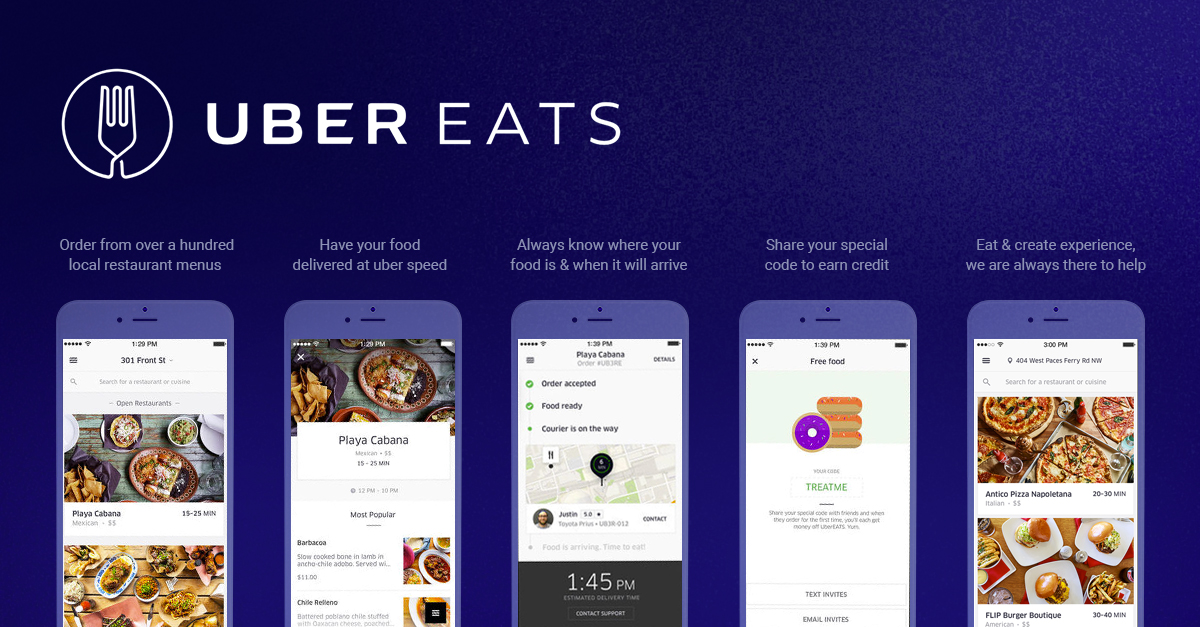 A user should easily access through the nearest restaurants and food joints right from the navigation. For any typical user, let's find out what entices him to place the order:
1. Easy User Registration And Account Setup
User journey begins right at the sign-up. Cut the crap there and make it easier for the user to sign up within seconds. You must let them log in quickly with social media logins.
2. Moving On To Finding A Restaurant
What will users do after successful signup? Find popular restaurants to order some delicacies! So, give the user easy access to find a nearby restaurant using his GPS right after he signs up. A detailed list of restaurant information, cuisines list, prices, special combos, prices, and reviews. Let them search for a restaurant by name.
3. It's Ordering Time
So the menu is all set and the user must be ready to order by this step. Provide your user with the option to add the dishes or meal in their cart. And a delete button to erase a mistake!
5. Okay, So Where Is My Food?
The wait, the anticipation – how to make the wait for food look cooler? With real-time order tracking! The idea of food delivery app development is to make the wait seem smaller. You users can be anywhere, waiting for their food. Make it convenient and fun with GPS real-time tracking choosing the on demand delivery app development technology.
6. A Secured Payment System
Everything starts when your user pays for the deal. Make the payment integration, fast, safe and secured. Choose popular payment integrations like Stripe, Paypal, and CCAvenue. Ask your restaurant app developers for the same to create the food delivery app like Uber Eats.
4. What Should Be There For The Restaurant Owner App Version?
To know how to make a food delivery app, there is a set of need that should get fulfilled. Though the restaurant needs an admin panel to manage a lot while handling the orders, apps can always be a boon. It is a mini version to keep a tab over the happenings.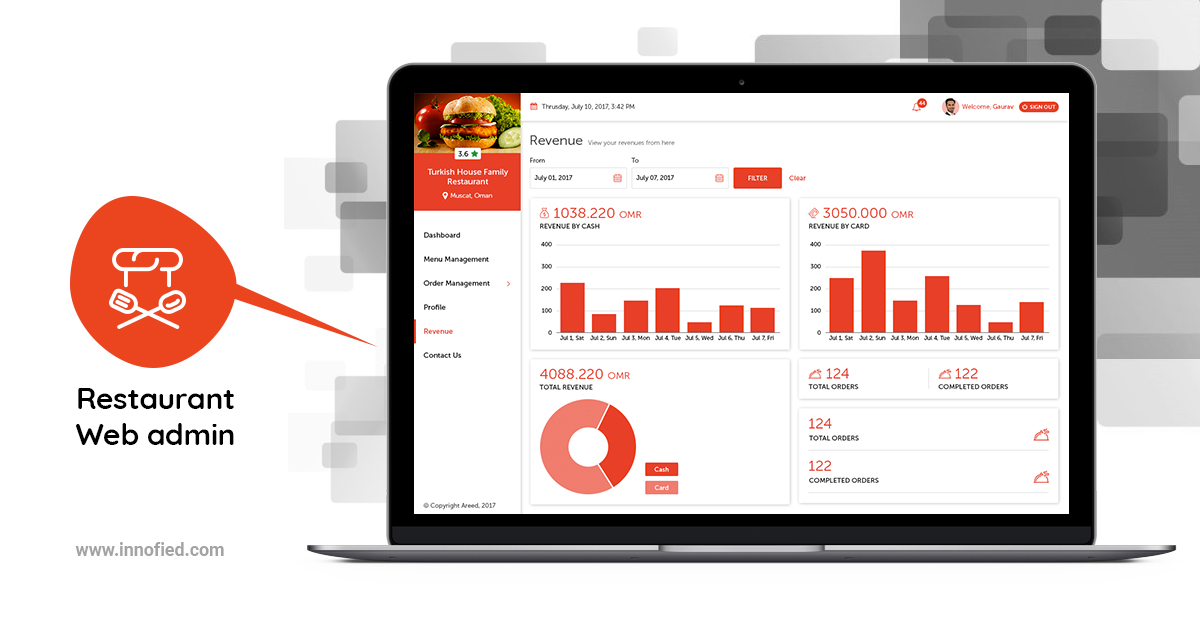 Let's talk about what needs to create a food delivery app for restaurants:
1. Register Your Restaurant
That's almost the same for users and restaurants. Keep it simple for the restaurant owners to register their business, set/change password and other options as well.
2. Your App Content
Curating the content according to your restaurant deals is what you should put here. Attracting more customers is in your hand. So, edit all the information about your restaurants like contact, address, service hours, photos, menu and everything else
3. Handle Orders At Your Fingertips
So you have got the first-ever order! Now? You need to view the order details first. Initiate the process by sending the order confirmation to your customer and then when it will be picked up. Check the current order list.

4. The Way You Receive Payments
That's one of the most crucial parts of your business. You must have complete control over the payment you receive. With an instant notification of the order completion and payment, you are all set to roll! Braintree and Stripe are two widely used payment integration system. The SDKs are a fast, reliable and efficient answer to how to make a food delivery app.
5. How To Partner With Food Delivery/Restaurant Services?
When only 10% of restaurants in the US have their online presence, there's a huge scope to reach out. There are numerous restaurants still to be listed to build a food delivery app database! So, fret not my friend!
Creating a wide network of restaurants in your app will be difficult initially. But if you reach out to the right market, you will find many restaurants to partner with. Popular companies like GrubHub, Eat24, and UberEats (now also India) have an option to 'partner with us'. They take the responsibility of the restaurant partner's delivery at a commission margin. Hence there is a mutual benefit that drives profit. Figure it out to answer how to make a food delivery app. 
To start with your on demand food delivery app development partnership:
Collaborate with small and large restaurants to grow your business

Choose good PR channels to market your idea. You can use social media channels and inbound marketing options.

Reach out to local food delivery services personally and get ahead with your plan.
6. Checklist To Choose The Right Food Delivery App Development Partner
Finding the right food delivery app development company is tricky. You'll get tens and hundreds of them over the internet. But you need to judge them right. So, to find the right company to support your app like Uber Eats idea, ask a few questions like:
1. What Is Their Experience In Handling Food Delivery App Development Model?
It's always to go for companies to have good app portfolios. Their work must speak for expertise. To check for their design experience, check out our food app portfolio on Dribbble.
2. Do They Follow The Agile App Development Process?
This is very important for any project. The agile process helps in keeping a tab over the latest project milestones and the problems during the progress at every step. At Innofied, we believe in following a Lean development process that is the advanced version of Agile Development. It helps in understanding your requirement better and help you with the project completed in the best possible way. We have a better approach to create your app MVP that instantly clicks!
3. Do Their Developers Follow The Standard Coding And Utilize The Latest Frameworks? 
Any mobile app development company you choose, they must provide you with a complete development service. It includes business analysis, lean app development, quality assurance by continuous testing, launch. And to fulfill all these, there must be a stand coding and robust framework that they follow. Ask them directly on how to make a food delivery app or food ordering apps.
4. What Technologies Are They Following?
For a bug-free food delivery app like Uber eats, Stripe, Braintree, and CCAvenue SDKs are the common payment integration. To get detailed information about the restaurants and food joints, the developers must be aware of Google Places API. Firebase SDK is used widely today for database as a service. We have devised an internal algorithm for route optimization to make a food delivery app.
Nuts And Bolts To Create A Food Delivery App
Cutting the long story short – you should start planning wisely to make a food delivery app. You have to recruit employees, contact restaurants, advertise and most importantly – develop the food delivery app right. Find out your scope with local search and then operate on a large scale.
Talk with your food app development company to discuss your idea and do the right brainstorming. You can always start promoting your app even before launching on social media. With promoting, try to earn trust, highlight your USP and tell the offers directly. It is the best way to retain customers for a longer run. So, have you understood how to make a food delivery app?
[optin-monster-shortcode id="vf6gjnoopxxvon64qjr4″]
Editor's Note: This post was originally published on Nov 24, 2017, and has been updated for accuracy and comprehensiveness.