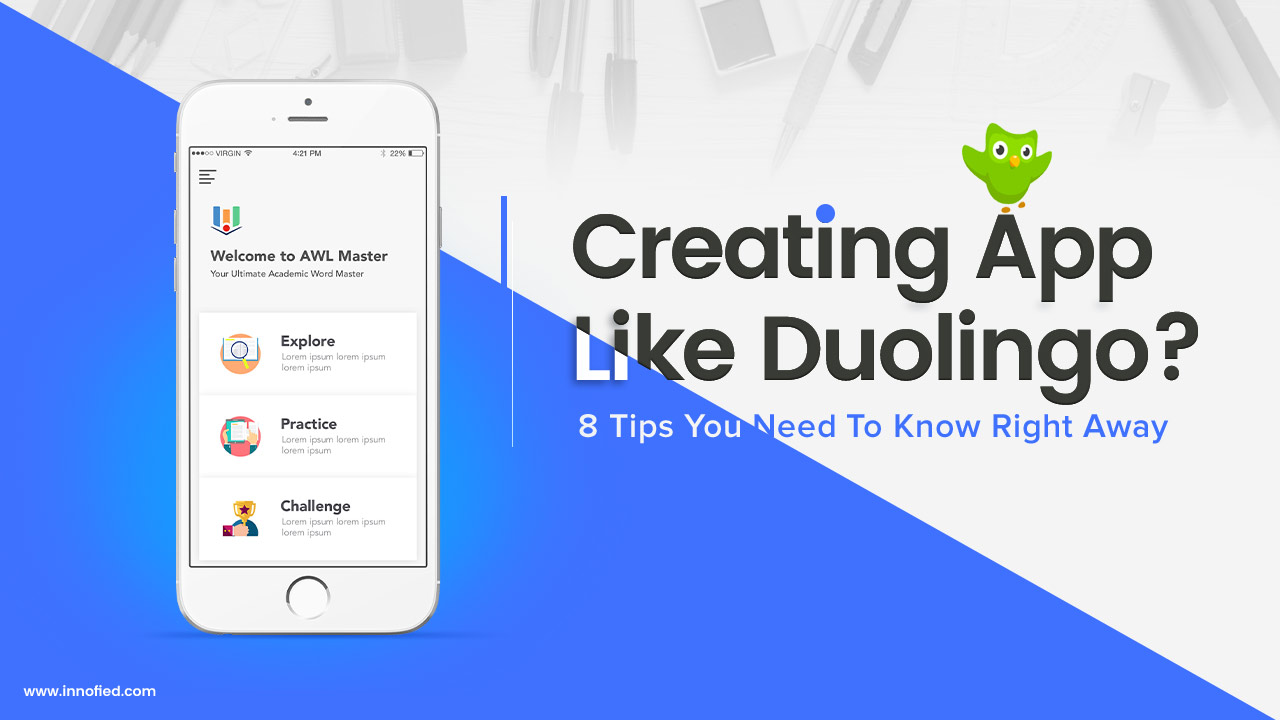 Creating An App Like Duolingo? 8 Tips You Need To Know Right Away
Updated on Aug 26, 2019

If you are familiar with the tech world, you would've heard about chatbots without any doubt.
Chatbots have literally taken over the world – or have a similar effect.
It's kinda clear that there no stopping to the obsession. But why am I telling you this? Does it have something to do with language learning apps? Well, the use of chatbot technology is not limited to ordering a pizza or grab the best Amazon deal. The conversational chatbots are entering academics – and they are successfully making people learn new languages! And it is one of the major USPs of language learning app giant, Duolingo. 
One of the most popular examples of learning language with chatbots is none other than Duolingo – a Pittsburgh based language learning app startup, which is a free language learning platform. It also crowdsources translations. With receiving Apple's app of the year 2013 and Google Play for 2014, Duolingo has earned a gigantic amount of user. The success has provoked many startups to think how to create an app like Duolingo for the industry.
But what made the makers of Duolingo think of investing in language learning app? Well, observe the above image closely. It is estimated that the growth of Digital English learning product will reach $3.8 billion by 2020! This was a clear indicator for the co-founder of Duolingo to experiment with his idea. And guess what – it clicked!
Was the path easy to complete? How did Duolingo achieve their goal? Let's find out their story.
Story Of Duolingo – How It Gained 150,000,000 Users And Counting!
Duolingo is a language learning app which is ruling the market for 5 years now and it has gained a big chunk of users. Duolingo tops as one of the most popular free educational apps. So how did it get so many users from all over the world? Simple – by creating an interactive training module.
This language learning app focuses on quick interactive training. It covers grammar and vocabulary goals of a particular language. And all these pieces of training are in the form of games and puzzles that lets the user compete with others. It ends when a goal is accomplished. Improving grammar and vocabulary skills is easy with Duolingo, but what's the point if it's not applied in real life? Talking to someone in real-time in the native language is the best to test your skills.
To meet this challenge, Duolingo's developers made the latest changes – they introduced chatbots. And it was a groundbreaking improvement in their language learning program. The app has given the idea of how to create a learning app.

At present, Duolingo's chatbot speaks Spanish, French, and German to convey real-life conversations. So, a user ends up talking to a native speaker without feeling awkward! Luis von Ahn, the CEO of Duolingo thinks it's the best way to learn a new language.
So if you are thinking how to create an app like Duolingo, it's definitely a good way of investment. But, what should be your roadmap that will help you build Duolingo like app?

After Duolingo's Success, Should You Too Build A Language Learning App?
Owing to the success of Duolingo, startups have plunged to know how to build a site like Duolingo or an app like it. But does creating another language learning making sense?
It pretty well does!
There's enough space for a new language learning app idea to grow, flourish and earn user base.
How To Build A Language Learning App Like Duolingo – The Roadmap
Working closely with huge numbers of education app development clients, I have got the basic understanding of how an app should be. And probably that understanding has made us receive numerous awards and mentions in top 10 lists. So based on that learning and experience, I have tried to jot down the points you need to focus.
At first, sort out everything you need to know about how to create an app similar to Duolingo. And that includes:
Convenient and easy to use format

Gamification at its best

Social media integration

Clear as crystal content

An appealing UI/UX design

Language learning bot that communicates

A two-way communication

Multiple platform support
Let's go in deeper understanding.
1. Language Learning Apps Should Have A Convenient And Easy To Use Format
Duolingo has a simple, easy to use and understandable format for the app. They have made learning fun and addictive with their bite-size lessons. Their lessons include a variety of listening, speaking, translations and various language challenges. So, if you want to create a language learning app like Duolingo, just KISS (Keep It Simple Silly)!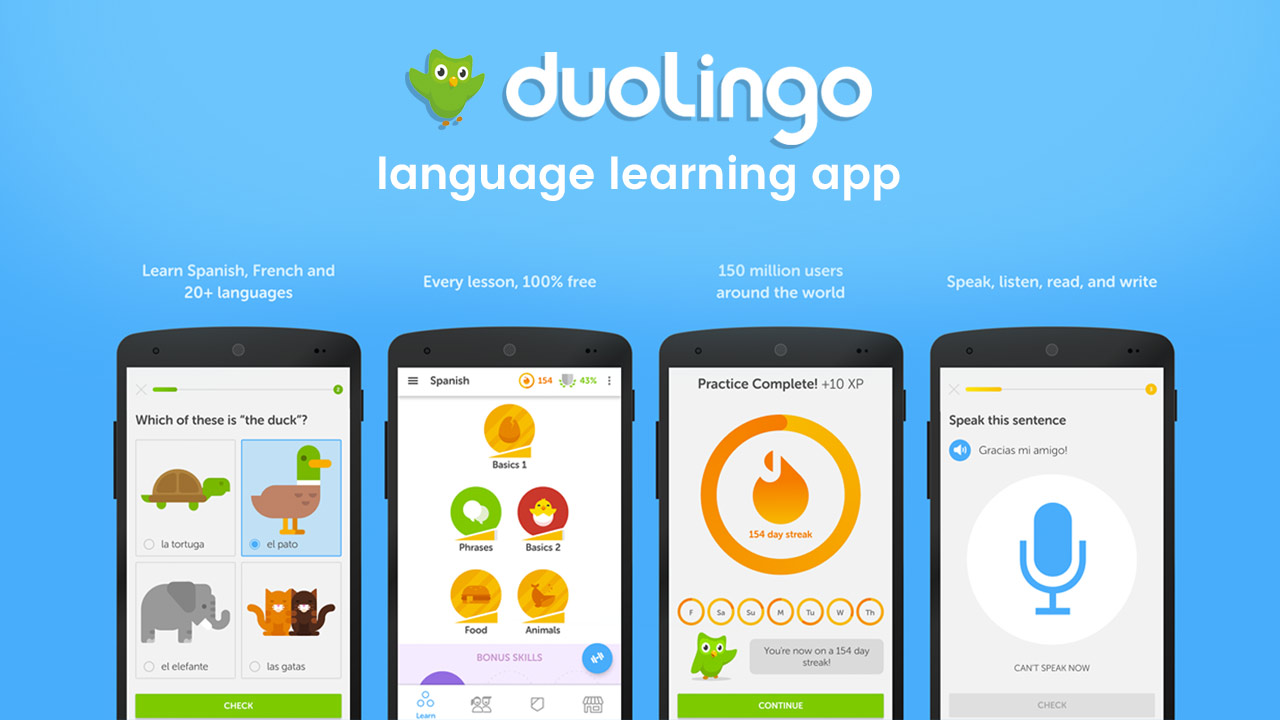 Refer to the image here. See how simple is their approach to make the lessons easy to grasp and straightforward. Whether they are initiating a puzzle or showing the complete screen – their approach is clear. And that eliminates the complexity.
So, develop a clear menu to choose challenges, games, and puzzles along with multiple language choices. Let the user instantly check if the answers are correct. Keep users engaged with improvement tips after every challenge. Try to meet different learning varieties using videos, audio, images, and texts.
2. The Surprising Relationship Between Gamification And Language Learning
No more moms would say, "Stop playing games and go complete your homework!"
As with apps like Duolingo, you would play more games to learn a new language. Sounds fun? The language learning gamification is all about grammar rules meeting puzzles, quests, and points! Language learning apps have transformed learning into an exciting game that engages users with incentives, achievements unlocked and a chance to challenge others.
Gone are those traditional learning that calls for apathy, though it shouldn't be that way. Duolingo has added this gamification to each of their lessons. So even when you search for how to build a site like Duolingo, you will know how gamification is making interaction alive.
While creating similar kind of apps for our clients, we also created Barnaparichay, in-house product, which is an exceptional example of gamification based language learning.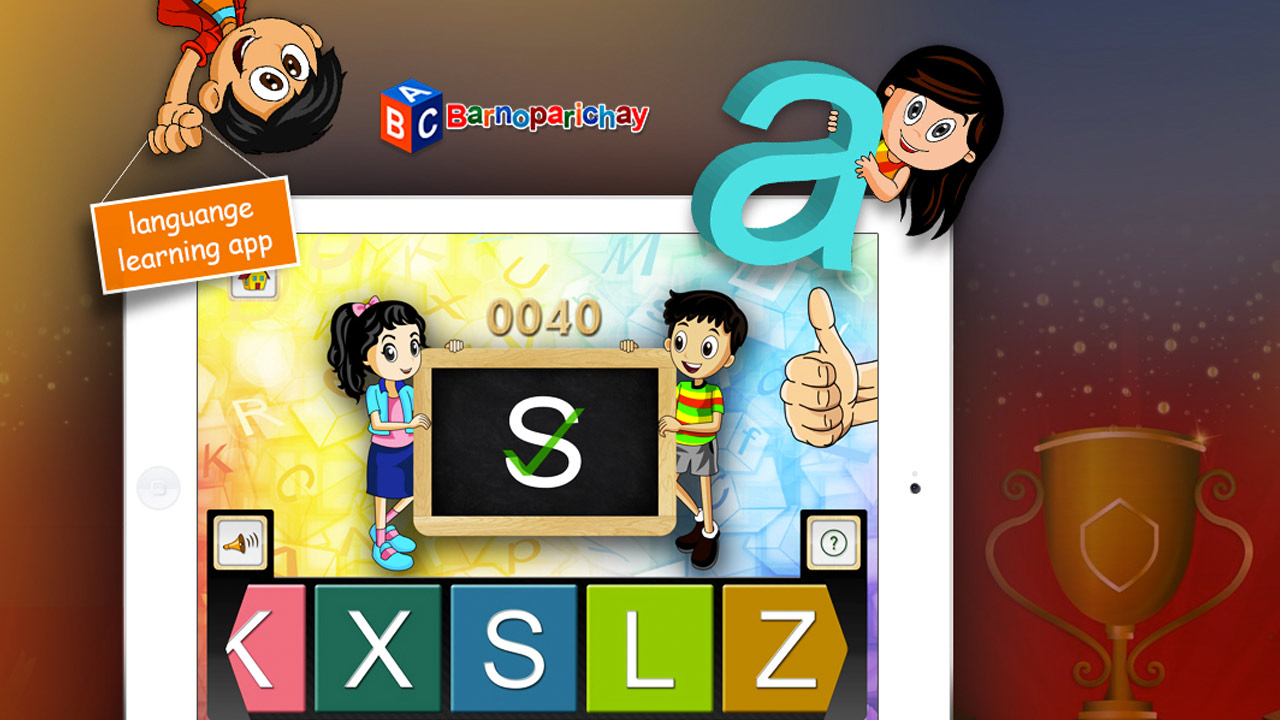 It was an in-house product that received numerous awards and most importantly, appreciation from real parents. So, if you too are wondering how to create an app like Duolingo, think of gamification at every stage, as we did.
3. Integrate Social Media Into Your App To Make Things Relatable and Sharable
Well, social media integration goes without saying. When billions of people are connected with different social media platforms, do not ignore it.
You might have seen different apps with social media integrations that let the user signup, connect and share using their personal handles. This feature in your language learning system will collect the user detail from their social media accounts like Facebook, Twitter etc. This cuts down the extra time to fill up the details like name, age, locations etc. This also lets the user share his achievements with the world!
How cool is that?
4. How Should Be The App Content? Understandable, Useful & Clear
What's the purpose of a learning app if it fails to make the user take the first step?
The idea of creating the language learning content should focus the learner capability at any level. To cover a maximum number of audience, you can create different levels like:

Beginners: This category will cover those learners who are just beginning their language learning. Put simple exercises that focus on improving reading and writing skills. Start by teaching the basics of a particular language. It can be alphabets, small words and then sentences. think of the novice users first to recode how to create an app like Duolingo.
You should provide users with prompts, tips, chatbots etc. that let the user learn seamlessly.
Advanced learners: This course content will be for those who are pretty serious about taking their language skills to the next level. Serious learners who are looking for serious vocabulary training can choose this. Provide them with complex quizzes, high-level reading, and writing challenges and memorizing foreign language sentences. Keep it intact of you build a site like Duolingo as well. 
Let the user track their progress at any level if you create an app like Duolingo.
5. Why An Appealing UI/UX Design Is The Foundation Of Learning App
Suppose you create a language learning app with months of efforts, hard work and brainstorming – not to miss the time and money investment. But you cared less about the user interaction and experience. The app you create is messy – overloaded with information here and there. You left your user wondering what to do next!
Do you think it will cater you more downloads? Naah!
It's highly important that you keep your language learning app pleasant, clean and convenient to use. And that calls for a user-friendly and minimalistic design. The design should create a clear roadmap to use the app. Whether it's the navigation menu, course module or a game, give special importance to the UI and UX both.
The answer of how to create a language learning app like Duolingo will come down to an exceptional user interface and experience. If you are unaware of it, hire a professional designer to create vivid, colorful and memorizable illustrations who can tell you how to create an app like Duolingo. Their design ideas will make the app stand out from the rest.
6. How To Create An App Like Duolingo That Communicates With Bot?
Language learning bots are exceptional. Duolingo's popularity is major because of the bot they have developed. It helps practice foreign language and vocabulary. But where to start if you too are planning to create language learning chatbot app like Duolingo?
Building a language learning bot from scratch is definitely a tough task. Bright mind and a pile of money are what you need to develop one. However, there are better and cost-effective ways to create an app like Duolingo. Some of the rack solutions include api.ai, Ait etc. that can be the base for chatbot in the future. Teach your chatbot to talk in a natural language and hold a conversation.
It's not a rocket science – let me explain to you why… 

If you have closely watch Duolingo, you will notice the chatbot prompts to submit the correct response. The user is asked to name the object in an image card or similar questions. This decreases the data usage that is to be analyzed. The app system rejects the given input of the answer didn't match the given phrase – simple as that! The AI-powered chatbot learning system will soon replace human tutor. And who knows your billion dollar learning app idea does it sooner!
7. Why Is Two Way Communication Important For Language Learning Apps?
How would you know if the learning module you have brainstormed is liked by your user or not?
It's important that you keep in close communication with your user. How? To create a language learning app like Duolingo or a similar one, motivating the user to give feedback is important. Keep an option to review your app not only for the App Stores but in the app as well. That's the easiest and direct way to know what is liked by users and what may need a logical conclusion.
But, keep that functionality extremely simple. You can implement a popup that doesn't require more than two clicks to fill in. Make the feedback procedure least resistant to solve how to create an app like Duolingo.
8. What Platforms To Develop The Language Learning App?
While I was answering how to create an app like Duolingo, I kept a majority of the audience in mind. So, while catering a large audience, you have to make sure you are developing it for both iOS and Android.
You can start with an MVP in iOS and after receiving the response, move on to create an app like Duolingo in Android.
This will ensure you are not missing out on a major chunk of users. Also, keep multiple device responsiveness in mind while developing the app. If you are not sure about, talk with the educational app developer you choose to make things simpler.
Ready To Create An App Like Duolingo?
There are many more things to note when you think of how to create an app like Duolingo. You have to finalize features, set the UX, think of cost and lot more. But that comes when your fundamentals are clear. I hope I have covered the basics that will help you just get started with your language learning app idea. If you are looking for top education app development company, make sure they understand your language learning project.
Finally, talk about the cost and time needed to create an app like Duolingo. And then you are sorted. You will be on your way to be the next big name after Duolingo! Need more information? We are ready to help you! Tell us your requirement and we'll reach out to you right away.
Have a Language Learning App Idea in Mind?
Tell us your requirement and we'll be the technology partner for your startup.
This post was originally published on Dec 28, 2017 and has been updated for accuracy and comprehensiveness.