Updated on June 25, 2019
The on demand economy is undoubtedly one of the most reliable ways to deliver goods, people, and services. It promises to cater our basic needs like getting a ride, freshly cooked meal, comfortable stay, etc. But the potential of this on demand thing is expanding exponentially and now transforming the education sector.
Uber for tutor, for instance, is one of those Uber for X craze that calms the "I want it now" mindset of every millennial. It is one of the major players in the on demand Uber for everything sector.   
This culture is the Godfather of so many different ideas of on demand startups these days. And on demand tutor app is no exception. It has started disrupting education industry with a solution that solves the exact pain points. Entrepreneurs are up for redefining tutoring to make things seamless and more efficient. They are selling the same old service but with a convenient, easy and hands-on solutions.
But How Exactly Tutoring Got The Midas Touch Of Uber App?
Tutoring – one of the oldest professions for students and teachers – has many challenges. The ratio of students to teachers is one of them. Students used to get complete attention earlier with lesser number of schools and more teachers.
Things are completely different these days. With increased awareness and population, the number of students has been increased profusely which has also increased the burden on teachers.

Let's find out the common problems in the education sector:
The number of students in every classroom has increased

Every student has different learning methods

Less parental guidance as most are working parents

Difficult to find reliable private tuitions

Pressure on students to score well
We cannot afford to leave these grave issues to the later generation. And probably few entrepreneurs understood it. They came up with Uber like on demand tutoring apps that parents and students meet long-term goals – by connecting students with tutors on the app – easy as getting an Uber! After Uber for trucking, Uber for laundry, Uber for food, it's time for Uber for Tutors that will make finding tutors on a click – for every course, subject, and class. 
The best part is, there are several education apps recently coming up, that are specifically made for toddlers. This type of apps is helping the kids to begin with their alphabets and numbers in the most enthralling way. One of them being Barnoparichay, where the kids can learn alphabets in English, Hindi, and Bengali. Isn't that amazing?
Is Creating Tutoring App Like Uber A Good Investment For Startups?
Yes, it is.
Uber for tutoring is currently in huge demand, as it is helping the students in meeting their academic requirements. Majority of the startups are now investing in apps for private tutors and students, which is successfully bridging the gap between students and tutors.
Tutoring app like Uber is making all the difference. Some of the popular apps are letting tutor help students in person and some are providing online tutoring over apps. Let's check a few of them in details.
Varsity Tutors app
One of those successful tutoring apps like Uber is Varsity Tutors, a Live Tutoring app. It is one of those live tutor apps that allow students to learn new stuff with video tutoring.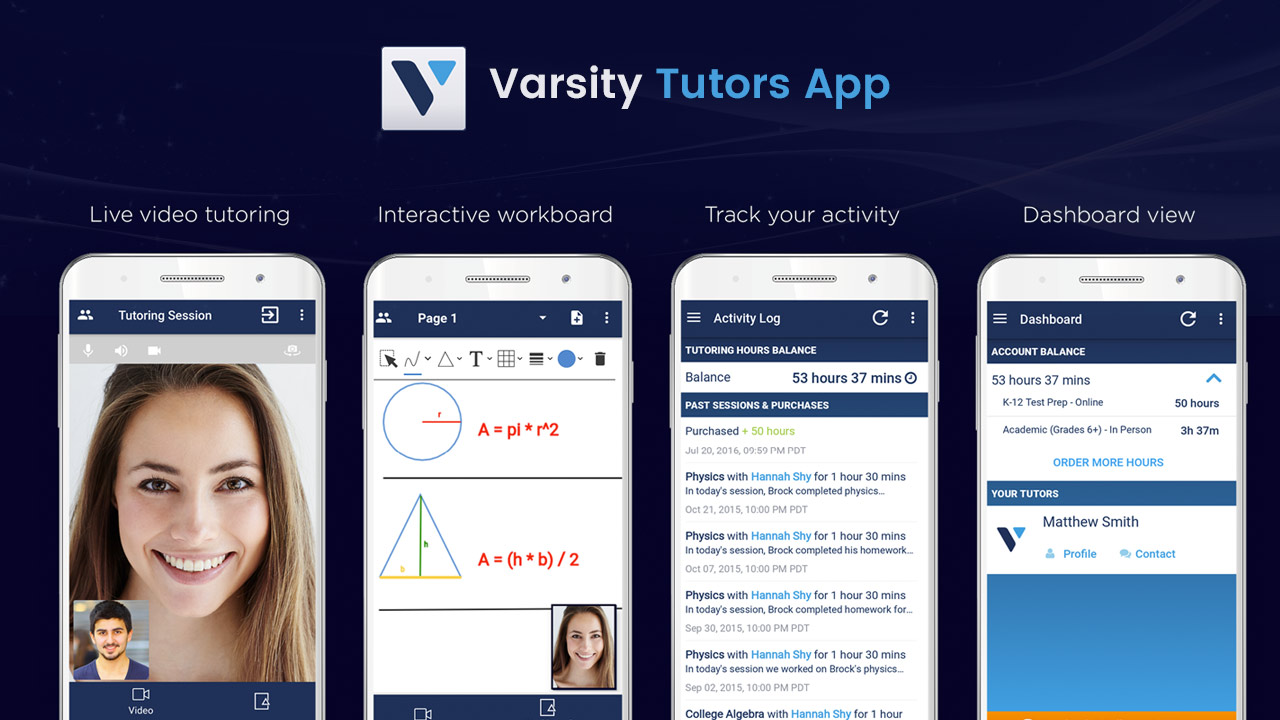 Providing tuitions anywhere at your convenience from qualified tutors is their aim. The app also lets students manage their accounts, receive messages, manage appointments and get additional help 24/7! Preparation for ACT, GRE, AP, SAT, etc is provided from trained tutors. The app is available in both Android and iOS platforms.
Whiz Tutor app
Another example is Whiz Tutor – Top Rated Tutor app that lets students find the right tutors for all their needs. The app has tutors signed up all across the US and the rest of the globe.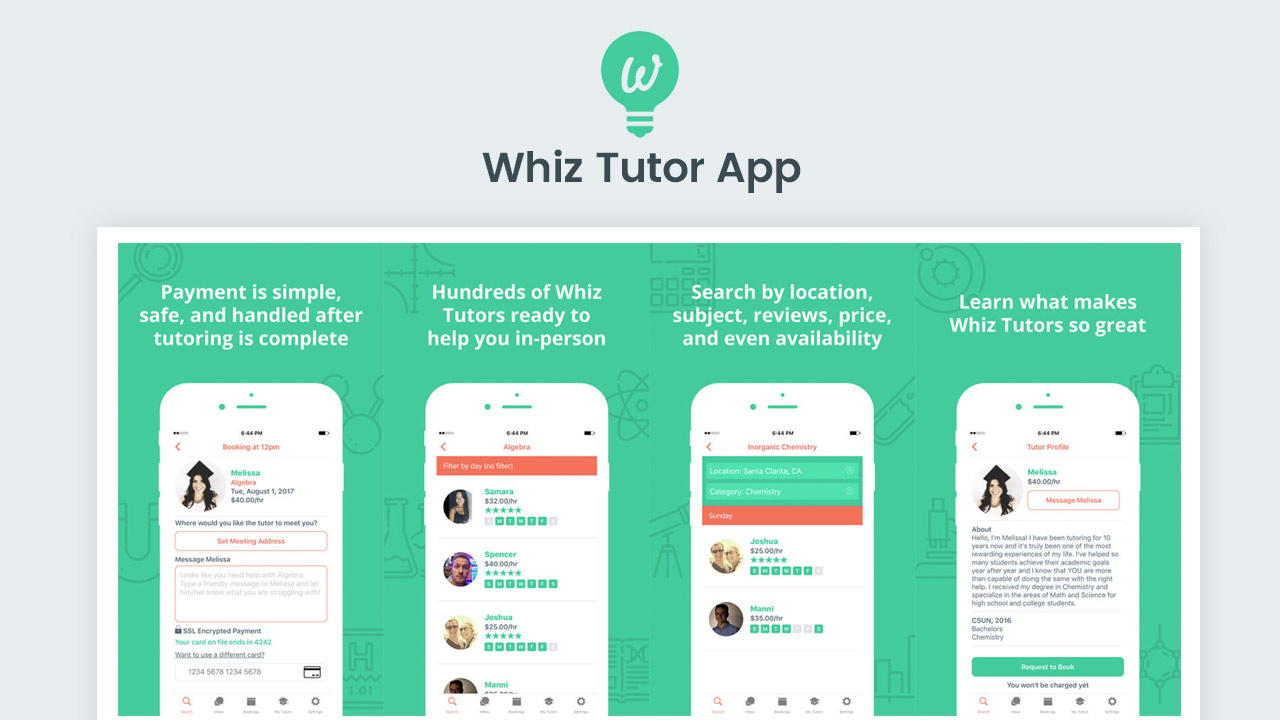 Comparing tutors and getting their reviews and pricing has been made simple. Students can instantly book a tutoring session checking the availability of tutors. Real-time messaging with tutors is available to clear any kind of query. Appointment reminders are a thing that reminds the user of their tutoring session. And the app has a nice navigation filter to search for subjects, courses, and exams to find suitable tutors.
Gooroo app
Gooroo app is a simple mobile tutoring app like Uber that connects students to the perfect tutor for his learning needs. And the needs can be as naive as possible like getting the assignment done, exam preparation, earning a cool new subject – it's just about anything that needs an expert.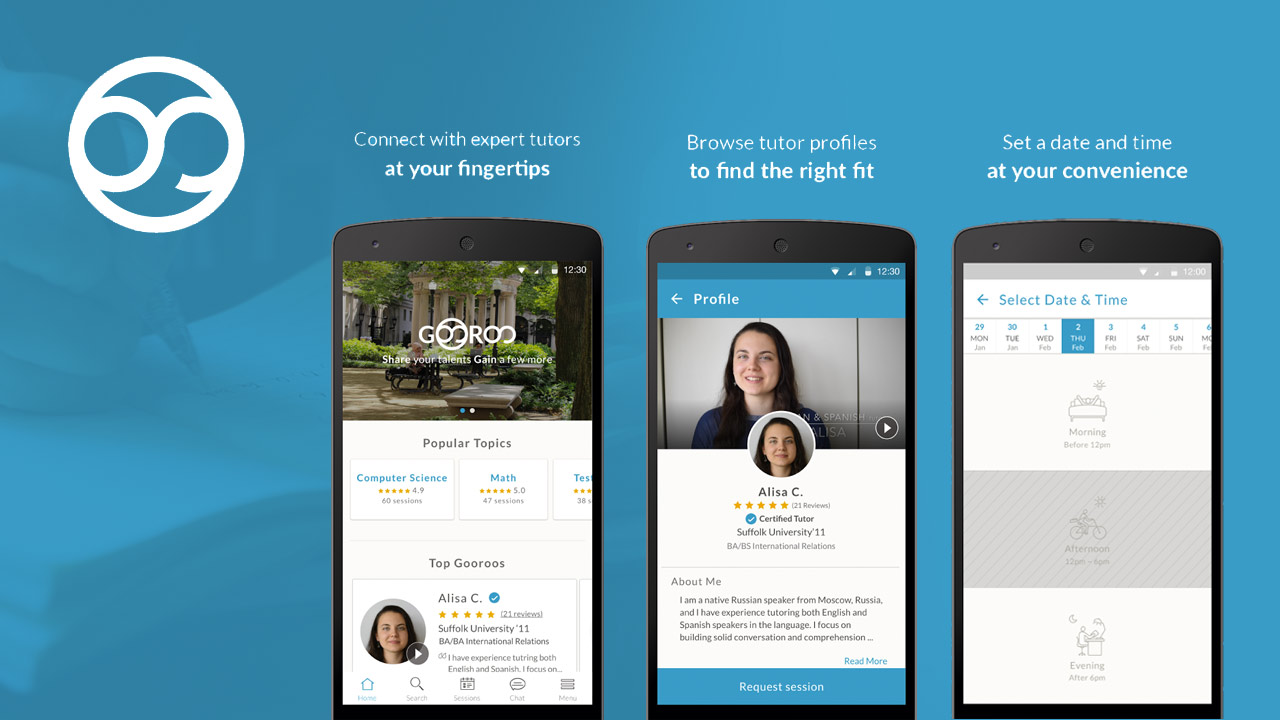 Students can contact the nearest 'gooroo', set the location, time and subject and voila! Plus, if someone wishes to be a gooroo, they can just sign up and share their knowledge! How cool is that?
Well, these are just a few. There are many other popular tutoring apps like Uber developed in the past years. So, there are innovations with every tutor finding app brainstormed by different entrepreneurs. It's all about organizing the unorganized education sector that also gears up learning. And I see a good scope for startups to invest in here as you can come up with an innovative idea and can launch your app.
So What Is The Secret To Create Tutoring App Like Uber? Let's Explore
The net valuation of online education industry is poised to reach $331 billion by 2025. This is all because of the convenience for on demand distance learning. The education industry is currently witnessing a paradigm shift which is making students divert from traditional academics. And on demand tutor service is not an exception. It is solving the problems of students who cannot find the right tutor but also letting nearby tutors get a source of income.
But to take a plunge in creating an app platform for tutoring, you need to know the right steps to capture the opportunity. And what are they?
Let us find the A to Z guide to build tutoring app like Uber one by one:
1. Create Panels For Students, Tutors And An Admin
Similar to Uber for X on demand apps, you need your 3 app panels for the solution. One for students, one for tutors and an admin app panel that controls everything. Students registered in the tutoring app like Uber can create their profile filling up their learning needs. They can generate a request for tutors and send messages privately. Then they can also schedule the time to take their sessions.

Now comes the tutor app panel where tutors from everywhere can register themselves and accept the request, have a chat and start tutoring sessions. Simple as that.
Coming to the admin panel, there would be a complete management system that will track the tutor's appointments, student requests, payments, notification, etc. You would be able to get a hold of your business from your admin panel.
2. Let Your User Search, Schedule And Allocate Tutors In Few Clicks
What is the aim of your tutoring app like Uber? To make the search for tutors easy and pie for students, right? Then why complicate your menu! Don't overthink the navigation menu while designing your app. You need to make sure your users are able to schedule tutors in just a few clicks. And to make your users life better, think of how to simply that.
Start with simplifying your menu. Keep the options to search for tutors right on top of your menu. Provide every detail of the tutor like profession, age, gender, experience and location with the tutor name. Also create a match for the student's requirements with the tutor's qualifications, to declutter the search process. Keeping user interaction at ease is the best way to get more user engagement. And it holds the same for your tutoring app like Uber.
3. Keep Multiple Categories Of Subjects And Courses To Choose From
Different students have different study needs, for which they will use your tutor app. So are you going to let your user search for their needed query every time manually? Who does that? No one! Check popular tutoring app for example. You will find how simple and detailed their navigation menu is. There are fields for each category.
So, keep separate categories for the subject and courses that are relevant for the student. Check for popular search queries like Physics tutors, Maths tutor, Music tutor, etc. and create a list of categories. This will reduce the hassle of manually searching for the needed categories.
4. Let Users Initiate Real-Time Communication With Tutors
Real-time messaging is a thing these days. The in-app messaging feature is available in most apps as it not only aids in communication but eases a lot of other things. For instance, if you are adding in-app messaging or real-time messaging factor in tutoring app like Uber, you can let users connect with a tutor in real time. They don't need to leave the app to message them for a query or anything in particular. In any case, this will feature will help students be in continuous touch with the tutors.
To have this feature in your tutor app, you might need a real-time server that will maintain a bidirectional connection with the tutor and student app. Technologies like Layer, Firebase, and QuickBlox are popularly used for real-time messaging.
5. Real-Time Push Notifications For Alerts And Reminders
Push notifications are a great way to engage any app user. I have got many clients who wish to push notifications in their app. But why is it important and how will it work with your tutor app? Let me throw some light on it.
Real-time notification or push notification are sorts of reminders that flash on the mobile screen for that app. When the app is running in the background or is inactive, push notifications delivers relevant information – which is valuable to the user. Now think of your tutoring app – how easy it would be for the user if you remind them of the upcoming tutoring session through a simple push notification?

Whether it is for time alerts, appointment reminders or payment notification, push notifications are the savior. To implement that you need to ask your tutor on demand app development company to work on the latest technologies. There are technologies like Google Cloud Messaging GCM, Firebase Cloud Messaging (FCM) and GCM Cloud Connection Server (ССS) which are popular for Android app development. For iOS, you need a provisioning profile with SSL certificate for the server. As these notifications will be sent by the server, background implementation on serve needs to be done.
6. Think Of In-App Conference Call With Video Calling Option
There will be situations when users need to call tutors in an emergency. It can be related to studies or their exams or a subject. How to reach out? How to carry out a group discussion sort of thing over the app?
Well, in-app conference call comes to the rescue. Let the students have a conference call when needed.
There can many types of tutor app as I have discussed above, one of those types is where tutors deliver tuitions over video calling. For this, your development team can choose Twilio a cloud communication platform used for SMS, voice messaging and video calling as well. They provide an app API which can be integrated into your tutoring app like Uber.  
7. Cashless Transactions With In-App Payments
When users are taking a service, they are supposed to pay for it. So, how are you going to simplify this process? Of course by creating a mobile app that accepts payment. And it is not new. Use of in-app payment is projected to rise as it provides a convenience to pay cashless, instantly.
So, as they have simplified payment for both the parties, you can use different in-app payment APIs to make tutor and student payment relation intelligible. Technologies like Braintree, CCAvenue, and Paypal are useful for hassle-free in-app payment integration.
8. Review and Rating Feature
Having this type of feature is extremely important for a tutor app like Uber, as it helps the users to find the best tutor. This feature is also an additional benefit for the hard-working teachers because the reviews and ratings will showcase their skills and good work. With better reviews and ratings, your app will get more installs.
Touching The Bottom Line
So, it's more about developing the right kind of platform that lets tutor and students unite. Think of these points before you create tutoring app like Uber. You can also consider features like loyalty programs and review and rating system that will further help students to stick to your app. If you are a startup and thinking to disrupt this tutoring app like Uber industry – it is the right time to take the plunge. Create the MVP and launch it to the right audience. Wait for their response-evaluate-launch again.
Launching an app is never enough. There are several things to do after your product enters the market. Being a leading company in education app development, we have been successfully delivering the best projects to our clients before the deadline. If you are in search of the perfect tutor app like Uber, expert help is just a click away.
Editor's Note: This post was originally published on Jan 18, 2018, and has been updated for accuracy and comprehensiveness.