Updated on MAR 19, 2020
So you have just launched an unbelievable app idea and raised possible funds to bootstrap your business? Does that end all your hassles? Is there any thought to hire mobile app development company for your startup?
Well, that's just the beginning. You yet have many levels to cross. From building a mobile app MVP to launching a fully-developed product, you need to hire someone to build a mobile app. This video provides some crucial tips on hiring a mobile app development company in an effective manner. Check it out now:

Hiring someone to build a mobile app is not a cakewalk.
To hire mobile app development company you need to do a little homework. Moreover, as you're a startup, you won't have much capital to invest. So a wrong hiring, with too many failed projects – the only option you're left with is, call your startup a ZOMBIE!
No matter, whether you hire a mobile application development company or a freelancer or an offshore app developer, there are some general considerations to hire any of these resources.
Related Read: Whom to hire a freelancer or hire mobile app developer from an agency?
Moreover, being a startup, having capital in hand is a big factor. Working on a diet budget makes the journey to hire mobile app developers even tougher. Along with that startups also have few issues like –
#1. They come without doing proper homework (customer's needs, market research, demographic research etc.) ????????????
#2. They spend a lot on all platforms, spending above their budget ????????
#3. Do not have a clear idea of what features to implement and which should come in the later phase. ????????????
For those of you who are wondering whether your app idea will be successful or not, we also previously addressed that exact topic. You need to browse a little more to know the exact timeline to launch your app. Since just having an idea is not the end. Reaching the target market on time is something we call the BULL's EYE. To get started here is a FREE resource from us.
Download FREE Guide to Know the Timeline Required to Make Your App Idea Be Successful
With a limited fund, it is just not possible to assess where to invest, how to invest, what can help you to market the product with the least investment and BLAH, BLAH… And the biggest headache which bowls every startup is to hire mobile app developer.
How To Hire A Mobile App Development Company?
It is a competitive market. Every new day a startup is springing to business. Freelance or full-service mobile app developers whoever you may hire, how could you know they are going to deliver the best-in-class solution?
Can they guarantee top-notch quality services? Even if you approach someone, who has built scalable, potential and popular apps – we bet that you cannot hire them. Since their charges are way too high. It is obvious that you will look for someone who can help startups.
And if you prepare a list of startup app development companies, it will seem like finding a needle in a haystack  But you can dissolve this complex situation if you remember a few points in mind.
Here we go with the top 5 ways that tell – how to hire mobile app developer for your startup?
1. Ask Feedback From People Who Hired Someone to Build a Mobile App
Earlier you have considered feedback from your friends and family who went to hire mobile app developers/programmers to build their products. But starting a new business is a different ball game. The first step is to find an app developer and look for reviews, like Google Reviews.
Working with an experienced mobile app programmer/developer let you have a commendable UI/UX skills. They will be always ready to share their app portfolio. Download them and use them for a while and ask the developer to walk you through how they created those apps. We also have a page that shows our related app development works.
Similarly, having a history of being featured in app stores or having different industry awards in the bag will provide a validation of the developer's portfolio.
Any mobile app development company you consider must have direct experience in building apps. Some big companies may offer some crossover skills that can be helpful for startups to address challenges. Look for expertise in the platforms you plan to build your mobile app.
If you hire iOS app developers make sure he or she has knowledge of Objective -C or Swift and Xcode. If you hire Android app developers, make sure they know Java, Eclipse or Android Studio. You need a mobile app developer who understands the thing from the users' perspective and not creators. Since this is your first app and you want your users to have mobile-specific experience.

2. Consider a Mobile App Developer's Experience Before You Hire
Say if you want to develop a mobile app for iPhone users, you need to hire a mobile app developer with a minimum of 6 years of experience. It is important to work hire iPhone app developer with extensive knowledge in iPhone app development.
It is better you sit for an interview with the developer whether he or she is a freelancer or you outsource it to some mobile app development company. Ask everything that comes to your concern. Since asking relevant questions help you to make the right decision.
You have more things to do than just programming an app. It is important to understand that if you hire someone to build an app that means he or she should specialize in all aspects. This means he should be good at coding, product development, marketing, and even design.
You can give a read to the post below that tells how to hire a programmer for an app with all possible skills.
https://www.innofied.com/6-ways-developers-drive-more-roi-to-your-business/
Those who can provide added value than just programming an app, then be sure to get a product that is never a misfit. At Innofied, we have people to take care of each aspect other than coding your app.
If a potential mobile app developer comes with a solid portfolio and proven track record, it means they are tight at their processes. Take your time to understand the processes.
Related Read: Our App Development Process
These elements should address each area of expertise and give you a bigger picture of how your initial idea will turn to your mobile app MVP. Check how they walk you down the aisle and help you launch a Minimum Marketable Product. You can give a read to this post that tells how we help to take the next step after your agile MVP is ready.
To make things a little easy — I have a FREE worksheet for you. Take a print out, solve your queries and pin it on the board to refer, whenever you feel something is still missing in your MVP development.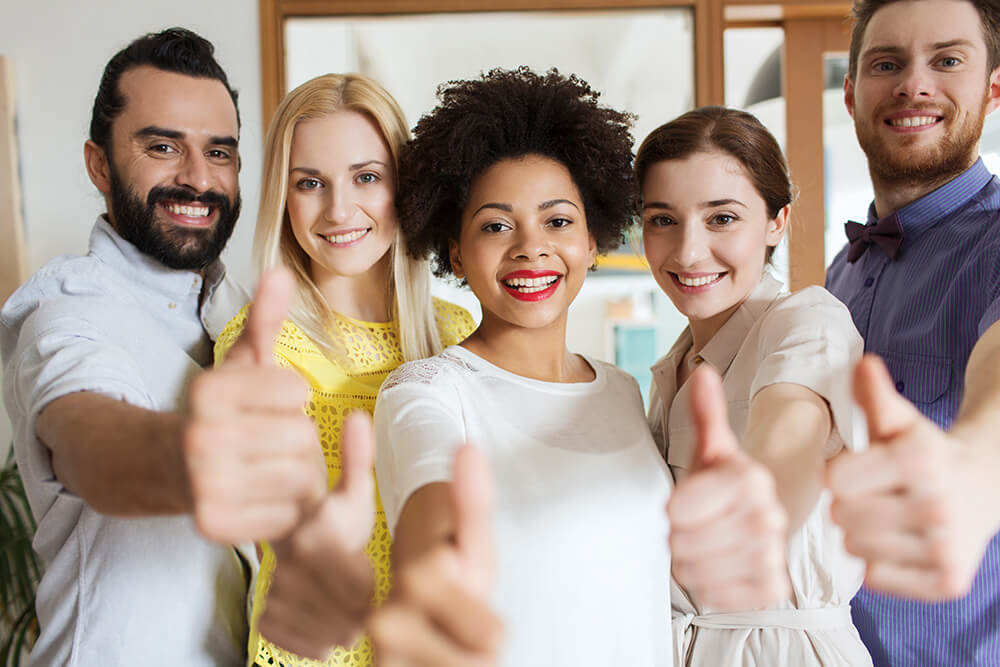 3. Must Peep Into Their Website & Client Testimonials
When you hire a mobile app developer, you must peep into their website. Check the Client Testimonials page and find out the reviews posted by the client company.
References help to find out the kind of work the mobile app developer has done in the past. Even gives a glimpse of the brand with whom the app developer have worked. If you want to hire an app developer, check if they are readily agreeing to share the list of the clients they worked.
You need to contact them personally, but for the details, you can ascertain the kind of work delivered by the Android or iOS app developers. You can also find it on B2B review sites Clutch.co.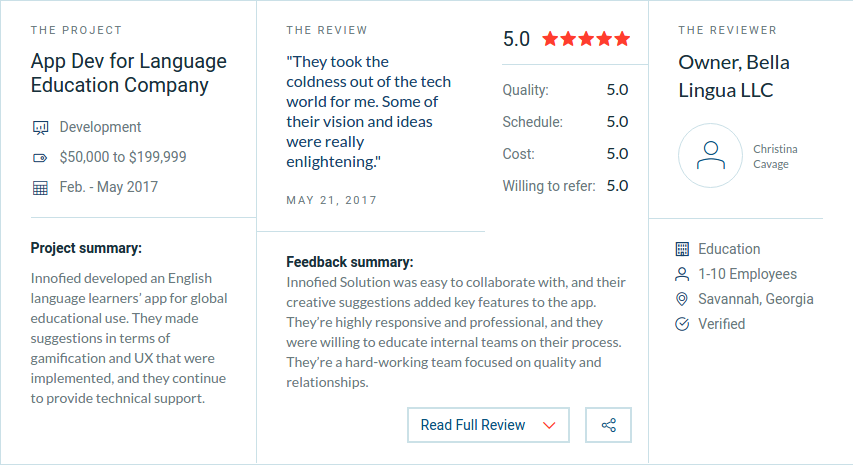 Clutch publishes project review after the cross verification and contacting the original client over the phone. The process they follow helps to shun the fake reviews and give a transparent profile to its users.
COMPANY NEWS: Clutch Recognized Innofied as Leading B2B Service Provider in India
4. Before You, Hire Mobile App Developer Take a Note of Payment Methods & Costs
Do not choose such a mobile app development company that do not have a proper payment structure. After all, you want your startup to make money! And hitting yourself with a creepy payment structure might ruin your business. So ignore them who wants you to make payment at one time.
Hire mobile app developer or a company, who have multiple engagement models may be paying in installments or have a time & material model. Find such companies who know what it takes to be a startup.

At Innofied, we have brought forward a number of options for the startups to engage. We like you to choose an option that is convenient. We know that you are bootstrapped and have a shoestring budget, but we know how to make the best out of it. So we have three flexible pricing model to help you adjust as per the budget after you hire an Android or iPhone app developer for your project.
The next segment that you need to take care of is the cost. Yup, you must be of utmost care as you're bootstrapped.
Done with the payment process, consider the app development cost.
The cost of app development will depend on the complexity, features, and resources required for your project. You can look for the ways we have explained how app development costs impact a project on this blog.
Watch out for app developers who can drive development within timeline and just at the right cost. You'll find that low-cost options that you get with an offshore app development company, let you stick to WSYIWG.
The proposal you sign should have provisions ranging from IP ownership, payment breakups and the ways your confidential information will get handled. Too many pages in the NDA is killing, so be careful that there is a balance maintained, still allowing the document to be readable.
5. Are They Providing Relevant App Testing Solutions?
When you are looking for mobile app development whether in a full-service agency or with a freelancer, make sure that they deliver you the app after relevant testing. Make sure that they have fixed the bugs before delivering. If they don't have a team, simply move out. Since a bug-free app is what your clients would demand. You don't want to see an app with zero downloads, just because it is buggy.

At Innofied, we have our own testing team we perform – manual testing, functional testing, load testing, automated testing, performance testing etc. All these we do to ensure that your app journey is successful. We make sure that your end product is having all the possibilities of success.
As nothing is error-free so do the app. In case there are bugs to fix immediately just after the launch, make sure your app developer is available to fix. In Innofied, our journey does not stop after the product gets delivered.
You get 30 days of free after delivery support with Innofied. Here's how we help startups to get started with mobile app development. (30 DAYS OF AFTER DELIVERY SUPPORT)
What' Your Take?
For startups, mobile app development is not something impossible. They just need to be on the right track. And to find the right path make sure to keep these few points in your mind. These points are something that almost every startup should consider before taking a hell ride.
What else do you think a startup needs to focus on when they hire a mobile app development company? What are the other things that a mobile app development company must offer to reduce the hassles of a startup?
We like to hear a comment from you on this note. Drop a comment on how to hire mobile app developers.
Editor's Note: This post was originally published on AUG 9, 2016 and has been updated for accuracy and comprehensiveness.